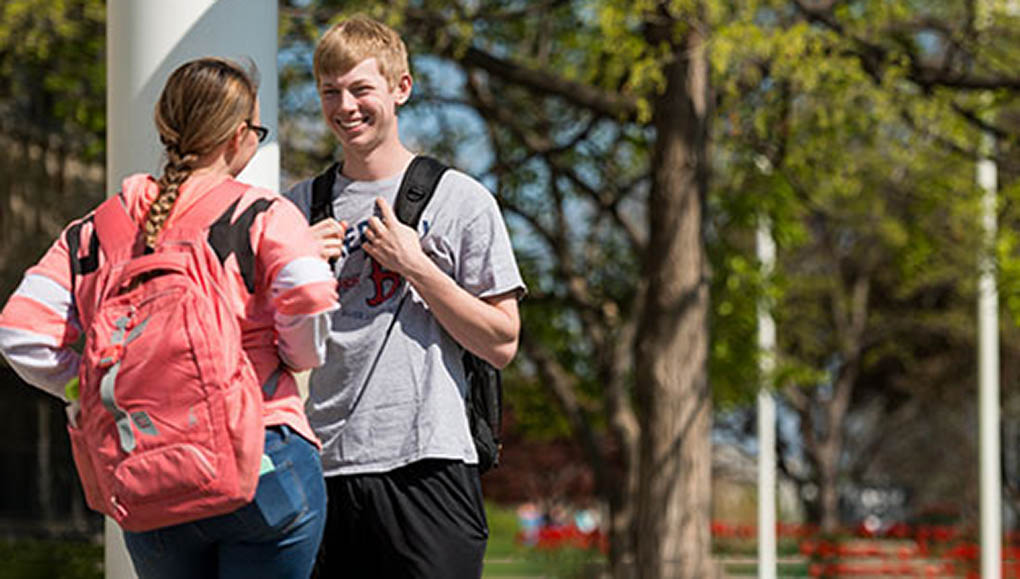 Short answer: awesome.
In some ways, answering this question is like trying to describe what it's like to be on the edge of your seat through a championship game or series finale on Netflix. There's nervousness, excitement, suspense, highs, lows, surprises, and the accumulation of all of the above to reach the end – which is a celebration unlike any other because of what you went through getting there. You've never been so happy and exhausted at the same time.
Perhaps the most memorable parts of student life are all the little moments connecting the big ones as you prepare for life after college. And there are so many of them, so let's try to organize them… since most of life on campus is spent trying to organize your study and social time while remembering to sleep.
Academics
This is the reason you're here, so be sure to keep that GPA in mind – your future self (and transcripts) will thank you.
You have classes for your major(s) and minor(s), general education, and electives. Why are general education and electives necessary? They help provide a well-rounded education that leads to more and deeper interests and makes you more versatile in your future workplace. Plan ahead and use electives toward a second major or minor to pad that grad school or job résumé. If grad school is in your plans, know what's required and schedule undergrad options accordingly.
Class schedules can be made to fit what you want or need in many cases, whether it's packing classes into just a few days, working around your job/practice, or avoiding classes at dawn or during your afternoon siesta. Use your schedule to build in set study times, as well, to allow more time for the other parts of college life. Classes fill up early so register quickly to get the most flexibility.
You will be challenged in class to think bigger and broader, to consider perspectives that you may not have thought about, but the more open you are to learning new things, the more you'll grow personally and professionally.
College Groups, Organizations & Activities
There is no shortage of things to do or groups to join at Rockhurst, from special interest, advocacy, and sports groups to Greek life to Campus Ministry events and academic-related organizations. There are also 16 NCAA Division II teams, intramural sports, the MAC, Firepit Fridays, the Free Stuff Fair, Family and Alumni Weekend, Homecoming, RockStock concerts, as well as community outreach and social justice opportunities, just to name a few.
There's something extra-curricular for everyone, but here's the determining factor:
Get out of your shell.
If all you want out of college is to Snapchat from your dorm bed and workshop Instagram captions for your latest pic in front of the bell tower, then that's what college will give you.
If you want more, put yourself out there in RL.
Rockhurst takes what you give and gives back even more. Way more. It's a similar phenomenon to how there's always an open table at Joe's KC BBQ despite a line out the door. You can't explain it, but it's awesome.
Then there's something very real called the "First Semester Blues," where students don't feel like they're fitting in, or haven't found "their people," or nothing seems to be working like they expected it would. FYI: The world is bigger than you think or expect, and college is where you learn that. Stay patient and open-minded.
Starting to socialize in college is actually low risk as everyone has the same anxiety masking their desire to get a true college experience started.
Juniors and seniors frequently say their biggest regrets from early in college were sitting in their room too nervous to jump in. And speaking of upperclassmen, they're not intimidating. They actually want to get to know you – especially at a place with a tight-knit community like Rockhurst.
If you run into some challenging times, Student Services is there for you. Take advantage of our student support systems, professional counselors, mentors, tutors, financial aid assistants, among others. We're here for you!
Dorm Life
For all the programming and scheduled events at Rockhurst, maybe the best moments are the spontaneous ones that just happen. Use the Guidebook app and rockhurst.edu's calendar for scheduled activities, but leave your residence hall door open for the unscheduled ones. Dorms and student housing are where lifelong friendships begin and lasting memories are made.
Remember, you're building all those "one time, in college…" stories that you'll tell a few hundred times in your life to nothing but responses of laughter and applause. Have fun with that.
Food
Food is always available. The cafeteria has numerous options to meet your taste buds and if you want to branch out you can visit Einstein's, TuTaco & Market, or The Roasterie on campus, or jump in the car and hit one of the zillion restaurants nearby.
Things to Do in Kansas City
If you choose just to stay on campus, you'll be fine and have a great time. If you want to get out around Kansas City, you're in luck. You're right in the middle of a growing city with professional sports teams and both big-time and hole-in-the-wall concert venues. Most attractions are within a 20-minute drive from campus. There are too many things to list here – for every budget – so here's a quick video of where some Rockhurst students go.
Thrive > Survive
Now that you have an idea of what college life offers… how do you manage it all? This is Adulting 101. You're in charge of your time management. Finding a good balance and sticking to it is essential.
Use a good calendar, app or notebook and plan ahead. You don't have to attend everything that's going on and there are probably some things that, due to your schedule, you can probably skip. Why? Two things take priority: Grades and paying for school. Protect those two and the rest is gravy.
Simply put, the more balance you have, the better your college experience will be and less student stress you endure.
In review: Prioritize, Plan, Jump in, Repeat.
Oh, and you should probably contact home once in a while, too. They miss you.