Community Center
---

About

---

Information

---

Administration

---

News
The Rockhurst University Community Center is closed until further notice in response to the coronavirus outbreak (COVID-19). For more information, click here.
The Rockhurst University Community Center is located at 5401 Troost Avenue. It exists to serve the unmet needs of residents in our neighborhood with particular emphasis on learning, leadership and service in the Jesuit tradition.
Rockhurst University is committed to inspiring hope in the lives of residents in our immediate neighborhood, with specific emphasis on the 49-63 neighborhood, and to building partnerships with neighborhood organizations. Our goals for the Community Center include:
To create and extend free recreational and educational opportunities to neighborhood residents.
To expand community service projects focused on meeting the needs of neighborhood residents.
To develop working partnerships with members of our shared community.
To encourage, support and promote participation in the daily life and events of Rockhurst by community members.
Hours of Operation
The community center is closed until further notice due to public health precautions.
The Community Center is open from 8 a.m. to 9 p.m. Monday – Saturday. The Community Center is closed on Sundays, holidays or anytime the University is closed.
McGruff Safe Place
The Community Center serves as a safe haven for children who need help or in case of an emergency. For more information, call 816-501-4306 or email alicia.douglas@rockhurst.edu.
Room Reservations
Meeting space is available for neighborhood organizations and nonprofit agencies. Meetings may be scheduled during the hours of 8 a.m. – 9 p.m. Monday – Saturday. See below for more information on availability.
Effective 12/11/2019 room reservations may not exceed a six month period. You will need to reapply every six months.
Process to reserve a meeting space:
Contact Betty Carson at 816-501-4599 or betty.carson@rockhurst.edu or Alicia Douglas at 816-501-4306 or alicia.douglas@rockhurst.edu to see if the space is available on the date needed.
Submit the application to reserve a meeting room and review our policies.
An automatic reply will be sent if your application has been submitted successfully.
You will receive confirmation of your room request within five business days.
Conference Room
The community meeting room comfortably holds 45 - 60 people. Audio-visual equipment includes computer, projector, DVD player and microphone. The conference room may be divided in two to allow for smaller breakout sessions.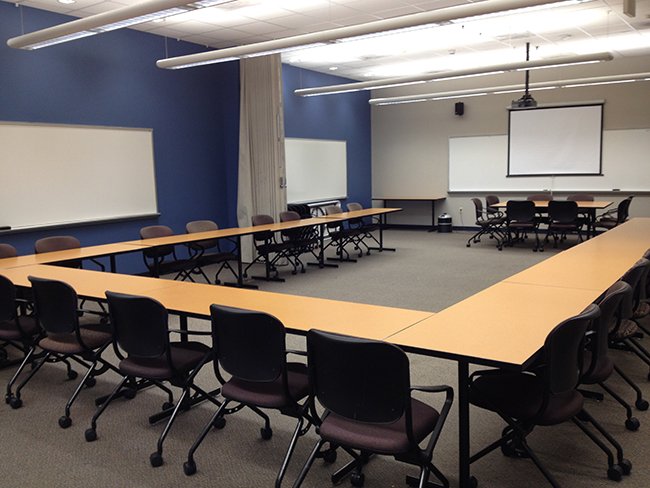 Kitchen
This is a good space for small meetings of 15 - 20 people. The kitchen is also equipped with stove, oven, dishwasher and microwave.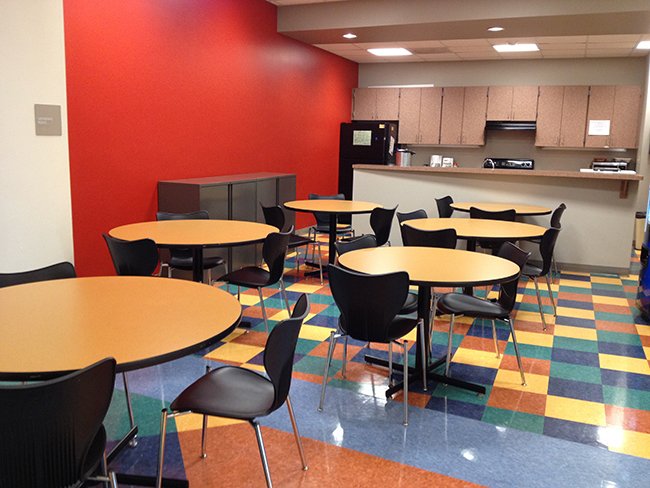 Computer Lab
The Community Center's computer lab is open to individuals or groups who need access to computer technology. Groups must reserve this space to secure access to computers. The community center is also a wifi hot-spot for visitors. There are ten computers and one printer. We request that all copying and printing is limited.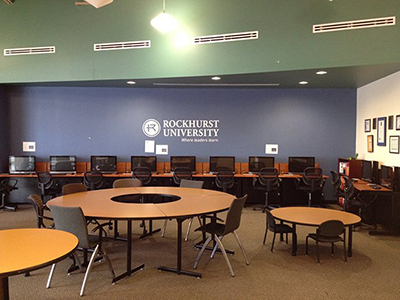 Community Center Contributors
Special thanks to Ewing Marion Kauffman Foundation; Francis Families Foundation; Rose Teicher Estate; H&R Block Foundation; Merchant, Merchant and Robinson Fund; Rockhurst University Regents; Ms. Barbara Bailey; Firstar; Oppenstein Brothers Foundation; Henry Wurst Family Foundation; and Edward F. Swinney Foundation.