Community Center
---

About

---

Information

---

Administration

---

News
We are open!
Individuals visiting the Rockhurst University Community Center must complete a mandatory contact tracing form. Click "I'm visiting today!".
New Hours of Operation:
Monday-Friday 3:30 pm - 8:00 pm
Saturday 9:30 am - 2:00 pm
Closed Wednesdays and Sundays
Important Policy Updates and Visitor Guidelines:
All visitors are requested to check-in for contact-tracing purposes.
Masks or face coverings must be worn in the building at all times.
Keep 6-foot social distancing from other visitors and staff at all times.
Please wipe down your tables before and after use.
Use hand sanitizer and practice handwashing when in the facility.
If you are feeling ill, please do not enter the Community Center or campus. Visit another time.
Abide by the new procedures in place for shared devices and items.
Rockhurst University may refuse service or ask visitors to leave at any time.
The process to reserve a meeting space:
Submit the application to reserve a meeting room and review our policies.
An automatic reply will be sent if your application has been submitted successfully.
You will receive confirmation of your room request within five business days.
Contact Betty Carson at 816-501-4599 or betty.carson@ rockhurst.edu or Alicia Douglas at 816-501-4306 or alicia.douglas@rockhurst.edu for further questions.
Important Information for Groups Using Conference Room: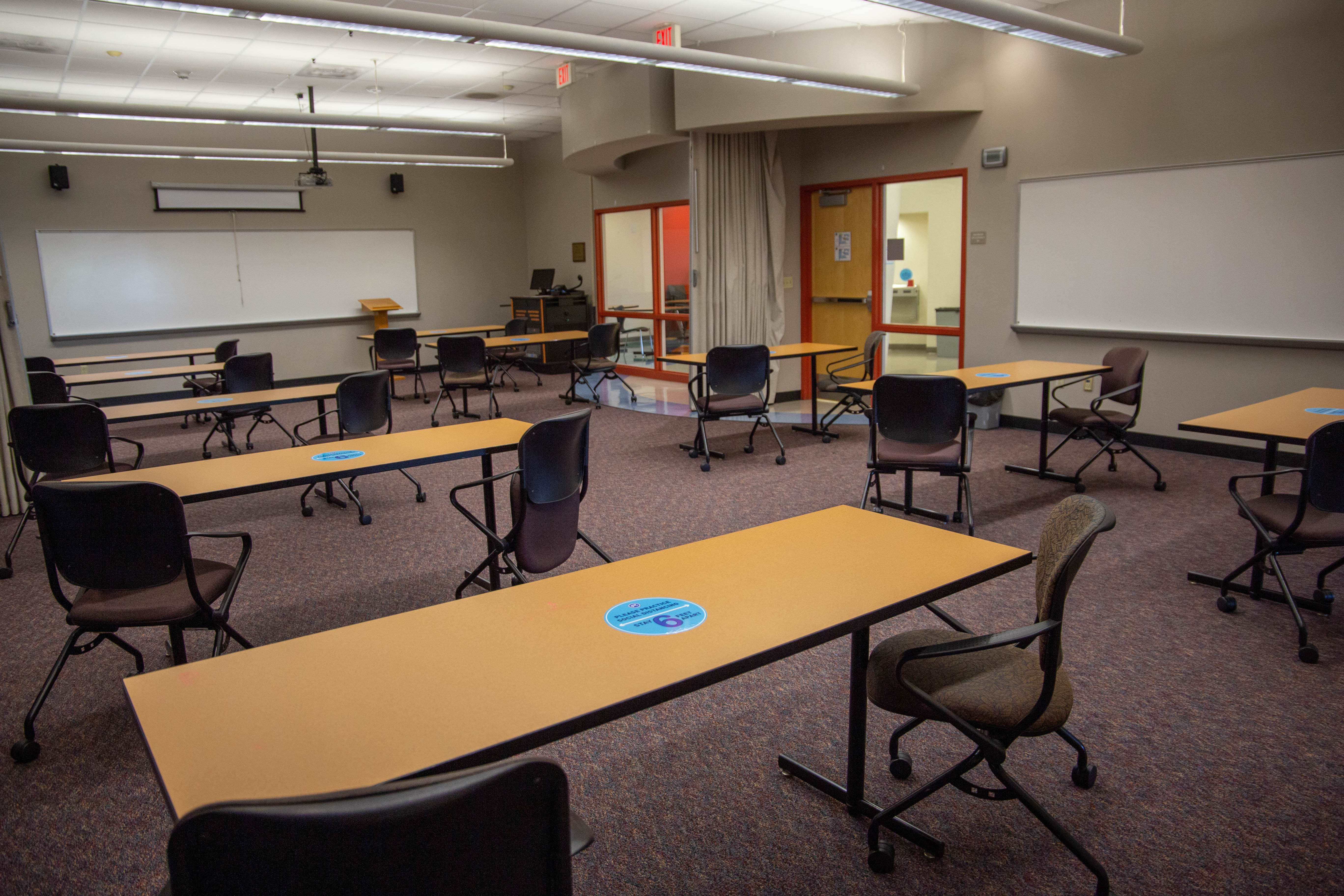 Only the conference room may be used for meetings.
The capacity is 20 people.
Tables and chairs are set up for 6-ft social distancing.
We prefer that tables not be moved. If you move the tables. It is your responsibility to move them back in place.
Audio-visual equipment includes computer, projector, DVD player and microphone.
Arrive early to wipe down tables before your meeting. Wipe down tables after your meeting.
No food is allowed in the room.
The kitchen cannot be reserved for meeting space. It is only for individuals eating or studying. Only 1 person per table. The capacity is 6 people.
Computer Lab Check-In Process: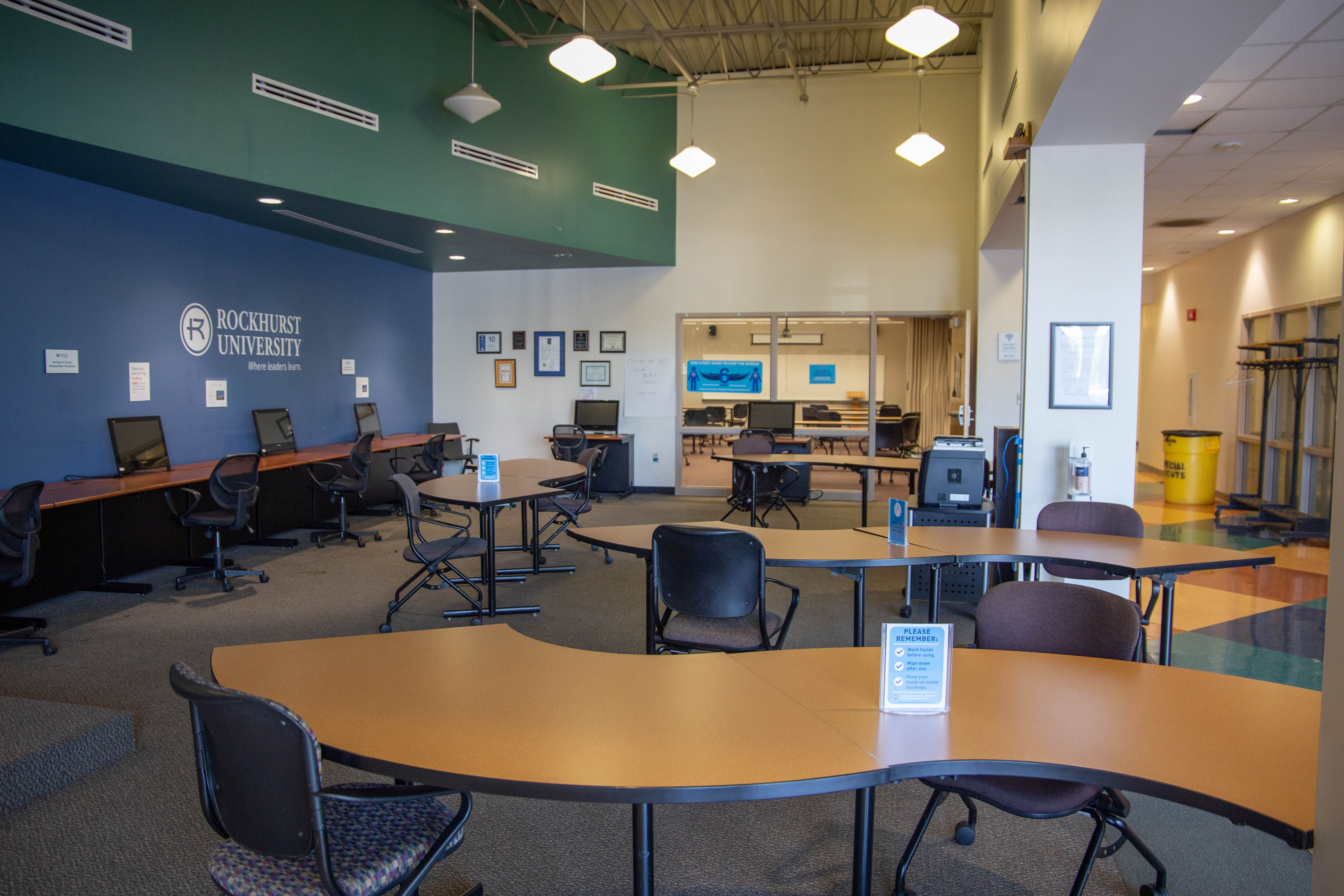 If you'd like to use a computer at the Community Center, please check-in at the Front Desk for contact-tracing purposes. You will need to check out a computer station with us. The computer checkout process helps us with the cleaning process between visitors.
A computer may be checked out for 1.5 hours. You will receive necessary items at the Front Desk at check-in.
A computer will be closed 20 minutes between users for cleaning purposes.
Wipe down your area before and after usage.
If only using the study/workspace area, please wipe down before and after usage. No need to check out a computer station.
When your time ends, return your items to the Front Desk.
The Community Center's computer lab is open to individuals who need access to computer technology. Groups must reserve this space to secure access to computers. The community center is also a wifi hot-spot for visitors. There are ten computers and one printer. We request that all copying and printing is limited.
Community Center Contributors
Special thanks to Ewing Marion Kauffman Foundation; Francis Families Foundation; Rose Teicher Estate; H&R Block Foundation; Merchant, Merchant and Robinson Fund; Rockhurst University Regents; Ms. Barbara Bailey; Firstar; Oppenstein Brothers Foundation; Henry Wurst Family Foundation; and Edward F. Swinney Foundation.