Community Center
---

About

---

Information

---

Administration

---

News
The RU Community Center is CLOSED for renovations. We are not accepting any new reservations for the Community Center space at this time.
The Center will soon become the Alvin Brooks Center for Faith-Justice. The renovation and construction project will be underway soon.
Important info to know:
You are welcome to contact Alicia Douglas (Alicia.douglas@rockhurst.edu) or Betty Carson (betty.carson@rockhurst.edu) to book a one-time meeting reservation for a room on campus.
Unfortunately, we will not be able to host recurring meetings as we have in the past due to space constraints during the academic year.
Neighborhood organizations and activities (49/63 and Blue Hills) as well as youth-serving nonprofit organizations will remain our priority for space reservations on campus if availability allows.
Nonprofit and community organizations will still need to submit a room application and insurance information when making a reservation request.
The Community Center webpage will continue to be updated as we make this transition to the Brooks Center. So, check back periodically.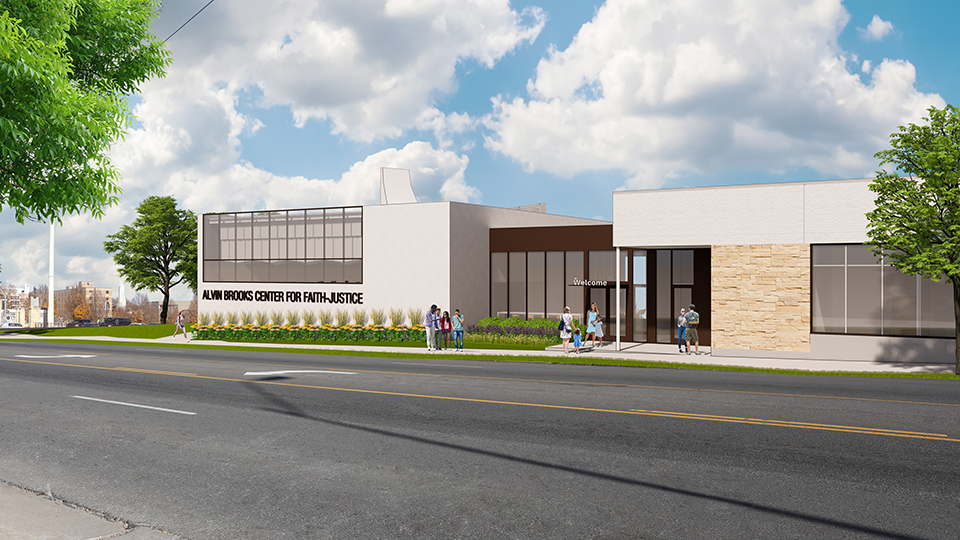 What is the Alvin Brooks Center for Faith-Justice?
In Fall 2022, Rockhurst announced that the University will honor Mr. Alvin Brooks, a longtime Kansas City leader in social justice and civil rights, with the establishment of the Alvin Brooks Center for Faith-Justice on campus. The Brooks Center will house some of the University's essential faith-justice-related efforts, including a chapel, University community engagement offices and initiatives, and a community meeting space. The vision of the Brooks Center is to "create a more just Kansas City through collaborative advancement of right relationship with God, with others, and with creation."
A ground-breaking ceremony was held in December 2022 with Mr. Brooks present. 
Brooks, 90, has lived most of his life in service to the city of Kansas City. He was among the first Black police officers in Kansas City, Missouri, when he joined the force in 1954. He worked for Kansas City's public schools, set up City Hall's first human relations department (becoming the city's first Black department head), was named assistant city manager, served on the Kansas City Council, and started the Ad-Hoc Group Against Crime, which continues today.
It is a legacy of servant leadership that deserves this recognition.