University Accreditation

University Accreditation
---

About

---

Information

---

Administration

---

News
Rockhurst University and Saint Luke's College of Nursing and Health Sciences are accredited by The Higher Learning Commission (HLC), an independent corporation that was founded in 1895 as one of six regional institutional accreditors in the United States. HLC accredits degree-granting post-secondary educational institutions in the North Central region, which includes 19 states.
Rockhurst was first accredited by HLC in 1934, and its most recent re-affirmation of our Accreditation was in 2012. After re-affirmation in 2012, Rockhurst was placed in HLC's Standard Pathway for Accreditation, which includes a 10-year accreditation cycle with two reviews – one at year four and one at year ten.
Rockhurst's Year-Ten Assurance Review, Comprehensive Evaluation (with visit), and Reaffirmation of Accreditation will take place during the 2022-2023 academic year. Rockhurst will host the Higher Learning Commission's visiting team on campus November 7-8, 2022. Faculty, students and staff will be invited to attend several open forums during the visit.
Accreditation is important because it allows students to be eligible for federal and state financial aid, gives assurance that a Rockhurst degree is valid, assures donors and potential students that an RU education is valuable and provides flexibility for transfer of credit to or from other institutions.
If you have questions, please contact Annalisa Gramlich, Executive Director of Institutional Effectiveness and Accreditation Liason Officer (ALO) by email at annalisa.gramlich@rockhurst.edu or by telephone at 816-501-4714.
Higher Learning Commission
230 South LaSalle Street, Suite 7-500
Chicago, IL 60604
800.621.7440
www.hlcommission.org
Saint Luke's Accreditation
Commission on Collegiate Nursing Education
The baccalaureate degree program in nursing/master's degree program in nursing/ and post-graduate APRN certificate program at Rockhurst University is accredited by the Commission on Collegiate Nursing Education, 655 K Street NW, Suite 750, Washington, DC 20001, 202-887-6791.
Commission on Collegiate Nursing Education
655 K Street NW, Suite 750
Washington, DC 20001
Phone: 202-887-6791
http://www.ccneaccreditation.org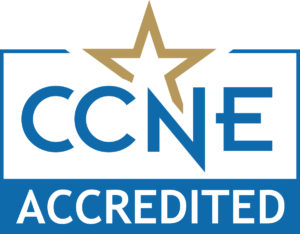 National Council for State Authorization and Reciprocity Agreements (NC-SARA)
Saint Luke's College of Health Sciences is approved by the State of Missouri to participate in the National Council for State Authorization Reciprocity Agreements. As a participating institution, Saint Luke's College may offer online programming to students in other SARA member states without seeking authorization in that state.
MSN students who wish to complete clinical rotations in a state other than Missouri or Kansas must contact the Board of Nursing and/or Board responsible for professional requirements in field requiring licensure in the state where they are completing their clinical rotations to learn and abide by the requirements AND obtain special permission. Not all requests can be granted. Additional fees may apply.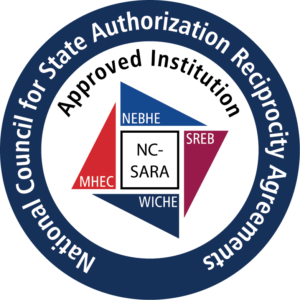 Missouri State Board of Nursing
The BSN program at Saint Luke's College is fully approved by the Missouri State Board of Nursing and graduates are eligible to apply to the examination for licensure to become a Registered Nurse (RN). www.pr.mo.gov/nursing.asp
In compliance with the Missouri Nurse Practice Act (Chapter 335 of the Missouri Statutes, section 335.066), nursing program applicants should be aware that the Missouri State Board of Nursing may refuse to issue a license for specific reasons related to moral turpitude, intemperate use of alcohol or drugs, or conviction of a crime. Admission to and graduation from the BSN program does not guarantee eligibility for state licensure. Any candidate for licensure who has been charged or convicted of a misdemeanor or a felony will be required to submit documentation of the court proceedings for that charge or conviction to the State Board of Nursing of the state in which licensure is sought. The Missouri State Board of Nursing determines who is eligible to take the licensing examination. Questions may be directed to the Missouri State Board of Nursing, 3605 Missouri Blvd, Jefferson City, MO 65102 (573)751-0681.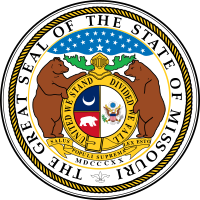 ---

Information

---

Administration

---

News