Chemistry Major

Chemistry Major
---

Academics

---

Programs

---

Schools

---

Academic Support

---

Resources
Program Description
A chemistry degree from Rockhurst University leads to success, whether you plan to continue your education in graduate school or go directly into one of the many careers for chemists.
What is chemistry? While difficult to pin down exactly, chemistry is usually defined as the science concerned with the composition, structure, and behavior of elements and compounds. Jobs for chemistry majors include geo, water, and synthetic chemist, chemistry teacher, and a myriad of other fields that require chemical professionals to test and develop new products
RU's chemistry department is accredited by ACS (American Chemical Society), and its science degrees offer a broad spectrum of courses – from organic chemistry to physical chemistry to biochemistry – designed to meet your specific needs and desired vocational objectives. Professors within our chemistry degree program work closely with you as an individual in the classroom and lab setting and are right there beside you during independent research to provide practical, real-world exposure to important scientific questions and methods.
Our Facilities
Students earning one of RU's many science degrees have access to seven high-standard instructional laboratories, including two devoted entirely to advanced instrumentation and two student-faculty research laboratories. You can expect opportunities for interdisciplinary research as well. Learn more about our instrumentation and facilities.
ACS Accreditation
Our chemistry degree program is accredited by ACS, signifying that this science degree program meets or exceeds national and international chemical education standards. It also differentiates you when looking for chemistry degree jobs because employers typically find graduates of ACS-approved programs to be better prepared for technical employment.
Learning Outcomes
Graduates who earn a chemistry degree from RU will be able to:
Demonstrate proficiency in laboratory skills and communicating results.
Analyze chemical problems and develop solutions to those problems.
Predict how matter interacts with itself and with energy using basic chemical principles.
Use, critically evaluate and present scientific literature.
Demonstrate and understand the importance of ethics in scientific work.
Course Map
We offer two Bachelor of Science in chemistry degree tracks:
Both options offer access to modern instrumentation and a rigorous chemistry degree curriculum to give you the intellectual, experimental and communications skills necessary for success in the variety of chemistry degree jobs available to you post-graduation. 
Experiences
Service-learning opportunities in the community.
Field trips to local pharmaceutical and industrial companies.
Student-faculty undergraduate research.
Opportunity to join our ACS-affiliated student chapter and/or our chapter of Phi Lambda Upsilon (national chemistry honor society).
Outcomes
What can you do with a chemistry degree? Graduates go on to pursue graduate education or chemistry degree jobs in a diverse range of areas including: 
Industry: chemical, pharmaceutical, food, beverages, cosmetics, petroleum, agriculture, environmental, consumer products
Medicine and health care
Government research/national laboratories: FDA, EPA, USDA, NIH, NIST, DOE
Research: medical, pharmacological, material design, environmental
Chemical manufacturing, product and process development
Quality assurance/ quality control
Pharmacy technician and pharmacy sales
Occupational and environmental safety and health, industrial hygiene
Forensic chemistry
Chemical education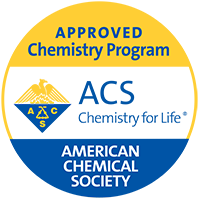 Chemistry Major Classes
Freshman Year
Fall Semester
General Chemistry (4 hours credit)*
Calculus I (4)
Freshmen in Science (1)
Electives/Core classes (6-9)
Spring Semester
General Chemistry (4)*
Calculus II (4)
Electives/Core classes (6-10)
Sophomore Year
Fall Semester
Organic Chemistry I (3)
Organic Chemistry Laboratory I (1)
General Physics I & Lab (4)
Electives/Core (6-10)
Spring Semester
Organic Chemistry II (3)
Organic Chemistry Laboratory II (1)
General Physics II & Lab (4)
Analytical Chemistry (4)*
Electives/Core (3-6)
*Honors General Chemistry may be substituted with Analytical Chemistry taken in the spring.
"My chemistry education at Rockhurst University was vital in preparing me for graduate school. In addition to the knowledge I gained from classes, my professors provided me with the experiences, the connections, and the mentorship required to succeed in my Ph.D. program." 
- Austin Carroll, Class of 2014
3rd year Chemistry Ph.D. student at UC Davis, NSF Fellow
 
"I was offered a very personalized learning experience at Rockhurst. Meaning, I knew my professors and they knew me. I felt like they cared and were invested in my personal and professional development. Their investment ultimately, made the difference in my education and my career path, because I'm at Purdue teaching first year engineering students with the same warmth and enthusiasm I'd come to know at Rockhurst."
- Yen Bui, Class of 2012
4th year Chemistry Ph.D. student at Purdue University
Chemistry Lab Equipment and Facilities
Teaching & Research Laboratories
Multiple teaching laboratories in the Science Center serve students in all areas of chemistry, including introductory courses and courses in organic, instrumental, analytical, physical, and biochemistry.

Our labs are equipped with state-of-the-art instrumentation that students use regularly in both classes and research-based projects
Equipment & Instrumentation
We have excellent modern atomic absorption, GCMS, FTIR, UV-Vis, Fluorimeter, HPLC, an electrochemical analyzer, and NMR instruments