Chemistry Student-Faculty Research: Yu Liu, PhD

Chemistry Student-Faculty Research: Yu Liu, PhD
---

Academics

---

Programs

---

Schools

---

Academic Support

---

Resources
My organic chemistry research has two focal points:
Develop novel methodologies for chemoselective benzylic oxidations. These reactions would be valuable tools in the synthesis of structurally complex organic compounds.
Explore new synthetic strategy for the preparation of tetrazines, a class of intriguing heterocyclic compounds that could be used in molecular labeling, fluorescent imaging and site-specific drug delivery.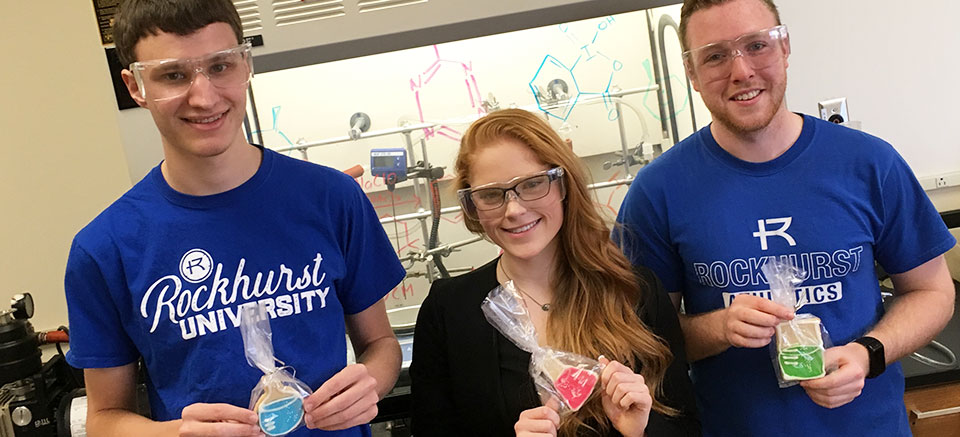 Research Students
 
| Class of 2018 | Class of 2019 | Class of 2020 |
| --- | --- | --- |
| Nicolas Bader | Clayton Carroll | Vincent Galate |
| Baylie Carroll | Marcus Cronin |   |
| William Houseman | Lucas Handlin |   |
| Dylan McKee | Evan Johnson |   |
| Danielle Rinck |   |   |
| Brendan Sweetman |   |   |

Selected Research Publications
 
"Conformationally Strained trans-Cyclooctene (sTCO) Enables the Rapid Construction of 18F-PET Probes via Tetrazine Ligation" Wang, M.; Svatunek, D.; Rohlfing, K.; Liu, Y.; Wang, H.; Giglio, B.; Yuan, H.; Wu, Z.; Li, Z.; Fox, J. Theranostics, 2016, 6 (6), 887-89.
"Recent Advances in Catalytic Selective Synthesis of Epoxide and Aziridine via Diazocarbonyl Compound" Liu, Y. Curr. Org. Chem. 2016, 20 (1), 19-28.
"Asymmetric Catalytic Intramolecular Carbon-Hydrogen Insertion" Doyle, M.; Liu, Y.; Ratnikov, M.; Bykowski, D. Organic Reactions. Vol 80, John Wiley & Son, Inc., Hoboken, NJ. 2013.
"Pericyclic Reaction of a Zwitterionic Salt of an Enedione-diazo ester. A Novel Strategy for the Synthesis of Highly Functionalized Resorcinols" Liu, Y.; Bakshi, P.; Zavalij, P.; Doyle, M. Org. Lett. 2010, 19, 4304.
"Construction of Highly Functionalized Diazoacetoacetates via catalytic Mukaiyama-Michael Reactions" Liu, Y.; Jee, N.; Doyle, M. Org. Lett. 2008, 8, 1605.

Recent Presentations at Academic Conferences
 
"Investigation of chemoselective benzylic oxidation transforming toluene to benzaldehyde" Carroll, C.; Sweetman, B.; Handlin, L.; Liu, Y. 255th National Meeting of the American Chemical Society, March 18-22, 2018; New Orleans, LA.
"Effective Identification of Benzaldehyde Product in Oxidation Reactions Involving a Co(II)/TEMPO Catalytic System." Sweetman, B.; Handlin, L.; Liu Y. Midwest Region Meeting of the American Chemical Society, October 18-20, 2017; Lawrence, KS.