Retreats

Retreats
Accept the Invitation!
Campus Ministry's retreat program invites students to deeper engagement in their own spiritual lives.  Through participation in retreats, students are encouraged to become more acutely aware of God's presence in their midst, to be more actively involved in their relationship with the Divine, to be more deeply connected to the human community, and to become more fully committed to offering themselves in service to the building of the Kingdom of God.  Evidencing Campus Ministry's belief that retreats provide extraordinarily valuable opportunities for students, the department highly subsidizes the cost of retreats in the hopes of making them financially accessible for all students.
We hope you accept the invitation and join us for the journey! 
To learn more about each retreat, please click on the following links:
Sept. 8-10, 2023
This weekend retreat provides fertile ground in which students at the beginning of their pilgrimage through college can create/grow friendships, enjoy time in prayer, relax in nature, eat S'mores, tackle a ropes course, and have fun!  All freshmen and new transfer students are encouraged to attend Frosh Get-A-Way!  Cost: $40.  Register for Frosh Get-A-Way now!​
March 2, 2024
Being looked at with love transforms us.  It makes us see ourselves differently.  This is what pilgrims seek during the first week of the Spiritual Exercises of St. Ignatius.  We are not perfect, but when God looks at us with love we want to love God back...and we more readily and deeply love ourselves. Bloom leverages this foundational element of Ignatian Spirituality to invite retreatants to name and release body image lies and shame.  Vulnerability, honesty, solidarity, and playfulness are attributes that describe this daylong - women only - retreat.  Cost: $15.  Register HERE! 
Feb. 9-11, 2024
Retreat on the Rock is a weekend charged with God's love! Student retreat leaders share moving talks, facilitate small group discussions and lead transformative prayer experiences. The goal of Retreat on the Rock is to provide students with the opportunity to arrive at a new/deeper understanding of themselves as God's beloved. Retreat on the Rock is open to all students. Cost: $40 
Register for Retreat on the Rock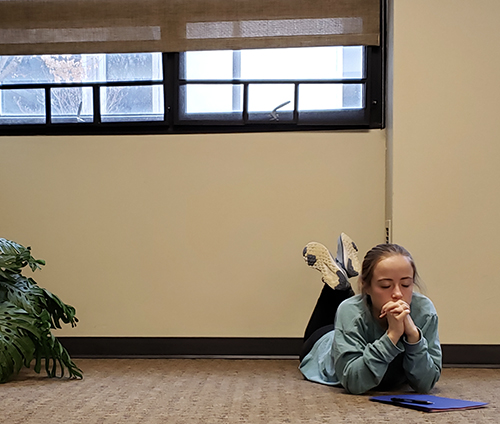 May 8-9, 2024
A retreat solely for graduating seniors, Senior Get-A-Way offers individuals time and space to process their years at Rockhurst as well as their hopes and fears for the future – all within the context of a supportive community. There will be opportunities for prayer, personal reflection, small groups and time to simply enjoying being together as seniors. All seniors are welcome to attend.  Cost: $30. 
 Register for Senior-Get-A-Way.
May 13-17, 2024
Campus Ministry sponsors this service retreat to Hancock, Michigan to serve with Little Brothers Friends of the Elderly (Little Brothers), a nonprofit agency. Little Brothers provides many services for their aging friends, many of whom are isolated in rural homes or struggling with limited financial resources.  Student woodcutters will assist in providing free firewood to the elderly, which reduces the burdensome heating bills that accompany winter in Michigan's Upper Peninsula. Little Brothers supplies the saws, axes, gasoline, and logs…Rockhurst University students supply the muscle. A can-do attitude, rather than woodcutting experience, is all that is required. Furthermore, Little Brother's motto, "Flowers Before Bread," illuminates the belief that providing companionship for the elderly is, in many ways, more important than providing for their health/physical needs. In that spirit, participants are invited to prioritize listening/visiting/celebrating over task completion.  Daily prayer and reflection round out the experience.  Cost: $200.  Register HERE.  Email Bill Kriege with questions.
Scholarship Information

Campus Ministry recognizes that retreats play a valuable role in nurturing and growing students' faith throughout their college years. Yet, all retreats have associated costs. In order to make these retreats feasible for students, Campus Ministry heavily subsidizes the retreat program.
If the retreat cost presents too significant a financial hardship, please obtain the retreat scholarship application from the Campus Ministry office. Scholarship applications must be submitted by the registration deadline for the retreat. All applications will be reviewed and assistance provided based on the availability of funding. Individuals who submit a scholarship application must also complete and submit a registration form for the retreat. Our great desire is that all students who wish to participate in retreats are able to do so regardless of their financial situation. If you have questions, please contact Anna Muenchen at 816 501-4063. 
Leadership Opportunities

Peer leadership is an instrumental aspect of many of Campus Ministry's retreats. If you are a student with prior retreat experience who feels called to minister to peers through the role of a retreat leader, we encourage you to speak with Anna Muenchen at 816-501-4063 about available opportunities.
Questions?