Rita Blitt Collection at Rockhurst

Rita Blitt Collection at Rockhurst
---

About

---

Information

---

Administration

---

News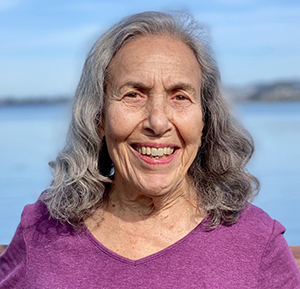 Rita Blitt was born in Kansas City as Rita Copaken, the first baby born at the Menorah Medical Center in 1931. She was encouraged to pursue art at an early age. She received a scholarship to attend Saturday classes at the Kansas City Art institute which led to private instruction by her teacher and won a statewide greeting card design competition as a high school student which gave her confidence to continue making art. Her natural talent and artistic passion led to a pursuit of painting studies at the University of Illinois and later, after transferring schools, majored in art and education at Kansas City University (now UMKC). She married Irwin Blitt in 1951, a student she met at the University of Illinois, who was a source of unconditional support for her career as an artist.
In the early 1950s, Blitt taught kindergarten and pre-school and took weekly classes at the Kansas City Art Institute, studying with painter Wilbur Niewald. A few years after the birth of her daughter Connie (Chela) in 1955, Blitt decided to make art full-time while simultaneously balancing the role of a young wife and new mother. Her commitment and discipline to working in the studio led her to enter her first juried exhibition in 1959 and win an award. By the mid-1960s, Blitt was experimenting with new ideas and media: she made abstract art, worked in acrylic paint, and created sculpture. Following her first sculpture exhibition in 1967—multiple sculpture commissions and installations followed throughout the 1970s and 1980s.
In 1977, Blitt discovered a unique technique—she picked up two sticks of Conté crayon and began drawing with two hands simultaneously, perhaps inspired by the music playing in the background in her studio.
The Rockhurst collection of 31 Rita Blitt works relate to this spontaneous and lyrical abstract way of working. She is still often inspired by listening to music while creating art. Nature, dance, and a love of life also influence the shapes and marks she puts down on canvas and paper. Her process has been compared to "dancing on paper." Blitt works quickly, letting lines flow from deep within herself — she feels each line as she works. When Blitt creates, she is more interested in self-expression than communication. As she states about her process: 
Music has been a part of my experience from very early in my career. For many years, I listened to music while working simply because I enjoyed listening. Then, realizing how much the music was influencing my lines, I turned it off — allowing the lines to come from deep within me. This experience intensified when my eyes began closing as I worked. Now, when I create with music it is definitely a response. Sometimes when I'm drawing at concerts, I feel I'm performing on paper just as the musicians are performing with their instruments. When I'm drawing or painting to music in the studio, I do not touch the canvas — add any paint — without the music guiding me. In recent years, I've discovered I can turn off the music and paint to my own inner music. 
Rita Blitt divides her time between Kansas City and San Francisco, where her daughter and granddaughter live.
Her work is part of many museum and private collections, including The Nelson-Atkins Museum of Art, the Kemper Museum of Contemporary Art, the John F. Kennedy Presidential Library and Museum, National Museum of Singapore, Spencer Museum of Art, Mulvane Art Museum, and others. Her monumental sculpture can be found in Australia, Israel, Japan, Singapore, and the United States. The Rita Blitt Gallery and Sculpture Garden at the Mulvane Art Museum at Washburn University in Topeka, Kansas, is the home of the Rita Blitt Legacy Collection.  
A map with stars to indicate the buildings on the Rockhurst campus in which to view Blitt's artwork can be found via Google Maps.
For additional information and to view more of her work, please visit: