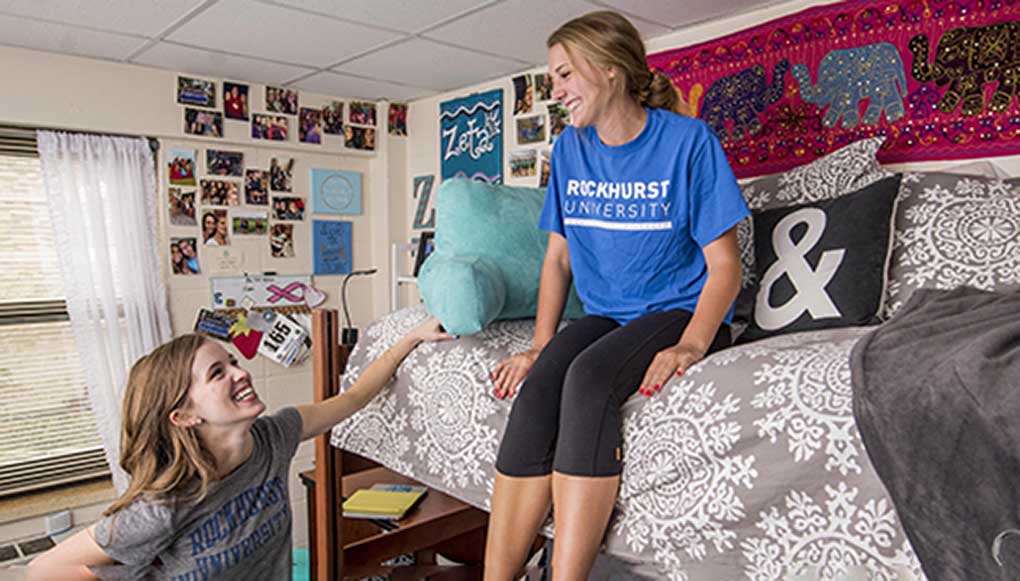 Rockhurst aims to provide a safe and pleasant environment for all of our on-campus students. Rockhurst University, Troost campus only, has a residency requirement in which all full-time students must live with their parents/guardian or on campus unless they meet one or more of the following conditions:
Students classified as a junior have completed 60 hours post high school with at least a "C" average or who have lived on campus for four semesters
Students who are age 23 or older
Students who have completed active, full-time military service
Students who have a spouse or dependents living with them
Returning and older students have additional options such as the Townhouse Village (THV), furnished two-story apartments in a suite-style living community. Other options are Rock Row, which are bungalow-inspired townhome units divided into four "homes," each with four private bedrooms, two bathrooms, a living room, and a kitchen split between three levels, as well some University-owned houses. 
More information is available here: Rockhurst Student Housing Requirements
Do Student Loans Cover Housing?
Yes! Student loans can be used to pay for room and board, which includes both on- and off-campus housing. Students can use money from their loans to pay monthly rent for their apartment and other forms of residence away from campus, as well as any on-campus housing.
For more information about Financial Aid, see: Costs, Financial Aid & Scholarships
How Many Student Dorms Are at Rockhurst?
There are three residence halls (McGee Hall, Corcoran Hall, Xavier-Loyola Hall) on campus, each with a chapel, laundry facility, computer lab, TV lounge, study rooms, and community recreation areas with activities like foosball, ping pong tables and pool tables. All residence halls feature access-controlled entry for student safety.
There are also two sets of townhouses – The Townhouse Village and Rock Row – and some houses owned by the university referred to as "On-Campus Houses," all for upper-class students.
More information is available here: Student Housing at Rockhurst
How Much do College Dorms Cost?
All costs are listed in the Residence Life Housing Contract on the Administrative Forms page.
What is My Mailing Address at Rockhurst?
Your Name
P.O. Box ________
5228 Tracy Ave
Kansas City, MO 64110
You will receive your box number in your housing assignment letter. During orientation, you will receive your mailbox lock combination from the Mail Center. If you have any questions or problems with your mailbox, please contact the Office of Residence Life.
Related: College Dorm Essentials and General Dorm Advice
Have Additional Student Housing Questions? Please See the following:
Want to talk to someone? Contact the Office of Residence Life at 816-501-4663.