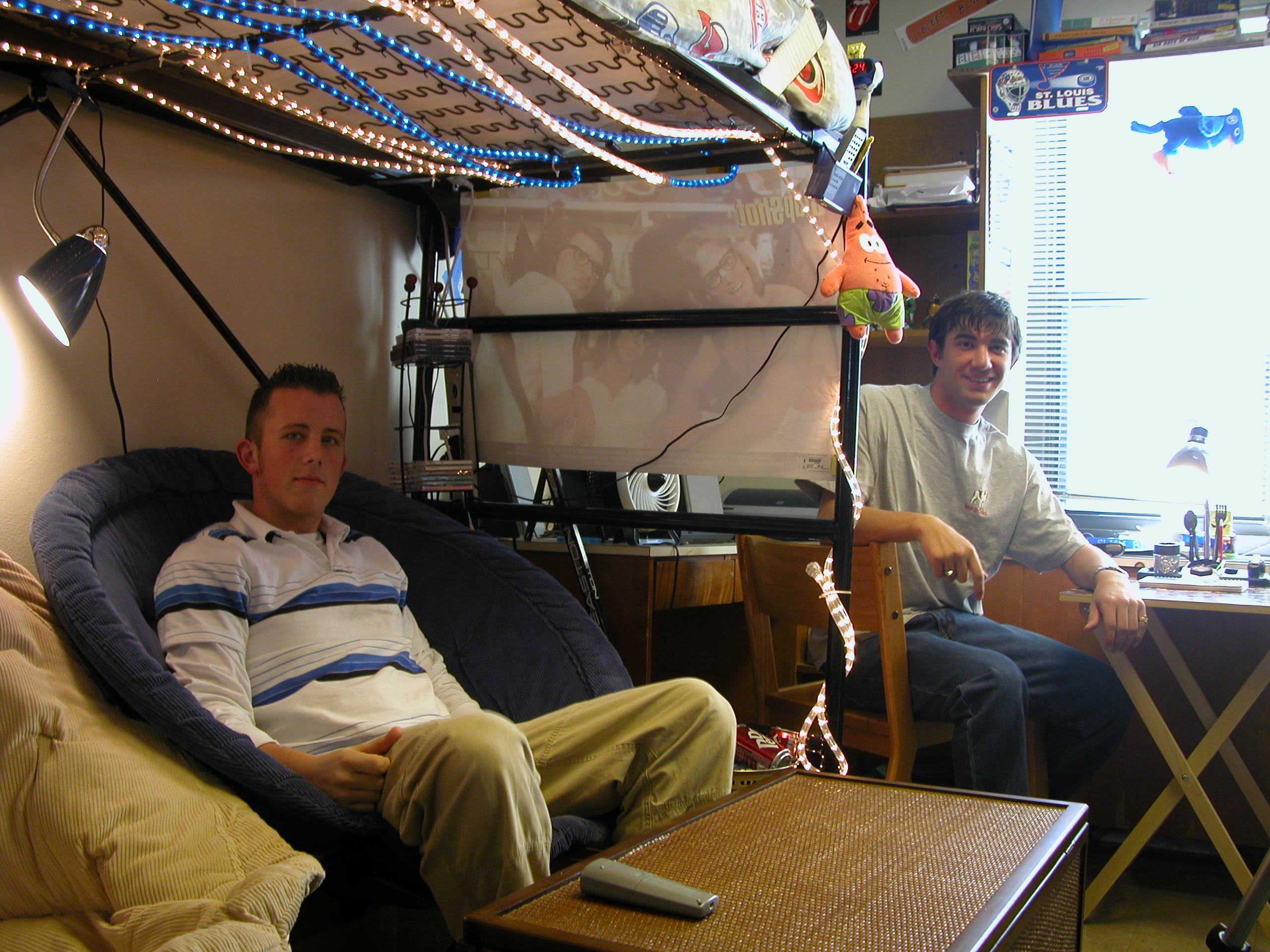 What Do I Bring to My College Dorm?
Dorm rooms have two beds, two desks, a wall mirror, and two closet/dresser units. Students should bring linens for extra-long twin beds, lamps (non-halogen), area rugs, posters, towels, bathroom items, night lights, computer(s), electronic equipment, surge protector power strips, wastebaskets, and other items to create your home-away-from-home. You may bring your own small refrigerator and/or microwave for use in your room. Refrigerators must be no larger than 2.5 cubic feet or taller than 32 inches high. Check with your roommate so you don't double-up on appliances. Additional furniture is allowed, but no existing furniture can be removed.
In order to ensure safety and security, use the Get Packing List to ensure you are bringing everything you need and nothing that isn't allowed.
Pinterest has lots of lists of tips, trick, and hacks for what to bring to college such as Clothing packing lists (everyday, lounge, athletic, going out, necessities, shoes), Items you never thought to pack for college (e.g. adhesive hooks/Velcro strips, small fan, list of serial numbers, emergency fund, foldable soccer mom chair for extra seating), Ultimate college packing list (e.g. mattress pad, coffee maker, storage bin/cube you can hide, long charging cord for phone, power strip, backrest pillow), Things I regret not bringing to college (e.g. shoe organizer, bedside tray/caddy that attaches to bed rail, hand-held steamer), What not to bring to college (100 pillows, too many clothes, clutter – where will you put excess paper?, heavy items to hang on walls), etc.
More information is available here: Get packing!
What Size are College Dorm Beds?
Dorm mattresses in McGee, Corcoran, and X-L are 79" x 36".
How to Decorate a College Dorm Room or Apartment
There are so many great ideas on Pinterest, we can't list just one recommended follow. Search for College Dorm Room Ideas and Inspiration. Also available on Pinterest: Things I regret buying for my dorm, How to decorate a dorm on a budget, Unexpected college necessities, etc. Pick and choose the ideas you like, then look for the best price to find them. There are also websites like Dormify or GrownAndFlown to help.
General Dorm Advice
Get to Know Your Dorm Neighbors
Some of the best friendships can be made when you wander into your neighbor's dorm room and say hi. Remember, everyone is in the same boat as you as a first-year student, so don't be afraid to put yourself out there!
Get Creative With Dorm Cooking
Try out some of our "Table Scrap" recipes, like Dorm Mug Cake, Mixed-Up Trail Mix, Upgraded Ramen, Loaded Baked Potato or a Mug Omelet!
Find Your Study Spot
Whether it's a favorite table in the Greenlease Library, the hammocks outside of McGee or posted up by the bell tower, explore to find your favorite spot to hit the books. And don't forget to take advantage of RU's free Learning Center for peer tutoring, group studying and help with papers! 
Advice from Rockhurst Students:
Mattress toppers are your friends! They make your sleeping experience 10x better.
I personally packaged my clothes on hangers so that I was easily able to put them in my wardrobe. Saves a lot of time!
Introduce yourself to your roommate and get to know them before you meet face to face. Keep an open mind and don't be quick to assume things about them.
Coordinate with your roommate how the room should be set up so that there are no disagreements. My roommate made a rough sketch of the room set up before we moved on campus.
-- Bri'Yana M.
Talk to your roommate to figure out what each person is going to bring so you don't double up on furniture.
Shower slides/slippers and a shower caddy for your toiletries are a must.
Try to compile as much into as few boxes as possible to make the move-in process as easy as possible.
Don't worry about bringing help with you on move-in day. Our students and professors will be there to move you in! 
-- Vince R.
Have Additional Student Housing Questions? Please See the following:
Want to talk to someone? Contact the Office of Residence Life at 816-501-4663.