WHY A HELZBERG MBA?
The Helzberg School of Management develops leaders of competence and conscience. In the MBA program, you will become that kind of leader – someone with excellent business skills, abilities and leadership traits who makes a positive difference in the world. To learn more about what distinguishes Rockhurst's Helzberg MBA, register to attend our next information session.
The Helzberg MBA is synonymous with superior quality. Local, national and international leaders of companies, organizations and nonprofits are alumni of the Helzberg MBA program. As a student, you will enjoy the resources of this broad network of successful alumni. Meet a few of our notable alumni listed above.
Not sure if an MBA is right for you? You might consider the Master of Arts in Management. See our FAQs page for a breakdown of the difference.
---
LEARN MORE ABOUT OUR MBA PROGRAM
---
EXPERIENCED FACULTY
Getting experience starts with experienced faculty. That's why doctoral-level faculty with professional experience in their industry teach more than 80 percent of courses in the Helzberg MBA program. You'll learn from former business and c-suite professionals from companies such as Hallmark, KCP&L and Encompass. But this experience goes well beyond our campus in the heart of Kansas City, Missouri. Our faculty members have taught in Switzerland, India, Singapore, China and Dubai, and are ready to help you think globally.
See faculty bios
---
REAL-WORLD PROJECTS
As a student, you'll learn by partnering with local Kansas City companies to solve real-world business problems. It's just one of the experiential learning opportunities that give you practical, hands-on knowledge that extends beyond the classroom.
---
PERSONAL AND PROFESSIONAL DEVELOPMENT
Advance your career while you advance your education. Professional coaches help you analyze your current position or career goals and then guide you to apply your classroom experiences. This innovative program ensures you'll graduate with a Helzberg MBA and a clear path for furthering your career.
---
GET AHEAD WITHOUT FALLING BEHIND
Choose the pace at which you complete your MBA program. Each Helzberg MBA course earns you two credit hours and runs in an eight-week term with classes meeting one evening per week. This format lets you find the option that best meets your needs.
---
THE BOTTOM LINE
Getting a Helzberg MBA puts you in the top tier of business graduates worldwide without requiring that you get in over your head in graduate school debt. We offer a rigorous academic program that delivers greater value than MBA mills but at a total cost that's less than an MBA from the University of Kansas or Baker University. See a schedule of fees and tuition.
---
JOIN THE TOP FIVE PERCENT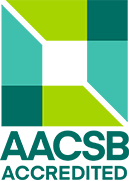 Employers take notice of applicants from AACSB-accredited programs. To earn this prestigious accreditation, Rockhurst met rigorous, relevant and carefully reviewed standards. With fewer than five percent of the world's 13,000 business programs earning AASCB accreditation, graduating from an accredited program is a powerful differentiator around the globe. In fact, Rockhurst's Helzberg School of Management is the region's only private, AACSB accredited school. Learn more about the importance of AACSB accreditation.