Go from High Potential to High-Impact Leadership with Helzberg's EMBA Program
A UNIQUE COHORT EXPERIENCE.
CLASS OF '19
David Windhausen

Executive Vice President, Intouch Solutions

"The Rockhurst EMBA program has given me a strong and formal foundation for what it means to be a great leader in today's business world. Each course seemed to build upon the last one, all with the focus on being immediately relevant to my daily life as a business executive."

Nathan Turner

Director of Sales and Regional Operations, Burns & McDonnell

"This program has given me a heightened appreciation for my own abilities and expertise, helped me understand the challenges and opportunities in our global economy and given me the confidence to take risks and embrace my potential. Through this program, I better understand the critical thinking and strategic planning that is necessary to be a leader and change agent within my organization."

Dan M. Searle

Creative Services Director, VML

"The EMBA program has reinforced my dedication to never stop learning. The leadership acumen I have gained through this program has been instrumental to my personal and professional development."

Jamie Dik

Sr. Director Foodservice Sales, Smithfield Foods

"The Rockhurst program enabled me to grow my leadership skills so I'm ready for the next level in the company."

Spencer Dean

Director of Business Development Specialists and Director of Seasonal Sales Teams, Spring Venture Group

"Through the course, I discovered core business knowledge, as well as leadership and collaboration skills."

Jason Cradit

Sr. Director of Technology, Pivvot

"The Helzberg EMBA has provided me the super-power of reflection. Allowing me to be more thoughtful in my leadership and intentional in my decision-making."

Saroj Gupta

President, Asuun

"The Helzberg Executive MBA has really changed me to critically think and strategically plan in entrepreneurship."

David Wild M.D.

Vice President, Performance Improvement, The University Of Kansas Health System

"The program has helped me develop and hone business and leadership skills which have been immediately impactful in my work. My awareness and understanding of a broader range of opportunities and threats pertaining to our business has been a key benefit of the program as well."

Matthew Ellis

Associate Provost for Enrollment Services, Rockhurst University

"The relationships formed with my EMBA cohort were stronger than I expected. Learning from their experience and supporting each other through the program made it feel more like a shared experience, not merely a degree."

Mary Mooney Burns

Vice President for Advancement, Rockhurst University

"This EMBA program is living proof of what makes Jesuit education unique and meaningful. We are challenged to reflect and question our current way of proceeding through the lens of ethical strategy. Rockhurst University determines its success by who their alums become and their impact on others."

Prerana B. Patel

Senior Integration Architect, Cerner Corporation

"The Rockhurst Executive MBA has changed my perspective on how I approach everything from small tasks to life changing moments. I have grown intellectually and become far more intuitive with my actions personally and professionally. Individuals in my professional and personal life have noticed a drastic difference in my behaviors and approach to situations."

Christopher Munsch

Chief Financial Officer, Mayer Hoffman McCann

"The program has challenged me to rethink my perspectives in critical aspects of business strategy, management, leadership and execution."

Ryan Cline

Prosthetist and Clinic Manager, Hanger Clinic

"The leadership and self-insights I have discovered have forced me to identify and improve upon my strengths and weaknesses. The cohort environment has allowed me to gain knowledge from other professionals in varying fields."

Derek Baron

Vice President, Netsmart

"The program has improved my ability to manage and measure what matters, and lead people."
Rockhurst Executive MBA program alumni are leaders in business, politics and nonprofit organizations.
IS THE HELZBERG EMBA RIGHT FOR YOU?
The Rockhurst University Executive Master of Business Administration program develops ethical thought leaders who change business for the better. If you're looking for a values-based immersive learning experience that offers a 360-degree view of leadership, then the Helzberg EMBA program in Kansas City might be for you.
EMBA at a glance →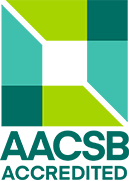 BE IN THE TOP-5 PERCENT
Rockhurst University is the region's only private AACSB-accredited school. In fact, only five percent of the world's 13,000 business education programs can say they have AACSB accreditation.
Learn More →

Danny O'Neill
'93 EMBA, Founder and Bean Baron
The Roasterie
"The value of my education has grown exponentially over time. The program taught me how to weave practical business knowledge into our own culture. Now we try to hire Rockhurst graduates at every opportunity."
EXECUTIVE MBA COHORT NETWORK
From the first day of your EMBA program until graduation, students in our Helzberg Executive MBA cohort take the same classes at the same time — forming a powerful and diverse network of Kansas City's most sought-after professionals. The unique structure of our EMBA program ensures you'll learn as much from your peers as you do from your professors, while creating relationships that extend far beyond the classroom.
LEARN MORE ABOUT OUR EMBA PROGRAM