Kappa Delta Pi
---

Academics

---

Programs

---

Schools

---

Academic Support

---

Resources
The Rockhurst University Psi Psi chapter of Kappa Delta Pi, the international honor society in education, encourages scholars and educators to achieve and sustain preeminence in teaching, scholarship, and service.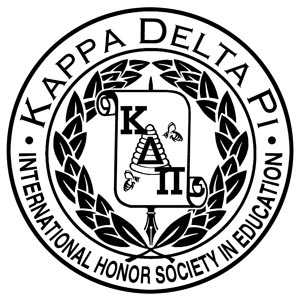 About the Chapter
The chapter received its charter on April 19, 1998. Kappa Delta Pi members make up the top 10 percent of those entering or practicing within the profession of education, and include award-winning and outstanding educators. Members enjoy resources and benefits such as access to a community of educators, education magazines and journals, professional development webinars, e-newsletters for educators, and applications for scholarships and grants.
Membership Qualifications
We invite to membership persons who exhibit commendable professional qualities, worthy educational ideals and sound scholarship. Qualifications include:
Intent to continue in the field of education
Leadership attributes
Must be accepted into Rockhurst's education program and have completed at least nine credit hours in education
Undergraduates and graduates must maintain a minimum overall GPA of 3.5
Complete eight hours of education-related service each semester; during the student teaching semester you are excused from this expectations
Attend chapter meetings, which are held after fall and spring initiation ceremonies
If you are interested in joining our Psi Psi Chapter of Kappa Delta Pi (KDP), apply at https://ams.kdp.org early October or mid-March. Initiation dates and times will be announced each semester. You can look for up-to-date information on our KDP bulletin board in the hallway on the third floor of Van Ackeren Hall.
2019-2020 Kappa Delta Pi Leadership