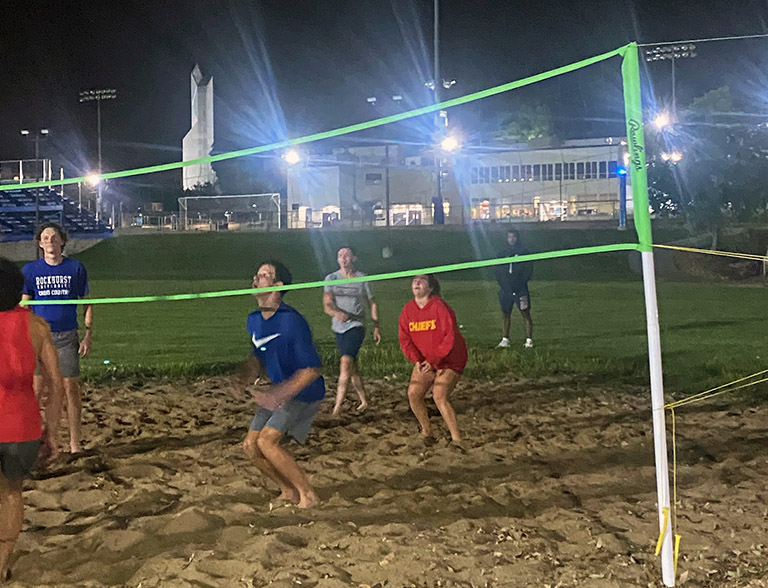 For many students, being out of high school and on a college campus marks the first time they're no longer involved in club sports or organized competitions. Many are also looking for college activities to meet new people.
The world of college intramural sports awaits.
What Are Intramurals?
Intramurals are sports leagues, tournaments and competitions held within one university. The difference between intramurals and intercollegiate sports is Rockhurst's NCAA Division II teams play other schools and most players are on an athletic scholarship. Intramurals are student competitions that provide exercise, recreation, and fun in a relaxed, yet structured environment.
Types of Intramural Sports
Rockhurst offers co-ed leagues, activities, and tournaments in a wide range of team sports and competitions. They include:
Soccer
Basketball (5v5 indoor, 3v3 outdoor)
Volleyball
Sand volleyball
Flag football
Dodgeball
Ping pong
Tennis (singles and doubles)
Cornhole
Kickball
Don't see anything for you? Suggest it! Core sports (basketball, soccer, volleyball) are offered each season. Additional sports are added at various times throughout the academic year.
How Do Intramural Sports Work?
Students can register themselves and be assigned to a team or register a team. There is no cost. To sign up, visit the IM Leagues Home Page. Schedule are posted online and games are played on Burke Field, in the area behind Corcoran Hall, inside the Convocation Center, or on the tennis courts. If a team wants to hold a practice on their own, they are welcome to. There are no official practice commitments.
If you have a question about our intramural sports programs, you can find answers at the Magis Activity Center (MAC). Be sure to follow on Instagram, @rockhurst_intramurals.
Note: The MAC also offers weight training, aerobics, Pilates, yoga, PiYo, fitness equipment, and on-demand classes.
Why Intramurals Are Awesome at Rockhurst
1. The friends you make along the way
The true value of intramural sports comes from the recreation and friendship shared with the other participants. There are sports and teams for a variety of interests and levels. It's a great way to get to know people at college, or simply build lasting relationships.
2. Different sports on different days
Instead of one sport at a time, Rockhurst offers different intramural sports three nights a week and on select weekends. Play one, play all. Just play!
3. Sports support academics
At Rockhurst, intramural sports enhance the academic experience by promoting and reinforcing leadership qualities, teamwork, respect, integrity, and accomplishment within fun competitions. Games and competitions are scheduled for later in the evening and on weekends to allow for weeknight classes to finish and students time to finish homework.
4. Improve your physical and mental health
Getting out and exercising – and having fun doing it – improves both physical and mental health, especially in a sometimes-intense academic environment. That hour or two of intramurals with friends helps reduce stress and relieves anxiety. In a community like Rockhurst, getting involved on campus with intramural sports or any activity will greatly improve college life.  
5. We have core values and follow them
The core values of Rockhurst intramurals are:
Fun (Enjoy the experience in a positive, inviting environment)
Honesty (We strive to uphold a culture of integrity, trust, fairness, responsibility, and accountability)
Respect (Sportsmanship and respect for all)
Professionalism (We trust our student employees will grow in organizational skills and give participants a program to be proud of)
Passion (Play with positive energy and enthusiasm!)
Community (We promote lasting friendships and camaraderie)