Missouri's First On-Campus 'Exercise is Medicine' Initiative Going for Gold
Wednesday, December 8, 2021
Rockhurst University students working out in The MAC (Magis Activity Center) will regularly see individuals in yellow shirts asking if they'd like assistance. They're not doctors, but they help students get a healthy dose of medicine.
These students' presence in the MAC and around RU's campuses is part of a program that only two other universities in Missouri have at this level. The program is called Exercise is Medicine – On Campus (EIM-OC) and is promoted by the American College of Sports Medicine to encourage exercise as a key part of a healthy lifestyle. The RU students are Exercise Science majors.
Rockhurst was the first university in Missouri to implement EIM-OC four years ago and is now one of only three universities in Missouri with registered EIM-OC programs. RU received the Silver Recognition by the ACSM for its efforts promoting exercise on campus – the first program in Missouri to receive the honor.
Exercise Science faculty member Nicole Moodie, who implemented the program for RU Exercise Science students, received a grant from the national EIM-OC initiative and the ACSM in spring 2021 to help expand the program on campus.
Those efforts continue to grow among Troost and Westport campus students, as well as others on social media.
"Last year, while not the best timing due to the pandemic, I started an EIM-OC elective course open to junior- and senior-level Exercise Science students who had completed coursework aimed at exercise testing and prescription," Moodie said.
Limited because of the pandemic, those students started the @ruexerciseismedicine Instagram account to promote events on campus and encourage healthy habits. They often post videos of simple ways to be more active throughout a student's day.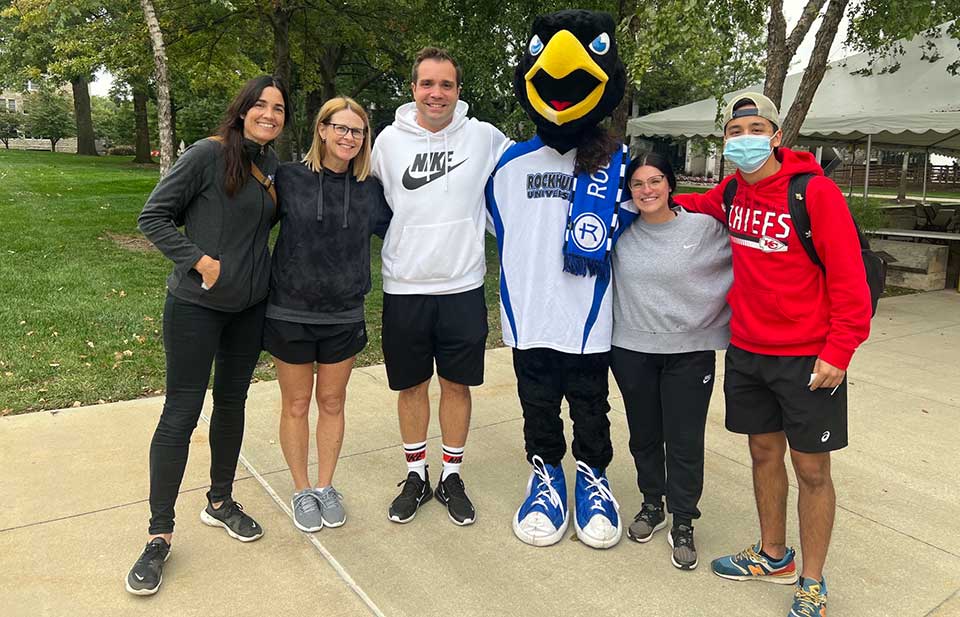 This year, with on-campus life closer to normal and the MAC much busier, students enrolled in the EIM-OC course are responsible for working on the MAC's fitness floor each week. They're the ones in the yellow shirts spotting weightlifters, answering equipment questions, providing individual or group training, or delivering fitness assessments.
This fall semester the students reached out beyond the MAC to encourage more students to get active inside and outside.
Activities included the "Wednesday Walk the Rock" events, encouraging the Rockhurst community to walk one- or half-mile routes on campus during lunch, an outdoor yoga workout, an outdoor-turned-indoor (due to weather) core workout, and a "How Active RU?" step challenge.
"The Walk the Rock events were supported by programs within the Saint Luke's College of Nursing and Health Sciences and each program claimed one week during which they encouraged their students to take part," Moodie said. "The goal was to have a large group meet and walk, with the hope of gaining the interest of those walking by throughout the lunch hour. The EIM-OC students got a lot of questions about EIM-OC during this time by those walking about campus."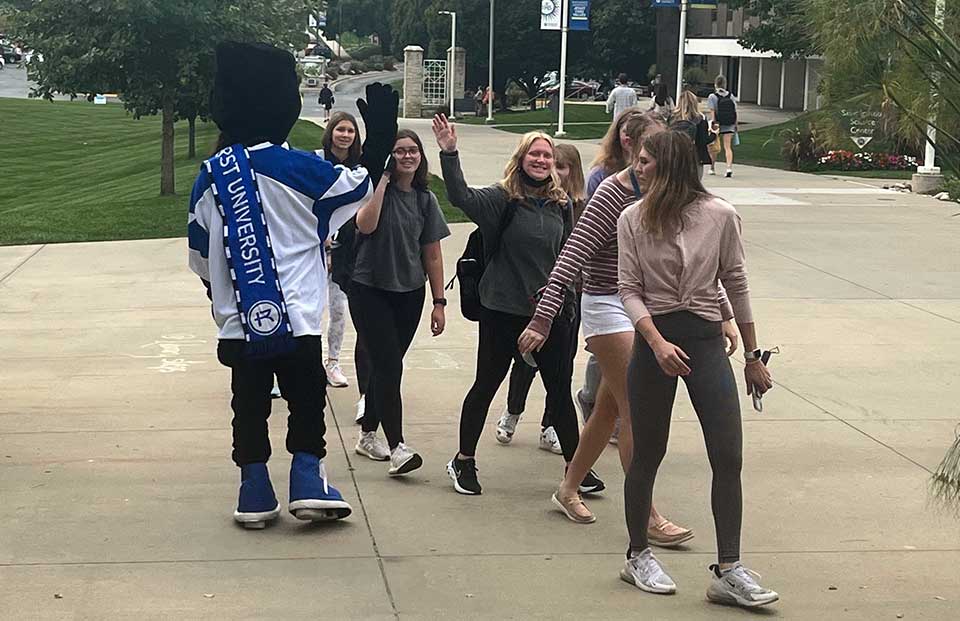 With the weather turning colder, students are running weekly challenges inside the MAC such as push-up and wall squat challenges. Prizes and giveaways for these events are supported by the grant Moodie received for the program.
Meanwhile, on social media, EIM-OC students continue to offer fitness suggestions and promote restorative exercises such as flexibility and balance during especially stressful times of the semester.
Moodie and the EIM-OC students are pleased with the group's efforts and accomplishments so far, but they have their eyes on earning a Gold Recognition.
"In order to achieve the ACSM Gold Recognition we would need an on-campus healthcare provider to refer patients to the students working at the MAC to learn more about how to start an exercise program and set them on the path to a healthier activity level," Moodie said.
It's possible for that to be achieved by involving more on-campus services such as recommendations from the Counseling Center to exercise for stress relief and the Learning Center to help increase focus and memory retention through physical activity.
In the meantime, Moodie and the EIM-OC students will continue to do what they're passionate about – helping people through exercise.
"It is my plan to continue to help students come up with ideas to promote exercise on our campus through the EIM-OC program," she said.
The students are easy to spot, just look for the yellow shirts.