Rockhurst Alumna Making History for the Blind
Ashley Neybert was taught at a young age that she could accomplish anything she set her mind to. This critical lesson followed her as she faced unimaginable challenges during her college career.
Neybert began her college career at the University of Northern Colorado. One day she received a phone call that her family had been in a car accident and had to be life-flighted to a hospital. To assist in her family's recovery, she moved with them from Colorado to Kansas City, where she ended up at Rockhurst. While helping her family recover, Neybert was going legally blind.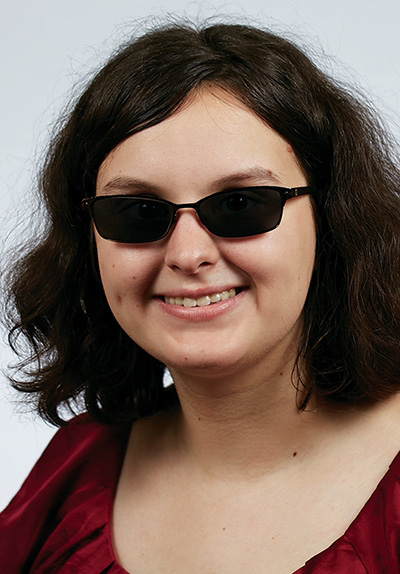 "I learned about using a white cane, how I could interact with science, started learning Braille, practiced my Braille by incorporating it into my school notes so that I could get faster."
Neybert was able to problem-solve with Rockhurst professors to ensure she got the most from her academic experience in pursuing a chemistry degree. She worked with them to figure out how to complete chemistry problems with the limited Braille she knew at the time.
"Dr. [Paula] Morehouse in the chemistry department was especially helpful with that, which helped reignite more passion with going into curriculum design."
Working in partnership with the Missouri School for the Blind, Neybert helped design tactile pre-lab activities still used at Rockhurst. Neybert worked diligently to finish her chemistry degree, crediting a lesson she learned at a young age for helping her stay motivated to complete her goals.
"When I was little, my grandfather always read me 'The Little Engine That Could.' That was my favorite book because he always told me, 'you could be like the little train that could, you might be small, but you keep working at it. Eventually, you'll be able to do things no one else can.' That was always really important to me."
Post-graduation, Neybert began working for Independence Science as their Lead Curriculum Designer for Blind and Low Vision Students, where she helps schools make their curriculum more accessible. The job includes creating more interactive versions of science projects that blind or low-vision students can interact with and engage in learning the same as sighted students. In addition, Neybert creates custom labs for students and provides on-site and over zoom curriculum instruction for teachers.
Neybert does many different things in her job, but one of her favorite things is working with students. She enjoys teaching a class for a day because she gets to be the role model they might not otherwise know.
"This is really important when you're growing up to see yourself with that diversity."
Neybert has received a Master's in Curriculum and Instruction from Wichita State University and is currently exploring Ph.D. programs to research free-choice learning, or learning in environments outside the classroom, such as in a museum or a park.
While her grandfather taught her she could do anything she wanted to while growing up, Neybert hopes that she can make that a reality for all students in the future.
"I'd like to take [the Ph.D.] and make it so that science is more accessible for students of all different abilities and be able to do more research into making that an even playing field for everyone. That's what I hope to do with my future."
Below: Ashley joined to Rockhurst University podcast, The RockCast, in 2022: