Engineering Student Creates Business Customizing Jordans
It's completely normal for a college student to see something they want and decide it's too expensive – especially shoes. And especially Nike Air Jordans, which can run into six figures depending on what you're looking for… unless you can make them yourself and sell them to musicians and athletes.
That's the journey Rockhurst Mechanical Engineering student Nate Lee has taken, and now the whole country knows his talent thanks to a feature in GQ.
Nate can make his own kicks. Hence his business's name, KICKSBYN8.
A couple years ago, Lee, now a senior at Rockhurst, saw the Last Dance Netflix documentary about Michael Jordan and the Chicago Bulls dynasty and wanted a pair of the Air Jordan 1's in the original Chicago colorway (red and black to match the Bulls uniforms) shown in the documentary.
That's a bit pricey, however. The originals, new and the box, are listed on eBay for as much as $125,000.
Fortunately, Nike came out with a retro series in the mid-2010's mimicking the originals, but even those are out of reach for most people.
"I wanted those original Jordans in that colorway and looked them up and found the retro version of them," he said. "They were $1,800 bucks. Oh my gosh. I mean, I'm a sophomore in college! I can't do that."
Instead of putting them on a wish list, Lee found some YouTube tutorials on how to turn a cheaper shoe into custom colorways. He bought a $150 pair of Jordans, some materials and got to work making his own.
"I thought about wearing them, but decided to try to get some money. I got pretty aggressive with the pricing on it, and they sold pretty quick. I was like, 'Oh, okay! Let's see if we can take this further.' I've been doing it ever since."
In addition to learning how to make some extra money (and the shoes he wanted), Lee learned how to prep the leather with an acetone. Then he started with small brushes to detail the shoes before moving to an airbrush later as he perfected his methods. He also added two others to his team, Josh and Dakota, to help meet increased demand.
What started as a side interest in the Rockhurst residential halls has now grown beyond belief. Lee now works out of a studio in downtown Kansas City. His shoe customizing business started growing when Nate advertised his work on Instagram under KICKSBYN8. He was contacted by a writer for GQ Magazine asking about a custom for himself, but a week later asked Nate if he could interview him for an article.
That article propelled this side-project's popularity and Lee's now worked with people in the music business and pro sports. Nike doesn't mind and will actually send some customizers stock to make new creations.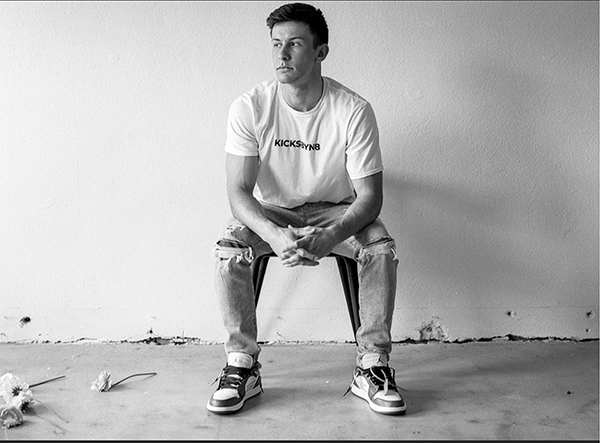 Lee takes requests for new customs (there's already a Rockhurst-themed custom in the plans, by the way), and a couple that stand out to him are a pair of Jordan 1 Low South Beach (Miami Vice colors), and one to honor the late Kobe Bryant with 8 on the left shoe and 24 on the right that's listed on Nate's website for $749.
Of course, Lee makes some for himself, too. His favorite pair depends on what he's been working on.
"My go-to is always what I just did. The most recent one is the [Nike High Jordan 1] Black Toe. It's similar to the Chicago, but with the toe black, hence the name. That shoe was the one pictured on the photo for the Jumpman logo. Everybody thinks it's the one that he wore in games all the time in Chicago, but it's actually the black toe. That's my favorite right now. I'm trying to make a collection of all of my stuff. I'm selling other Jordans and then I'll make a pair for myself."
One of his latest customs was a Supreme Nike Air Force One pair that changes color.
"When you pour water on it, it's white then it turns red. I love doing stuff like that – people come and say, 'I got this idea. You think you can do it?' And I've always been wanting to want to take a challenge."
Lee's next challenge is finishing his engineering degree, then he plans on going full-time into his career. While it may not happen right away, he's hoping his career is an expanded version of KICKSBYN8.
"The ultimate goal is to turn it into a full-time thing."