Go from High Potential to High-Impact Leadership with Helzberg's EMBA Program
A UNIQUE COHORT EXPERIENCE.
CLASS OF '20
Chris Bidnick

Managing Director of International Sales, Smithfield Foods

"The Rockhurst Executive MBA's unique, comprehensive program has enhanced my business acumen and leadership skills, providing a professional edge that separates me from thousands competing for senior leadership positions."

Melea McRae

Founder and CEO, Crux KC

"This program has been transformational for me, both personally and professionally. As a result, I'm more confident in my abilities as a business leader and how to develop leaders on my team."

Randy Hopkins

Chief of the Department of Safety and Security, Rockhurst University

"If you have a desire to advance your business and executive leadership to the next level - this program is for you."

Avinash Bade

Technical Manager, Honeywell FM&T

"The Executive MBA program is a wealth of knowledge gathered through thought provoking cohort discussions, excellent curriculum and passionate faculty."

Elizabeth Fossey

Director of Manufacturing, Honeywell FM&T

"I have really valued the insights I have gained from my fellow classmates in the EMBA program. They have expanded my world view and provided tangible examples of real-life events."

Jeff Stoner

CEO, Ethos Medical Staffing

"If you are wanting to improve and hone your leadership skills and overall business acumen, it's worth investing in yourself."

Aaron Roan

Division Manager, Wade Jurney Homes

"Through my Rockhurst education I have been taught the art of personal reflection and have a greater sense of who I am, why I am here, and what I believe. All of this while making life long friends."

Kevin Ludwig

Global Transmission Technology Portfolio Manager, Black & Veatch

"Going through an EMBA program is a significant time and money investment and going through this program I believe I'm getting much more than a diploma or four letters which I can tack onto my business card or email signature."

Amanda Falen

Senior Administrator of Anesthesiology, The University of Kansas Health System

"There is no perfect time to go back to school. Take the leap of faith that full time work and school is possible. You will find that the program is worth the effort."

Bill Patterson

Group Director - Public Relations, VMLY&R

"I value the friendships I have made with my EMBA cohorts, and the way each one has made me a better thinker, leader and human being."

Tim Saxe Tim Saxe

Director of Capital Projects, Kansas City University

"With an open, inquisitive mind and readiness to explore yourself, this program will pay dividends on every bit of investment you are willing to commit."
Rockhurst Executive MBA program alumni are leaders in business, politics and nonprofit organizations.
10

Years

Average management

experience
IS THE HELZBERG EMBA RIGHT FOR YOU?
The Rockhurst University Executive Master of Business Administration program develops ethical thought leaders who change business for the better. If you're looking for a values-based immersive learning experience that offers a 360-degree view of leadership, then the Helzberg EMBA program in Kansas City might be for you.
EMBA at a glance →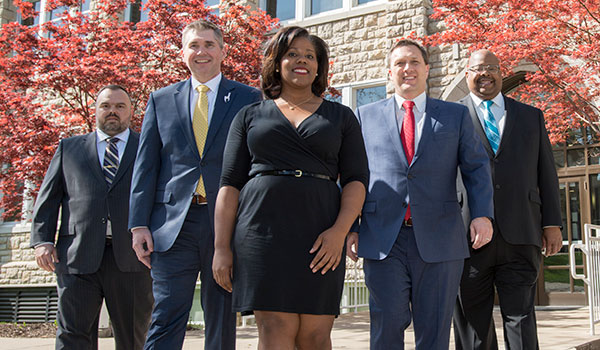 Meet our esteemed faculty and get your questions answered in person.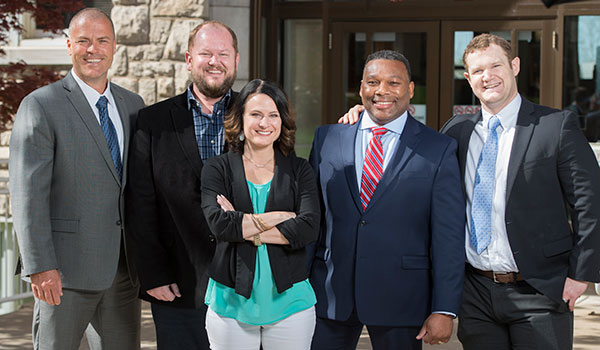 Learn about transforming into an effective executive leader.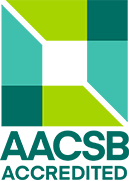 BE IN THE TOP-5 PERCENT
Rockhurst University is the region's only private AACSB-accredited school. In fact, only five percent of the world's 13,000 business education programs can say they have AACSB accreditation.
Learn More →
Kim Scott-Robert
'10 EMBA, Vice President of Business Development
Quantum Health Professionals
"Not only do you walk away with a superior education, but also the confidence and ability to make calculated risks that benefit your organization."
EXECUTIVE MBA COHORT NETWORK
From the first day of your EMBA program until graduation, students in our Helzberg Executive MBA cohort take the same classes at the same time — forming a powerful and diverse network of Kansas City's most sought-after professionals. The unique structure of our EMBA program ensures you'll learn as much from your peers as you do from your professors, while creating relationships that extend far beyond the classroom.
LEARN MORE ABOUT OUR EMBA PROGRAM