2022 Leadership Series - Thomas Friedman
Thursday, March 24, 2022 - 4:00pm
Kauffman Performing Arts Center
1601 Broadway Blvd, Kansas City, MO 64108
4:00 pm VIP | 5:00 pm Program and Reception
The Rockhurst University Leadership Series, presented by the Rockhurst University Leaders Council and CommunityAmerica Credit Union, welcomes Thomas Friedman, the Bestselling author of "The World is Flat" and New York Times foreign affairs columnist, as this year's speaker. Friedman will keynote the 2022 Leadership Series, speaking on "Helping Today's Leaders Understand Big Trends Shaping the World: Economics, Technology, and Geopolitics".
Secure Your Sponsorships
Priority reservations are now open - view sponsorship levels below. To secure your sponsorship, please contact Amy Reardon, RU corporate relations, at amy.reardon@rockhurst.edu or 816-501-4574.
Individual Tickets
We will have a limited number of individual tickets on sale in January 2022.
About Thomas Friedman
As "the country's best newspaper columnist" (Vanity Fair), Friedman is renowned for his direct reporting and accessible analysis of complex issues shaping the world. According to Foreign Policy magazine, "Friedman doesn't just report on events; he helps shape them." A three-time Pulitzer Prize Winner, he has covered monumental stories from around the globe for The New York Times since 1981.
With clear and compelling language, Friedman discusses the opportunities and challenges that profound "accelerations," including technology and connectivity, pose for society as well as for individuals, businesses, and governments. He also explores solutions — on a local and global level — to ensure the future of work, skills, income, and prosperity. 
In his latest bestseller, Thank You for Being Late: An Optimist's Guide to Thriving in the Age of Accelerations, Friedman offers a blueprint for overcoming the stresses and challenges of a world being transformed by technology, globalization, and climate change.
Rashford-Lyon Award for Leadership and Ethics
The 2022 event will recognize Joe Reardon, '90, with its Rashford-Lyon Award for Leadership and Ethics. This award honors recipients who exemplify high ethical standards of business conduct with excellence in leadership as demonstrated by outstanding initiative, impact of work and inspiration to others. Reardon is former Mayor/CEO of the Unified Government of Wyandotte County/Kansas City, Kansas, and President and CEO of the Greater Kansas City Chamber of Commerce.
The Rashford-Lyon Award is named for two of Rockhurst's influential leaders: the late Tom Lyon, Ph.D., and the Rev. Nick Rashford, S.J. The award was established in 2014 and past recipients include Tom Lyon, Ph.D., Jane Chu, Ph.D., '05 EMBA, Mayor Sly James, '80, Patricia Cleary Miller, Ph.D., Jean Dunn, Wendy Doyle, '94, Lisa Ginter, '87, Ama Karikari, M.D., '07, Marny Sherman, '75, and Bridgette Williams, '16 EMBA.
Presenting Sponsor, $50,000*
---

*Sponsorship secured by CommunityAmerica Credit Union
Premier seating for 30 guests
Representative in the live program of the event
VIP reception & photo opportunity for six with Thomas Friedman and exclusive time with outgoing University President, Fr. Thomas B. Curran, S.J.
Company logo on all event materials, webpage, and in RU magazine
Exclusive VIP registration prior to the event
VIP guest experience
Title sponsorship listing and acknowledgment in all marketing materials
Complimentary gift for each guest
Valet parking for guests
Magis Sponsor, $25,000
---
Premier seating for 25 guests
VIP reception & photo opportunity for four with Thomas Friedman and exclusive time with outgoing University President, Fr. Thomas B. Curran, S.J.
Company logo on all event materials, webpage, and in RU magazine
Exclusive VIP registration prior to the event
VIP guest experience
Premier listing and acknowledgment in event program
Complimentary gift for each guest
Valet parking for guests
VIP Reception Sponsor, $20,000*
---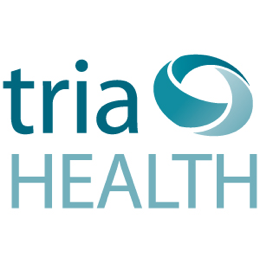 *Sponsorship secured by Tria Health
Premier seating for 20 guests
VIP reception & photo opportunity for ten with Thomas Friedman and exclusive time with outgoing University President, Fr. Thomas B. Curran, S.J.
Exclusive logo placement during reception and in photo gift to all VIP reception guests
Exclusive VIP registration prior to the event
VIP guest experience
Premier listing and acknowledgment in event program
Company logo on all event materials, webpage, and in RU magazine
Complimentary gift for each guest
Two valet parking vouchers
Jesuit Sponsor, $10,000
---
Premium seating for 15 guests
VIP reception & photo opportunity for two with Thomas Friedman and exclusive time with outgoing University President, Fr. Thomas B. Curran, S.J.
Exclusive VIP registration prior to the event
Listing and acknowledgment in event program
Company logo on all event materials, webpage, and in RU magazine
Complimentary gift for each guest
Two valet parking vouchers
Kansas City Sponsor, $5,000
---
Preferred seating for 15 guests
Listing and acknowledgment in event program
Company logo on all event materials, webpage, and in RU magazine
Express guest registration
Complimentary gift for each guest
Mission Sponsor, $1,850
---
Seating for 15 guests
Listing and acknowledgment in event program
Express guest registration
Complimentary gift for each guest