Summer Intern Update: Bernstein-Rein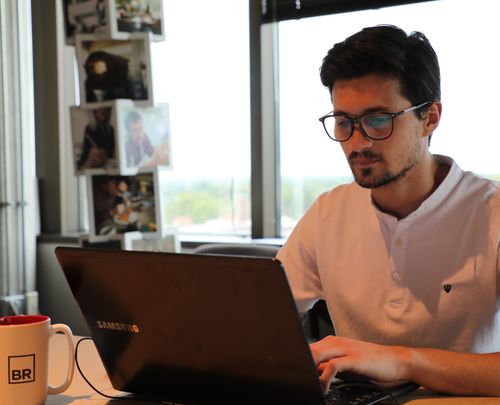 Gianluca Bottoni
Financial Markets & Economic Analysis, College of Business, Policy, and Analytics
Bernstein-Rein - Media Intern
This summer I am having an amazing experience at Bernstein-Rein, a marketing and advertising firm located in Kansas City, in the Plaza area. The company was founded by Bob Bernstein and Skip Rein in 1964 and Mr. Bernstein in person, told me and the other interns about the history of the agency and how everything started at lunch one day. Before starting BR, he had few working experiences at couple of different advertising agencies but he soon realized that he had no opportunity to grow there. So, he decided to open his own agency with $100 in his bank account and a $2,500 loan from the Bank. He told us how in the first few years he relied on small clients that he knew from his previous jobs but he never lost hope and he kept on dreaming big. Everyone knows that he created the Happy-Meal for McDonalds but that was not the first contribution to the fast food chain. In fact, Bernstein Rein became big when Mr. Bernstein personally flew to New York to meet McDonalds and show them his new creation. He came up with a new straw design for the American chain and when the meeting was over he had an order of a million of straws to be delivered in few weeks. He personally told us that in that moment he realized he made it but at the same time he immediately understood that it was only the beginning. In fact, the agency had and still has some of the most important businesses in America: Wal-Mart, Royals, H&R Block, Havertys, Discovery and so on.
As a media intern, I helped the media department with different tasks involving different accounts. I mainly focused my time on paid social campaigns, tracking ads performance, and reporting them to the clients. The main accounts I have been working on are Old Dominion, a freight line company based in North Carolina, and Havertys, a retail furniture company founded. However, our team of interns got to work on two personal projects with Ronald McDonald Charity House of Kansas City and Pre-KC. The Ronald McDonald House provides a place for families to call home so they can stay close to their hospitalized child at little to no cost. We have been in charge of a promotional campaign for an event to celebrate their 30th years anniversary. Essentially, we had to come up with couple of concepts and each one included: invitation to the event, brochure, email notification, event activities, and social media posts. We had a lot of fun working on this project and we had the possibility to volunteer at the house couple times to really feel the atmosphere and the spirit of the house. We had our final presentation last Tuesday and the client was so satisfied that he chose both concepts for two different initiatives
Pre-KC instead is a non-profit organization as well which mission is to raise awareness of the critical importance of quality early childhood education and to offer school readiness resources to local families and caregivers. For them, we had to create an awareness campaign for businesses to support quality early childhood. We are going to have our final presentation to the client on Monday at the Chamber of Commerce. This time we are going to show them only once concept that includes: a one-pager leave behind, posters series, how to guide, social posts, and post-presentation survey. We are all very excited about the presentation of our last project and hopefully it will be as good as the one for RMHC-KC.
I think these two projects have been very helpful to give me an understanding of how working with a client is like. We had the opportunity to go through the entire process with them, from scratch to final product and that is extremely helpful to understand how the agency and the advertising world function. Other than that, the projects that have been also a mean to practice the skills I developed during the internship. In fact, in these couple of months I learned how to work with sophisticated software, how to follow-up with the internal team, how to run, track, and reporting ads performance and a lot of other things. However, I think that the most valuable take away from this experience is the actual experience itself that allows me to have a clearer idea of what I want to do in the future. I faced a lot of challenges and all of them taught me important lessons. Probably the most difficult challenge I had to face occurred on the second day of my internship when my supervisor had me calling a vendor to get quotes about newspaper placing. I had no idea about how the all process worked and she decided to throw myself in that unfamiliar situation. It was only the second day and the first thought that I had was "there is no way I can survive here for 2 months". However, I did decent with the vendor and that gave me confidence for the rest of the internship. I told myself that if I did my best during my time at BR, things would be fine. And that is exactly what happened, I enjoyed the rest of my time at the agency and I learned a lot of things that will help me during my future career, even in the case if it will not be in the advertising world.