Intern Update: Shayna Overstreet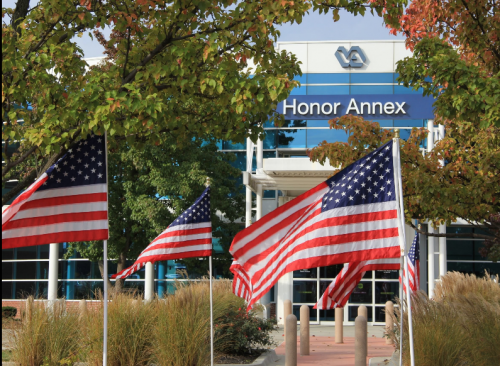 Shayna Overstreet
Business Administration, College of Business, Influence, and Information Analysis
Veteran Affairs - Honor Complex - Advance Medical Support Assistant
On Friday March 29, 2019, the Kansas City VA Medical Center honored our Vietnam Veterans. Unlike our Veterans returning from deployment today, our Vietnam Veterans were not greeted with open arms and praise when they returned. Instead, they were shamed and ridiculed for what they had to do while serving their country. I am so proud to have participated in this event and my heart was overflowing with joy to see how appreciative and touched our Vietnam Veterans were to finally receive the recognition they hadn't before.
This is my second time doing the co-op internship program with Veteran Affairs. During the first week of the Spring Co-op assignment I had a meeting with all of the individuals that make up the Business Operations Service (BOS) Task Force including the Service Line Chief. We discussed how many of the groups were not making much progress toward determining the reason behind the problems or brainstorming ideas on how to resolve these known problems. I had pointed out that there was a lack of communication between a couple of the assigned teams and that since we were all working at different locations, it made it harder to get together for group meetings or to have a group brainstorming session. I was informed that the two individuals that had been assigned as the leads for the two groups that were struggling, including my own, had stepped down from the Strike Team and that they had assumed that the rest of us would act autonomously to continue moving the mission forward. I pointed out that this lack of communication was one of the main problems within BOS and that it would have been incredibly helpful to have known this information.
I proceeded to voice a few of my suggestions to help improve the issue I had been assigned to, kiosk utilization and maintenance. I also listed a few suggestions I had about the phone system and call handling problems that are occurring even though I was not technically on that team.
After a lengthy and successful discussion on the kiosk and phone problems, I was asked to not only join the phone optimization team but to also take the role of the kiosk team lead, even though this position was meant to be for someone in a higher job position than I am. I was thrilled to be asked to do both of the requests and accepted.
I am excited to really get these strike teams deployed and working together towards achieving the goals set forth for us. I believe that working on the Strike Teams and taking the leadership role will really help me to gain experience and skills that will be applied in my future career paths.