Intern Update: Shayna Overstreet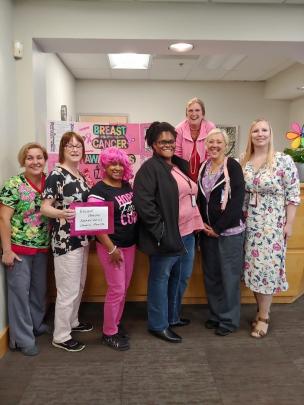 Shayna Overstreet
Business, College of Business, Influence, and Information Analysis
Department of Veteran Affairs - Kansas City VA Medical Center, Advanced Medical Support Assistant
My co-op experience at the Kansas City VA Medical Center allows me to help raise breast cancer awareness and the need for screening mammograms. As a part of the staff in the Women's Primary Care Clinic at the Honor Annex, we wore pink during the month of October to help raise awareness. To learn more about breast cancer, breast cancer awareness and screening mammograms, please visit nationalbreastcancer.org.
The Veterans Health Administration (VHA) is the largest health care system in the United States. Consisting of 1,243 health care facilities, including 170 VA Medical Centers and 1,603 Community-Based Outpatient Clinics (CBOCs), the VHA is able to provide care for more than nine million enrolled veterans. For my co-op experience, I worked with the CBOC known as the Honor Annex. My job title is advanced medical support assistant and my responsibilities are vast, but I will only focus on the most challenging new responsibilities I was given.
The responsibilities included being the timekeeper for all medical support assistants at the nine CBOCs and managing the gynecology consults. It became my responsibility to keep track of leave requests, premium pay requests, sick days, vacation time requests, setting tour of duties for new employees, verifying the accuracy of time cards before submitting them to payroll, etc. Now that I have been in charge of this for a few months, I definitely feel more at ease with this responsibility. 
My task of handling gynecology consults included running daily reports to check for new consults, working with providers to determine scheduling needs and reaching out to patients to get them scheduled. To meet KVCA goals, consults are to be scheduled within seven days of being entered. This does not take into consideration the weekend, the provider being in surgery half of the week and does not address consults in a timely manner or the fact that patients do not always answer the phone when I call.
Through my co-op experience, I was able to gain knowledge and skills to successfully manage this new responsibility as well.