Intern Update: Jessica Raya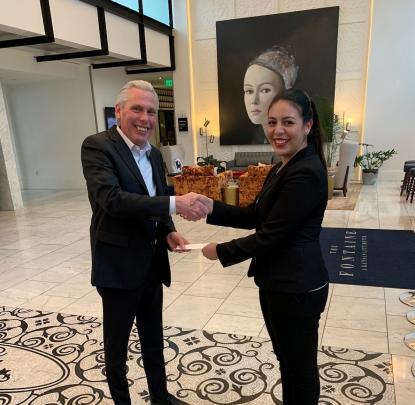 Jessica Raya 
Accounting, College of Business, Influence, and Information Analysis
Spanish, College of Arts & Sciences
The Fontaine Hotel - Director of Rooms
At my job, I get to participate in fun employee activities and socialize with the owner of the property. Not only are we encouraged to provide great customer service, but we are also encouraged to be creative and have fun. Here in this picture, the General Manager, Jody Hall, is presenting my award for winning the property's pumpkin contest in October.
Like any luxury hotel, The Fontaine Hotel strives to be the number one hotel in Kansas City. Their mission is to "manifest in continuous innovation, exceptional service delivery, revenue generation and financial responsibility." The Fontaine Hotel wants to be the rabbit that competitors such as The Raphael Hotel or the Intercontinental Hotel in the Country Club Plaza must chase after. Previously known as Hotel Sorella, the hotel went through an ownership transition in 2017. With the transition came innovation. It is my duty to provide the best customer experiences to guests such as the FO or Aratana Therapeutics, CEO of Littler Mendelson, and celebrities that choose to stay at our property. 
As the front office supervisor, I must ensure that front desk agents are well informed of hotel operations. For example, we hold meetings for different companies throughout the week and weekend. It is my duty that my agents are aware of these meeting locations and times. I am also responsible for training new employees on software like Oracle and Micros, which allows us to check room inventory, room rates, hotel occupancy, reservations and many more functions for the hotel. This experience has been great for making connections and growing in the role of a manager.