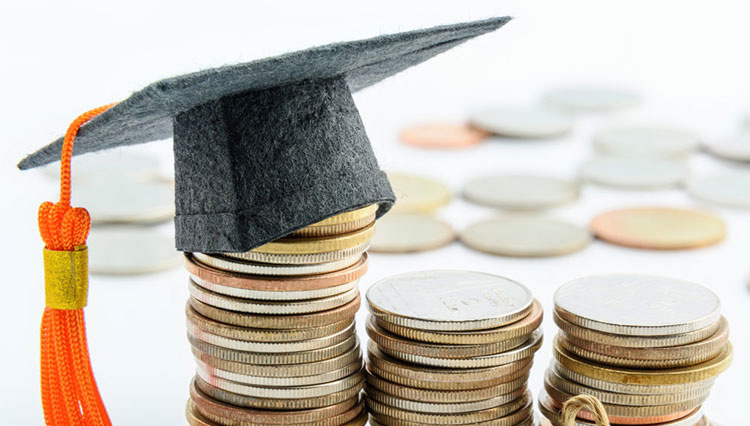 You've just been accepted to your dream school (welcome to Rockhurst!) and inevitably the next question asked is "How do I pay for college?"
Then other questions follow: What is FAFSA and when is it due? How do I apply for scholarships? Do I qualify for student loans? Do I have to contact the Department of Education? What about student debt forgiveness?
Relax. Take a breath. It's easier than you think, and more importantly, more affordable than you think.
At Rockhurst University, 100% of students receive some form of financial aid and the school provides more than $30 million a year in grants, loans, work-study funds and scholarships. This means Rockhurst costs less than most private and out-of-state public school tuitions.
So here's what to know and what to do:
The first thing to do is complete the Free Application for Federal Student Aid (FAFSA) through the U.S. Department of Education. This is simple: If you complete this it opens numerous doors for funding. If you don't, you're missing out on money! Like, a lot of money.
FAFSA opens on October 1 each year with priority filing due February 1.
Visit fafsa.ed.gov and enter the RU FAFSA code: 002499.
Note: FAFSA uses tax information from two years prior to the application year (2019 returns for 2021-22 FAFSA), though if changes in financial situations occur, you can request a financial aid appeal from the college.
Consider All Options
There are numerous ways to help pay for college beyond traditional income and savings. You can avoid or help limit any student debt that could be incurred through any combination of the following:
Now start here. Scholarships and grants are ideal because they don't need to be paid back. If you complete the FAFSA, you are automatically considered for state and university scholarships, plus the federal Pell Grant.
Merit and talent scholarships are some of the scholarships available, but there are thousands of scholarships to be had through local and national organizations, as well as private interests. Competition levels vary, but you have to apply to have a chance. Be sure to research what is required for each.
How do you get a scholarship? Google or use a scholarship search tool to find what could be available to you and then apply early and often. Your early work will be worth it.
529 Plans
There are two types of 529 plans – college saving plans and prepaid tuition plans. A 529 plan is a college savings plan that offers tax and financial aid benefits. Nearly every state has at least one 529 plan. FYI: Rockhurst's code is 002499.
Student Earnings and Savings (Where You Work Matters)
Money saved for college is money that doesn't have to be borrowed and repaid with interest later. A generation ago, saving for college was practically limited to working a part-time job or jobs, and putting in the hours necessary to make your college plans work. Things aren't a lot different, but there are several more options available to earn money in 2021.
When looking for a job before or during college, research which hiring businesses offer tuition assistance and what the criteria are to qualify. Many will reimburse some of your college education as a perk for just being an employee. Digital media in this age means photography, design and video skills are almost commonplace, so freelance work can be readily available for those who need it. There are also several ways to monetize social media to help fill your virtual wallet.
Once you're here, Rockhurst offers several part-time jobs on campus. To see job openings, visit Paycom.
What is work-study? The program provides part-time jobs for students with financial needs, allowing them to make money to help pay for school. The program encourages community service work and tasks related to your academic interests when possible.
To apply for work-study, first submit the FAFSA to see if you qualify. Those who are eligible can find available work-study positions and apply through Paycom.
Military Tuition Assistance is a benefit paid to eligible members of the U.S. Army, Navy, Marines, Air Force, and Coast Guard. Congress has given each service the ability to pay up to 100% for the tuition expenses of its members. Eligible Service members should receive approval from an Educational Service Officer (ESO) or counselor within the Military Service prior to enrolling. 
College students and parents/family can utilize federal loans and research others being offered from banks, non-profits, and additional sources. These are paid back with varying interest rates, so do thorough research in advance and use caution when (or avoid) borrowing more than is needed.
Note: Federal loans are preferable as they can provide access to repayment and student loan debt forgiveness programs. If private loans are used, find a student loan calculator to see how much you'll owe later (and how much later).
Ask More Questions
Have more questions about financial aid? No problem! Visit the Office of Financial Aid in Massman 109, email financialaid@rockhurst.edu or call 816-501-4600.