Learning Outside of the Classroom – and the Magic Kingdom
Thursday, December 9, 2021
Rockhurst prides itself in providing learning opportunities beyond the classroom, but now it can add Walt Disney World in Orlando, Florida, to the list of its educational environments.
This fall, six Rockhurst Honors Student Association E-Board members attended the National Collegiate Honors Council's 54th Annual Conference after having to miss last year due to its COVID-19 cancellation. RU Honors Program Director Maureen Walsh accompanied the group to the site of this year's event, Disney World.
Honors President Chrissy Crowell, a senior from Lake Saint Louis, Missouri, attended the conference for the third time but first with this E-Board.
"Just like the others, it was a wonderful experience," said Crowell, a double-major in Political Science and Criminal Justice. "It was truly inspiring to travel with such a group of diverse students. We make up varying majors, ideas, grades, and abilities as an E-Board and I am grateful to work with them every day."
The NCHC is a unique educational organization designed to support and promote undergraduate honors education. There are approximately 900 member institutions across the U.S. with over 300,000 honors students, coming together at the annual conference.
"Leadership is something that is instilled into all of our students here at Rockhurst, but one thing that stood out to me was making connections with other leaders from all over the country," said Crowell, who is in her second term as president of RU's Honors Association.
"I enjoyed being able to meet and build relationships with the other students and advisors," Crowell continued. "This conference had a particular interest in maintaining strong mental health practices within Honors Programs. I believe this conference will benefit me and the Honors Student Association by reinforcing the need to prioritize my mental health over the stresses of school—a lesson that is very easy to forget as an honors student."
Nhukim Nguyen, a junior from Lee's Summit, Missouri, majoring in Biochemistry and minoring in Psychology, also benefited from the chance to meet other honors students from a variety of schools.
"I was able to collaborate with students all over the country who came from big and small universities," she said. "No matter the different institution sizes, we were able to share and relate to the challenges we all faced from the pandemic."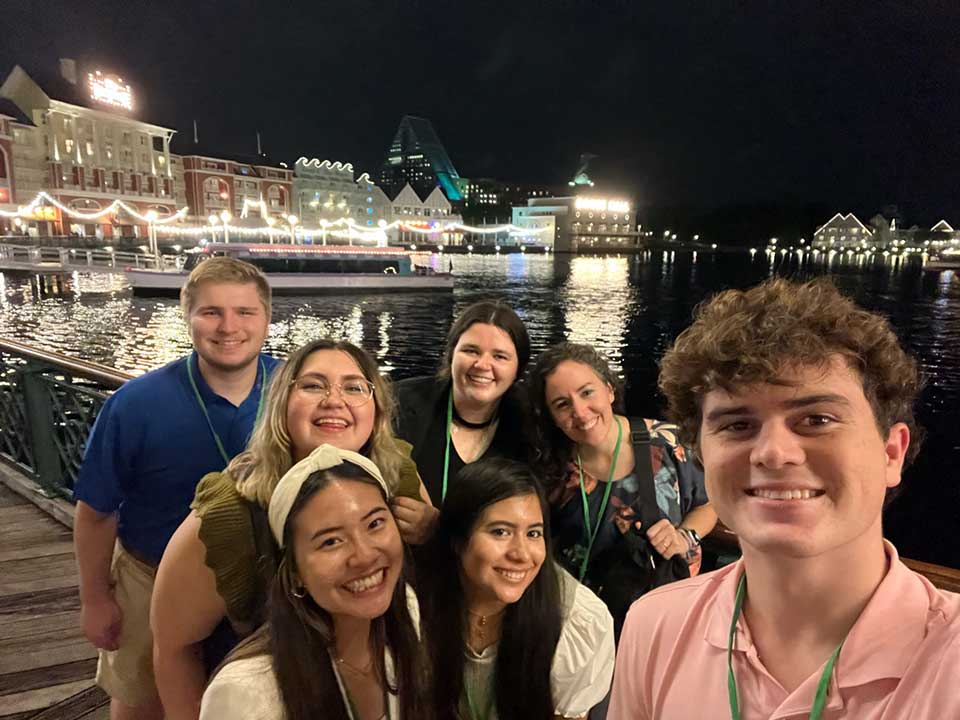 Since the 2020 event was canceled due to COVID, the theme of the 2021 conference was Reimagining Honors.
"We have been forced to reimagine how we do teaching, learning and community building within education, higher education, and honors education," NCHC states.
Nguyen said the conference opened her eyes to new ideas.
"There were so many different workshops that were offered such as: How to Advocate for a More Diverse, Equitable, and Inclusive Honors Program Environment and How to Improve Interview Skills," she said. "After each workshop, I valued how our executive team shared our goals and takeaways with one another. We are so excited to put our visions into a reality for the Rockhurst Honors Program."
Colton Broxterman, a junior from Topeka, Kansas, and a Pre-Dentistry student double majoring in Biochemistry and Psychology, also plans to bring some new ideas back to Kansas City.
"I think the trip was a huge success," he said. "I can happily say that I have many ideas, including having more workshops to improve things like resumes, interviews, and even how to best pitch yourselves to others. I think that for all of us, we have many exciting and new ideas that we are eager to implement into our program."
Learning goes beyond the Rockhurst classrooms on Troost and in Westport, and the University's honors students were pleased to take advantage of the chance to attend another opportunity to better themselves – even (or especially) at Disney.
"The opportunities I receive as a Rockhurst student are just as important to me as the lessons I learn in the classroom, and I am grateful for Rockhurst to allow us to go to the conference," Crowell said.