New Peace & International Studies Grads Aim to 'Impact Our World'
Tuesday, October 12, 2021
Rockhurst asks students to challenge themselves, inspire others, and impact our world. For the University's first Peace and International Studies (PAI) students, who walked with the Class of 2021 in May, they truly do aim to "impact our world."
The PAI major is designed to develop well-rounded representatives and leaders through interdisciplinary and international studies. Students gain knowledge of working systems and cultures across the globe in a program that allows learners to customize their degrees to their own unique interests.
Part of the program states students are required to take a college-level foreign language and engage in practical learning in an intercultural or global context. This may include study abroad, spring break service trips, biology field trips, or an intensive local service-learning project.
In other words, going to different parts of our world to make an impact.
Carrie Spanton, who joined the hospitality business right after high school in New Orleans and Bentonville, Arkansas, was drawn to the Rockhurst PAI program while earning an associate's degree at Metropolitan Community College.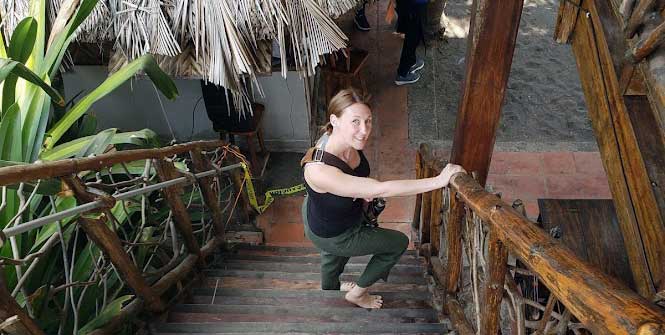 "I considered many programs, but after careful reflection of my values, I wanted a degree that would provide a strong ethical foundation to build the technical skills my graduate studies provide," Spanton said. "The Peace and International Studies program most appealed to me because it is rooted in the history department at Rockhurst. I knew I would need a strong understanding of historical context to make a real-world difference. I combined my PAI degree with a history minor to deepen my global awareness of current political and social issues."
The PAI program's flexibility creates unique opportunities for students. Spanton traveled on a service immersion trip to El Salvador (pictured above) and lived with a host family in Papaturro before working virtually with groups in Africa.
The educational aspect of the experiences provided knowledge that couldn't be learned in a classroom.
"I learned about international relations by hearing firsthand how the complicated relationship between the United States and Latin America affects local people's lives years after damaging policy has been enacted," she said. "I learned about international development by learning about local infrastructure policy and social projects. I also worked as a remote United Nations volunteer. I served as a team lead for a nonprofit in Cameroon and Sierra Leone called Social Development International where I worked with hundreds of volunteers from dozens of countries dedicated to providing aid during the COVID-19 crisis."
In September 2020, Spanton spoke about her experiences and hopes at a virtual event celebrating the 75th anniversary of the UN.
In addition to international service experience, Spanton volunteered in Kansas City with One City Café at the Bishop Sullivan Center, where she "learned how religious organizations often provide services for vulnerable communities the government does not."
A new Rockhurst alumna, Spanton is currently a Master of Public Administration candidate at Cornell University in the Jeb E. Brooks School of Public Affairs. She is leaning toward working in environmental policy and as part of a consulting class chose the Cayuga Lake Watershed Intermunicipal Organization (CWIO) where she will analyze local regulations aimed to protect and water quality and offer recommendations for improvement and/or expansion.
Additional graduates Amanda Ellis and Nathan Mark are also furthering their studies after the PAI program. Ellis joined the Jesuit Volunteer Corps and Mark was awarded a Foreign Language and Area Studies Fellowship to study Persian at the Henry M. Jackson School of International Studies at the University of Washington.
"The in-depth knowledge I gained from investing in my education at Rockhurst has transformed me into an interculturally aware and concerned global citizen who is sensitive to the complexity of everyday issues and to the experience of others," Spanton said. "I am a better student, leader, parent, friend, and person because of my experience at PAI. I have a broader understanding of why what I am studying or doing is important. This awareness gives my life a strong sense of purpose and newfound passion to create quantifiable and qualitative change in this world."
Spanton is a nontraditional student, so making a mid-life career change meant making sacrifices. She credits the Rockhurst faculty for helping her transition.
"Looking back on the program, some of the main takeaways that have helped me after Rockhurst were the kindness, patience, professionalism, creativeness, and passion of the faculty. The history department faculty supported, inspired, and encouraged me, providing an invaluable experience. They are highly professional, deeply passionate, and invested in personalized student success. I owe them my endless gratitude."