Former Transfer Student Goes From Full-Time Server to Future CPA
As an 18-year-old high school graduate, Mariah Schneider made the decision to stay in her hometown of Kansas City and find a full-time job. She ended up at one of Rockhurst students' favorite places to eat in nearby Brookside, Jalapenos Mexican Restaurant, for more than 10 years.
Schneider's life is much different now than she was at 18: The former National Honor Society member is about to graduate from Rockhurst with an Accounting degree, is a new mom, just finished choosing among several prestigious internship options through RU, and will be pursuing her MBA in 2023 (also at Rockhurst).
At long last, the end may be in sight.
"I feel like I've been doing this for so long," she said. "But now that I'm here, and I can see the light at the end of the tunnel, and it feels amazing."
Schneider made the decision a few years ago to go back to school and get her degree. She was willing to put in the work to earn it while she continued working to pay her bills. Her first stop was Metropolitan Community College's Longview campus. She earned her associate's and was on the lookout for somewhere to transfer.
Some of her Jalapenos co-workers helped steer her to Rockhurst.
"I worked with a lot of people who went to Rockhurst and they always wanted me to check into it," they said. "They just thought it was the best."
Schneider wanted to follow their advice, but needed help from scholarships. Her admission into the National Honor Society while at MCC opened up a lot of the doors she needed.
"I was really, really excited to apply, be accepted and transfer to Rockhurst," she said.
During the transfer process, Schneider met Taryn James at RU. James now serves as assistant director of Student Life at RU, but met Mariah while a transfer student admissions counselor.
"Mariah worked with us for months to get her transcripts sent over and scholarships applied for," James recalls. "Right when we were getting down to the wire, the pandemic started. Mariah was willing to do whatever we needed to get to the next step in the process. She was patient and responsive as we figured out what events and visits on campus looked like and she even earned an additional transfer scholarship." 
That additional scholarship proved to be the difference for Schneider.
"Taryn told me to apply for a scholarship they give to transfer students – the Trustees Scholarship," Schneider said. "I did that, and I was awarded a full-tuition scholarship. It was life-changing."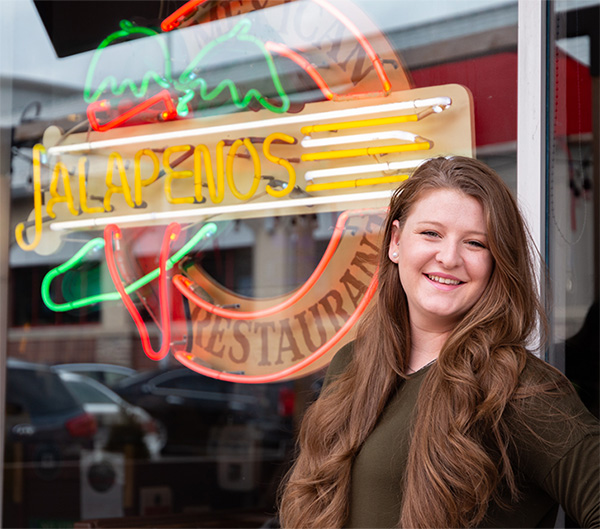 Now that she's closing in on her undergraduate degree, Schneider is taking yet another step toward reaching her career goals. She has spent the last year working with the Rockhurst Center for Career Development finding internship opportunities.
"They kept telling us companies hire a year in advance and to make sure you stay on it," she said. "Make sure you're looking into [internships], do some mock interviews to get yourself ready, and get your resume ready. They would send me little emails about maybe a local firm that was offering some internships and that was really helpful. I always stayed on the Simplicity app, the career app that Rockhurst posts all their job opportunities on. When it came down to it, everything was so conveniently put right there for you."
Schneider had a list of what she needed from an internship, and she was able to find two – one at BKD CPA Firm for winter/spring 2022, and one at Myers and Stauffer for summer 2022. Schneider was impressed with how companies came to Rockhurst to conduct internship interviews.
"It felt like they wanted to come get Rockhurst students specifically," she said. "It was really nice."
As her time as an undergrad at Rockhurst comes to an end in Fall 2022, Schneider reflects on her experience on The Rock.
"All the instructors that I have are awesome. For accounting, specifically, it's been the same instructors, which is nice because then you really feel like you get to know them, feel comfortable in their class, and reach out to them. We kind of have that relationship, which I think is something that any student needs. It's why I prefer on-campus over online courses because I just like to be able to ask questions to get feedback right then."
Schneider's story as a "non-traditional" and transfer student is similar to many at Rockhurst and around Kansas City. For students coming out of the workforce to go back to school, sometimes the hardest part is getting started.
"I would definitely say 'just do it, just get started,'" Schneider said. "Even if it feels like it takes forever, just keep going. Because you will eventually get there. It's just so worth it. Just being able to finish a degree and start a new career path – it's really nice to see your accomplishments along the way. And that's amazing to me."