Engineering and Computing Degree Programs

Rockhurst has partnered with the University of Missouri-Kansas City to offer an engineering and computing program, housed within RU's department of mathematics and the department of physics. The program is composed of five Bachelor of Science degree options:
Students take classes on both campuses, which are just a short walking distance from each other. The majority of core coursework, including math, physics and liberal arts will be taken at Rockhurst where class sizes are much smaller, which allows for more personal attention from faculty. Specialized courses are taken at the UMKC campus.
Technically, students of engineering and computing are enrolled at both Rockhurst and UMKC. Students will get student ID cards for both universities and can take advantage of resources at both, including library and cafeteria access, membership to clubs and more. The whole process is seamless.
Both universities have outstanding reputations in academics, student life and graduate success. Our program gives you the best of both worlds — a degree that will take you anywhere, built on the foundation of Rockhurst's Jesuit education.
Graduates with these engineering and computer engineering degrees are in high demand. This need, coupled with the foundation of a Rockhurst education, puts you in the driver's seat when choosing where you want to work.
---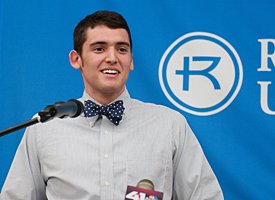 "I'm often asked why I didn't just go to UMKC. The truth is, given the choice again, I wouldn't trade my Jesuit education for anything. The philosophy and theology courses are the classes that have allowed me to grow in ways which, for so many years, I remained stagnant. My problem-solving, number-crunching brain had to branch out to tackle important questions like, 'Why am I here?' and 'How do I become the best I can be?'" — Simon Clark, '15
Top Five Reasons to Choose our Partnership Program for Engineering Education
1. AN IDEAL LOCATION. Kansas City is the fourth largest engineering hub in the United States, with five local firms that rank among the top 50 most successful in the nation.
2. ONE OF A KIND. UMKC offers the only accredited engineering program in Kansas City.
3. JESUIT TRADITION. A Rockhurst education is holistic, preparing you to lead, shape and change the world around you.
4. DOUBLE THE RESOURCES. As an ECIT student, you have access to academic and student life resources on both campuses.
5. IMMEDIATE IMMERSION. Take engineering or IT courses during your first semester in the program.