Nicole Moodie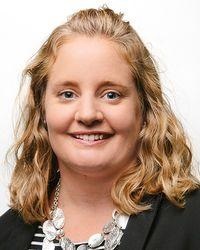 Associate Professor of Exercise Science
Program Coordinator for Exercise Science
Saint Luke's College of Nursing and Health Sciences
Degrees
Ph.D. Exercise Physiology, University of Kansas
M.S.E. Exercise Physiology, Baylor University
B.S. Exercise Science, Truman State University
Professional Licensures and Certifications
Certified Exercise Physiologist, American College of Sports Medicine - 2013
Certified Strength and Conditioning Specialist, National Strength and Conditioning Association - 2003
Biography
Nicole Moodie, Ph.D., completed a B.S. in exercise science with a psychology minor from Truman State University. After working full time as a personal trainer, Moodie completed her M.S.Ed. focused on exercise physiology from Baylor University. She completed her Ph.D. with an emphasis in exercise and applied physiology from the University of Kansas. At KU, Moodie taught undergraduate exercise science courses and her research interests focused on the skeletal muscle inflammatory response to exercise. 
At Rockhurst University, she has taught a wide variety of courses. Her current courses include Physiology of Exercise and Foundations of Conditioning. Moodie encourages students to approach the field of health and exercise with a critical eye while helping them learn to dispel fitness myths by utilizing appropriate resources and research. 
Moodie's research interests are centered on the use of technology to track various parameters of fitness and performance, from energy expenditure to power production. She is a strong proponent of undergraduate research opportunities and has mentored students who have presented their work at both local and national professional conferences, including the Central States American College of Sports Medicine meeting, American College of Sports Medicine National meeting, as well as the National Strength and Conditioning Association national conference. 
In addition to teaching and research efforts, Moodie is actively involved in promoting improved activity and exercise habits throughout the Rockhurst community. She has introduced the campus to the Exercise is Medicine-On Campus (EIM-OC) international initiative aimed at increasing exercise habits to improve overall health and wellness. Moodie works with exercise science students to spread this message on the Rockhurst campus.