Myles Gartland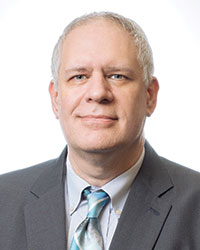 Professor of Analytics and Management
College of Business, Influence, and Information Analysis
Additional Positions
Dean, Helzberg School of Management & College of Business, Influence, and Information Analysis
Degrees
Ph.D. Economics, University of Missouri - Kansas City
M.S. Predictive Analytics and Computational Methods, DePaul University, School of Computing
M.A. Economics, University of Missouri - Kansas City
M.B.A. Master of Business Administration (MBA), Baker University
B.A. Biology and Anthropology, University of Kansas
Biography
Myles Gartland, Ph.D., is a professor of business intelligence and analytics and the senior director of graduate business programs for the Helzberg School of Management. In his dual role, Gartland not only instructs advanced analytics courses, but he also oversees the operations and strategy for the Master of Business Administration (MBA), Master of Arts in Organizational Leadership (MA), Master of Science in Data Analytics, and data science and graduate certificate degree programs. 
Gartland spends time researching in the areas of data mining, predictive models, business intelligence and big data. With more than a dozen articles and book chapters published and experience facilitating international presentations, Gartland is an expert-level resource who aides businesses in gaining better analytical insight into their products, customers and operations. 
He was a 2009-2010 Fulbright Scholar and has also held visiting professorship positions at Creighton University in Omaha, Nebraska, and Gdansk University of Technology in Poland.