Michael Marvin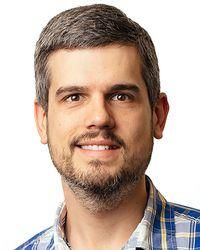 Associate Professor of Chemistry<br />Assistant Professor of Chemistry<br />Acting Associate Dean, College of Arts &amp; Sciences
College of Arts and Sciences
Additional Positions
Associate Dean, College of Arts and Sciences
Degrees
Ph.D. Biological Chemistry, University of Michigan
B.A. Chemistry, Albion College
Professional Licensures and Certifications
Postdoctoral Fellow, University of California, San Francisco - 2016
Cellular Biotechnology, University of Michigan - 2011
Biography
Michael Marvin, Ph.D., is a tenured associate professor of chemistry in the College of Arts and Sciences.
His research interest is the regulation of gene expression with a focus on the regulation of pre-mRNA splicing by kinases in the model organism fission yeast (S. pombe). Defects in pre-mRNA splicing have been tied to various human diseases such as spinal muscular atrophy (SMA) and a variety of cancers. Fission yeast have many of the same evolutionarily conserved splicing machinery and kinases that exist in humans.
Current research projects being carried out at Rockhurst University with undergraduates are focusing on how pre-mRNA splicing possibly requires phosphorylation to adapt to various stress conditions that mimic human disease states. These results will be informative for a more in-depth understanding of the essential biological process of pre-mRNA splicing during gene expression and possibly be beneficial to human disease research.
Marvin's teaching interests include a focus on biochemistry lab and lecture courses where the courses are designed to be relevant to pre-health students as well as students entering graduate school in chemistry, biology, biochemistry or related fields.