LaKresha Graham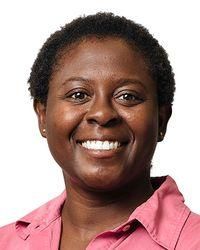 Professor of Communication
College of Business, Influence and Information Analysis
Additional Positions
Assistant Department Chair of Communication
Degrees
Ph.D. Communication, Arizona State University
M.A. Communication, Howard University
B.A. Communication, Saint Louis University
Professional Licensures and Certifications
Cultural Detective© Program Facilitator, Cultural Detective - 2015
Biography
LaKresha Graham, Ph.D., is an assistant professor in the department of communication and fine arts. She received her Interdisciplinary Doctorate of Communication from Arizona State University, focusing on intercultural communication.
Her teaching and scholarship focuses on the social construction of culture, communication and identity. Her work examines interconnections of racial and feminist ideologies, social and socioeconomic justice, as well as communication by using qualitative and rhetorical methodologies. 
Her dissertation, "Constructing an (un)natural disaster: A phenomenological study with Hurricane Katrina relief volunteers," studied the social construction of volunteerism, natural disasters, and identity during Hurricane Katrina reconstruction. She was also the 2014 Fellow for the Summer Institute for Intercultural Communication (SIIC) with the Intercultural Communication Institute (ICI).