Daniel Martin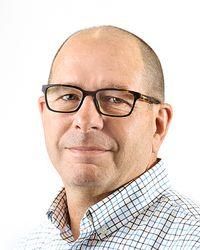 College of Arts and Sciences
Degrees
Ph.D. English, University of Kansas
M.A. English, Saint Louis University
B.A. English, Xavier University
A.A. General Studies, Johnson County Community College
Professional Licensures and Certifications
Certification in Secondary Education and English, State of Ohio - 1983
Biography
Dan Martin, Ph.D., grew up on three acres near Kansas City. He chased a soccer ball through community college and college, eventually earning a B.A. in English from Xavier University in Cincinnati. He taught high school in Miami, Florida, before going to Saint Louis University to earn his M.A. in English. He meandered through a Ph.D. in English at the University of Kansas while being a stay-at-home dad and working odd jobs. 
Martin became a full-time faculty member at Rockhurst University in 1999, teaching Advanced Composition, American Literature and the Environment, as well as African American Literature. He thrives off the energy of the English classroom, where texts erupt into engaged discussion. He has served as the director of the honors program, chair of English, and is currently chair of the core revision committee. 
He writes and reads in the flourishing genre of creative nonfiction. His work appears in such places as Ascent, North Dakota Quarterly, Kairos, and About Place Journal. An evocative but painfully limited list of admired writers might include Maya Angelou, James Baldwin, Annie Dillard, Leslie Marmon Silko, Barry Lopez and Sherman Alexie. He loves being outside or working with his hands, gardening, woodworking, canoeing, cooking, walking the dog and playing soccer.