Craig Prentiss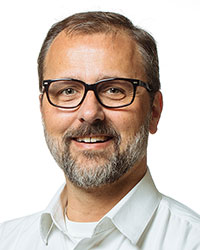 Professor of Theology and Religious Studies
College of Arts and Sciences
Additional Positions
Chair of Department of Theology and Religious Studies
Degrees
Ph.D. History of Christianity, The University of Chicago
M.A. Religious Studies, The University of Chicago
B.A. Religion, Bates College
Biography
Craig Prentiss, Ph.D., is a Missouri native, a graduate of Bates College and completed his Ph.D. at the University of Chicago in 1997, specializing in American religious history and the history of Christianity. Since arriving at Rockhurst University in 1995, he has held affiliated faculty positions with the University of Missouri-Kansas City's interdisciplinary doctoral program, as well as Franklin University in Lugano, Switzerland. His research focuses primarily on the intersection of religious, racial and ethnic identity construction, as well as the politics of classification and category formation. 
Prentiss authored "Staging Faith: Religion and African-American Theater from the Harlem Renaissance to World War II" (NYU 2014) and is the editor of "Religion and the Creation of Race and Ethnicity: An Introduction" (NYU 2003). He also published "Debating God's Economy: Social Justice in America on the Eve of Vatican II" (Penn State University Press, 2008, paperback 2013), examining competing American Catholic conceptions of economic justice in the mid-20th century.
He regularly teaches Religion in America, Religion, Ethnicity and Race, Theories of Religion, as well as Religion in Latin America and the Caribbean. He has held research fellowships from the National Endowment for the Humanities and American Academy of Religion and is a proud three-time recipient of Rockhurst's Daniel L. Brenner Award for Outstanding Faculty Scholarship.