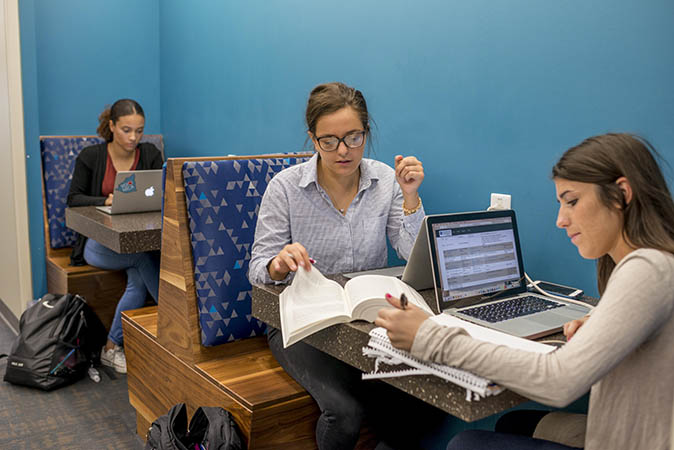 There are three major questions asked first on college campuses as students get to know each other: What's your name? Where are you from? What's your major?
If a person answers "I don't know yet" for their major, there's often a stigma attached that somehow that's a bad thing for freshmen or sophomores. It's not.
According to various reports, 20-50% of students across the U.S. enter college not knowing what to study. At Rockhurst, about 20% of students enter school exploring what to study.
So what's the problem?
There isn't one.
More than half of undergraduate students will change their major at some point, so exploring majors is completely normal whether students enter college with a declared major or not. Additional studies say 61% of graduates would change their major if they could go back and do college over. This, despite over 80% saying college was a worthy financial investment.
"I don't understand why, but there seems to be, sometimes, kind of a negative stigma around being undeclared," said Tina Wendling, assistant director for Rockhurst's Center for Career Development. "In our office, we always say 'You're still deciding. You're not undecided, you're just still deciding.'
"It's a process and I always tell students to claim that loud and proud. You're exploring and there's nothing wrong with that, so I don't know where that negative stigma comes from. That's probably a stress for some students as they feel maybe some of that or also just some pressure when you look around and you feel like everybody else knows and you don't, so a lot of times I think students just feel almost peer pressure in a way. I think it's important for students to know that most people, even if they've declared a major, they're still figuring it out. It's a process we all go through."
Undecided is normal and can be beneficial for first- and second-year students, though it can't last forever at a 4-year university.
So, when do you have to decide on a major?  
"I start getting after people if they've reached junior standing and haven't declared yet," said Robert Hamilton, who leads Rockhurst's Academic Advising. We want to make sure that you know [by then] because you're getting close enough to graduation that you've got to have a plan for the last couple of years and the longer you go, the further you go along without having declared a major, the trickier it could be to complete all your degree requirements in a short amount of time."
Hamilton likes the idea of students not being required to declare a major right away, though he points out some majors like nursing, biochemistry, and engineering do have 4-year curriculums. The key is to keep exploring.
"I think the best thing is that students are active in trying to figure it out, particularly if they're still deciding, so they can make a decision and declare, hopefully no later than their second year," he said.
RU Podcast: Choosing a Major Isn't Choosing the Rest of Your Life