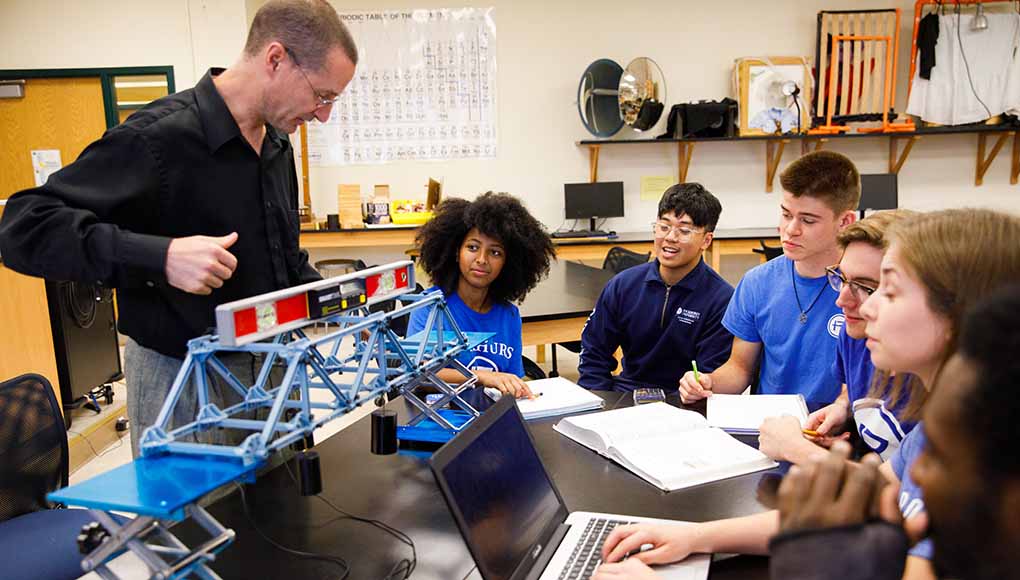 Learning how to be a successful student in college can be a process or it can be a matter of preparation and action. You can choose to figure it out for yourself (Spoiler: This takes time) or learn from those who've done it before – and thrived.
Some friendly advice on how to succeed in college, and specifically at Rockhurst:
You're the Manager of You
If your purpose in college is to get a degree and have fun doing it, there's a lot to that. Step 1 is to know and manage yourself. You're in charge of your time and budget so time and money management will be big factors in determining if you reach your goals successfully. Decide how you're going to balance your time studying, doing homework, writing papers, hanging out with friends, being at practice or a part of an organization, etc., and determine how many hours for each day you need for each. Don't forget some me-time and eating and sleeping; those are kind of important.
Learn to say "no" to things if they don't fit into your schedule or budget and be diligent about protecting the time necessary to do what you NEED to do vs what you WANT to do.
Helpful hints: Things always take longer than expected so plan some extra time. If you don't need it – enjoy it! Use your calendar app or reminders or something to have with you at all times.
Get Involved
College is beyond the classroom. Get involved in one of the many RU groups or organizations or things to do to get the most out of your college experience. Studies show students who are involved in their college beyond classes are more successful and confident.
Helpful hint: Go to the Free Stuff Fair at the beginning of the fall semester and sign up for whatever you're remotely interested in. Also, download the Guidebook app for the latest campus activities.
Take Action!
College in the classroom means getting to the classroom. Go to class, read the assignments, write the papers, talk to your instructors, visit with your academic advisor, and take advantage of all the Student Services resources Rockhurst offers. Missing class or assignments will have a snowball effect and it's difficult to get caught up and stress can build. The more (and earlier) you prepare, stay on schedule, and take care of yourself, the more likely you are to avoid unnecessary anxiety and obstacles.
Helpful hints: For studying and assignments, work a day ahead of what is needed. It gives you flexibility and makes you feel in control. Also, attack the less-interesting assignments first so when you're tired, you're doing what you enjoy more and are more likely to continue doing it.
Be Smart About Your Study Habits
Knowing how to study isn't enough. Knowing how YOU study is what to focus on. Where do you study best? What time of day or night? With music or no music? Sitting, standing, lying down, or even while walking? Know what makes it easier for you and help yourself. More help is a Google search away on how to take notes (Does the professor raise their voice when they say something that will be on a test?), test-taking tips (Do the easy ones first because action limits anxiety), what to read first on an assignment (Pay attention to the first sentence of each paragraph), etc.
Helpful hint: Read your syllabus and get to know your professor and others in the class early in the semester – then you have helpful resources (and friends) for the length of the class and beyond.
Know You're Not Alone
Rockhurst is a community. We're there for each other. There will be ups and downs on the way to college success, but having support from family, new and old friends, advisors, professors, counselors, tutors, etc. is invaluable. Rockhurst has dozens of student resources both academic and personal available. Ask. 
Above else, know this: Rockhurst WANTS you to succeed. The support is there – use it!