M.Ed. Student Impacting Next Generation of Role Models
Tuesday, December 14, 2021
Positive male role models have shaped the life of Rockhurst Master's of Education (M.Ed.) student Donnell Fletcher from a young age, and now the Raytown, Missouri, teacher is doing the same for future generations.
Before he started leading students at Raytown Middle School, Fletcher learned life lessons from influential figures in his family and through high school sports.
First and foremost, he had great teachers in his father, a coach who always worked with youth, and his grandfather, a drug and alcohol counselor who dedicated his time to serving others.
"I come from a family of educators," Fletcher said.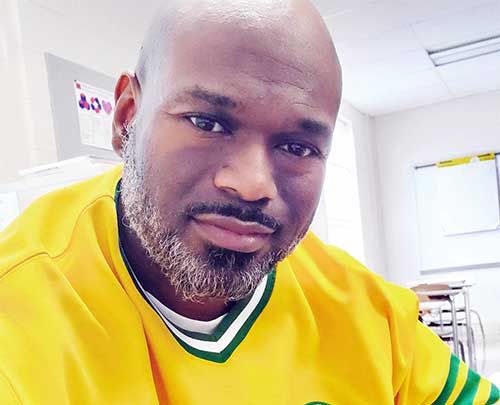 Fletcher played basketball at Central High School in Kansas City under the wing of legendary basketball coach Jack Bush Sr, who is regarded as the "Dean of High School Basketball" and is in the Missouri Sports Hall of Fame. Bush passed away in 2020 after inspiring thousands of students throughout his 52-year coaching career (33 at Central).
Ray McGowan, who coached Fletcher on the football field at Central, also had a strong impact on his life and career.
It's no wonder why Fletcher wants to pay it forward through a career in the classroom.
"I think I can make a huge impact as a male role model," Fletcher said. "There are few males in education, and it gives an opportunity for students to see men in that role. Also, as an African American male, it brings another aspect with someone looking like them."
Fletcher has an undergraduate degree in Social Work and was working as a behavior interventionist in the school system, creating behavior plans for students who had difficulties in the classroom. He was able to communicate with a network of individuals aimed to help each student succeed.
"I would partner with students, families and teachers to help them be successful in the classroom as far as behavior goes," he said. "Just as some students lack skills in math and science, they may lack skills in dealing with certain things in a structure or non-structured environment."
Fletcher was offered to work as a teacher and decided to go back to school. He enrolled at Rockhurst because it wasn't far from home and allowed him to ease back into being a student himself.
He was the subject of a Kansas City Star video feature about becoming a teacher at age 40, as well as addressing the teacher shortage throughout the United States. 
As a student, Fletcher is working toward a Master's in Special Education.
As an instructor, he will officially be an ELA/Resource teacher in Raytown. He will have a caseload as well.
"It gives me an opportunity to dive right into my position," he said, noting he is already working in this role.
Rockhurst's mission focuses on learning, leadership, and service for the purpose of helping transform lives. Fletcher personifies this mission in his role with (and for) students ­­– just as his role models did for him.
"There many I looked up to," he said. "All these people influenced me in the career I am striving for.
"My ultimate goal is to have a career that impacts generations and changes lives."
Rockhurst is proud to be a part of that endeavor.