EMBA Students Survive Their Own 'Shark Tank'
Friday, November 13, 2020
Mark Cuban of ABC's hit reality show "Shark Tank" tells potential entrepreneurs to "Find something you are good at and do what it takes to be great at it. We all have something special about us. The hard and exciting part is figuring out what it is."
All of Rockhurst University's Executive Master of Business Administration (EMBA) students are good at what they do. It's how they earned positions at some of the most successful businesses in the Kansas City area like Honeywell, Bayer, H&R Block and Kauffman Center for the Performing Arts.
It's a difficult journey from good to great, as Cuban says, but the exciting part is the motivation that keeps these graduate students striving for more. Each of the students enrolled in the prestigious Helzberg School of Business to not only improve their respective skill sets, but themselves. Helzberg develops ethical thought leaders who change both themselves and their businesses for the better. 
Since last year, a former EMBA graduate from a family of Rockhurst postgraduates is helping develop the next wave of great leaders to come out of Helzberg.
Christine Pierson (EMBA, 2006) is president and CEO of Tresl and an adjunct professor in the EMBA program teaching strategy and innovation. She has served on the Dean's Advisory Board at Helzberg since 2009 (Daily, McConnell, and Gartland). Her husband (MBA, 1988), daughter (DPT, 2014) and son (MS BIDA, 2018) are all former Rockhurst Hawks as well.
As part of Pierson's final course project, she required the EMBA students to compete in a "Shark Tank" competition.
Each student pitched within their respective groups (five groups of 4-5 students), provided peer feedback to each other, then each group selected a contender to compete in the final Shark Tank competition.
The prize for the top two finishers was an automatic A for the course.
Judges included Pierson and fellow Helzberg faculty Craig Sasse, Tony Tocco and Acy Lampy.
"The class developed several compelling presentations and the executives really stepped up to make it an amazing experience," Pierson said. 
Praveen Hiremath of Bayer Animal Health (recently acquired by Elanco), and Akiko Kubo from ZIEL (Zamierowski Institute for Experiential Learning) received A's as Shark Tank winners with only a two-point spread separating the five finalists.
"The final two included a great mix of ingenuity and creativity with an attractive business case," Pierson said. "Each finalist leveraged a lean canvas to design and develop a solutions-based concept that would deliver incremental value within their current business. One winner capitalized on the pandemic to accelerate a disruptive concept to address the negative impact to revenue and launch a new business model."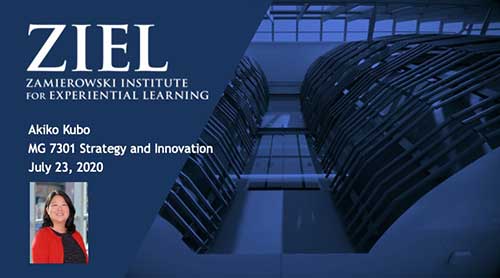 Pierson described the presentations as "impressive" and the students said they benefited from the project. Some may even use their business model canvas presentation as a springboard for their Capstone project.
The projects may have proven hard, as Cuban said "things would be on the journey from good to great and determining what makes each one of us special, but there was also the predicted excitement."
Pierson was excited and encouraged but "First and foremost, the exercise provided opportunities for the students (and teachers, including panel) to learn from each other best practices and innovative concepts that could be transferable across industries and business models. Finally, the concept was to develop a model that could benefit each student's existing business (or passion business). Several of the proposals were actively presented within their respective companies for consideration."
The EMBA cohorts' respective journeys from good to great began with a decision to further their education at place like Rockhurst's Helzberg School of Business.
Cuban said, "it wouldn't be easy, but there'd be excitement in the journey."
His fellow "Shark Tank" host has his own thoughts on the journey, specifically the starting line:
"Don't wait for the 'perfect time.' You will wait forever. Always take advantage of the time that you're given and make it perfect for you." – Daymond John, "Shark Tank."