Sisters Support, Inspire Each Other Through Saint Luke's BSN Program
Friday, September 23, 2022
Nearly every nurse has a story of why they got started in the profession, and almost all involve a nurse providing care and comfort to them or a loved one.
For Addie Griffith, it was after breaking her orbital bone, face, nose and suffering a severe concussion when getting in a nasty collision on the soccer field at Shawnee Mission East High School. It took a lengthy hospital stay and nearly three years to fully recover.
"The hospital and the staff became my second home and family. I was at the hospital 2-3 times a week for IV infusions, brain wave therapy, physical therapy, etc. To say that it was an easy recovery would be a lie, but the nurses that took care of me changed my whole life. They were so positive and encouraging. They never gave up on me and made sure that I didn't give up on myself. I wanted to be a nurse because I want to help change others' lives just like how those nurses changed mine."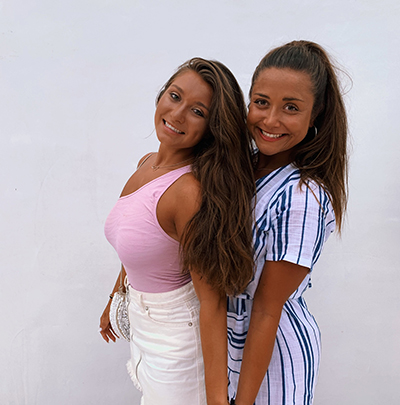 Addie's younger sister, Eden (pictured: left), was inspired to be a nurse after nannying twin boys for five summers, one of whom was in remission for leukemia.
"He and his family would tell me stories of his nurses and the positive impact they made not only on him, but the family as a whole," Eden said. "This really inspired me and is what made me decide to become a nurse. I love that one day I will be able to make someone's worst day better even if it is just by doing the smallest thing."
Before they'd be able to help others, they ended up helping and inspiring each other as students in Rockhurst University's Bachelor of Science in Nursing program.
"We both applied and got accepted into other schools but ultimately chose Rockhurst because of the community, class sizes, success rates, and we have some friends that have gone through the program and had nothing but good things to say," Eden said.
The sisters have supported one another every step of the way.
"Addie mentors and guides me. There have been many times when we both sit down and talk over the material and then take turns quizzing each other. We have always been close but going through nursing school together has really made our relationship even stronger," Eden says.
Addie graduated in Spring 2022 with her BSN, and she credits her sister with helping her get there.
"We're each other's cheerleaders," Addie says. "I remember one time that I was having a really bad day and I texted Eden to see if she was at school and told her what was going on and she told me to come out to the hallway. She gave me the biggest hug and told me everything was going to be okay. Having my sister to go through all the ups and downs of nursing school is something that I am forever grateful for."
Addie is now a full-time nurse at The University of Kansas Medical Center in the Medical Transplant ICU. Eden will graduate from Rockhurst in May 2023. Despite not having each other in the same building this year, they continue to support one another.
"As she is starting her new job, I feel like now is my time to step up and be a strong support system like she was to me when I was the new girl," Eden said.
"I may not be on campus anymore, but nothing has really changed since I graduated," Addie said. "I always remind Eden that I'm always here to help and answer any questions. A couple of weeks ago she had a medication calculations quiz and we facetimed so I could walk her through the problems."
The sisters' goal remains to help and care for others, even while helping each other. It's a nurse's heart for serving others that got them into the profession in the first place.
"I think it would be very cool to be able to work with my sister or at least work in the same hospital," Addie said. "As a big sister, I am so incredibly proud of Eden. She has one of the most genuine hearts and can instantly make your day better. Her future patients are going to be so lucky to have her as their nurse."