From India to KC: Grad Student Finds Her Confidence in MBA Program
Wednesday, September 14, 2022
Just a few years ago, Hasina Lokhandwala Siraj was working as a senior human resources executive in her home country of India. Today, she's a wife, mother and professional living in the U.S. as a Rockhurst MBA student.
In a life filled with big changes and important decisions, Lokhandwala calls her choice to pursue an MBA a Rockhurst after starting a family "one of the best decisions of my life."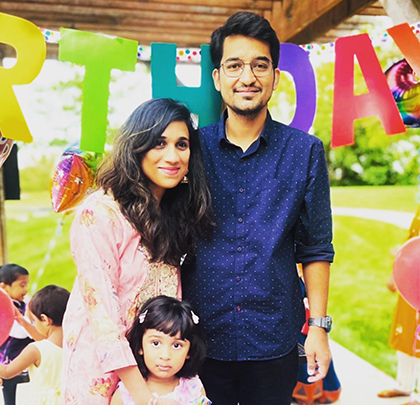 For Lokhandwala, the result of that decision is not just the degree she's gaining – it's the confidence she's built in herself.  
"I wanted to restart my career after taking five years off, so I decided to enroll myself in the MBA program with a major in Business Intelligence and Analytics. Even though I had a career before moving to the U.S. I was not very confident in myself when I started here."
While in India, Lokhandwala earned an undergraduate degree in Economics from Women's Christian College Chennai and worked in the Royal Bank of Scotland. She soon decided to pursue a career in Human Resources and got a Master of Business Administration in Human Resource & Finance from the Measi Institute of Management at the University of Madras.
Lokhandwala worked as in an HR executive role with an Indian-based IT company until she got married and moved to the U.S. because her husband was working here. The two started a family in Kansas City.
Since starting at Rockhurst, Lokhandwala has seen herself change.
"The education and academic coursework at Rockhurst has really helped me train and develop myself personally and professionally for my career goals. I have been able to really drive my confidence up and overcome my fears by stepping out of my comfort zone."
Lokhandwala has just two semesters left before graduating next summer. She recently landed a coveted internship at a local business as an operations analyst.
"It's been a month since I joined, and I do not think this would be possible without my education at Rockhurst. I am happy I made the right decision and cannot wait to see what the future unfolds."