Pre-Med Athletes' Drive to Succeed Is Part of Their DNA
Wednesday, September 7, 2022
The NCAA reminds us that most collegiate student-athletes will turn professional in something other than sports.
Two Hawks, Tera Reberry (volleyball) and Parker Esparza (men's soccer), are well on their way to living that dream as medical professionals, while still being key contributors to their respective teams.
Rockhurst gives students the chance to compete on the field, but also gives them enough room in their schedules to excel in academics and be involved in campus life. Reberry's choice of Rockhurst as her college destination was intentional based on that flexibility.
"The main reason I chose Rockhurst was I wanted to play at a school where the academics were just as elite as the athletics. When I came to campus to visit with the team I saw engineers, nurses, biology majors, etc. and incredible athletes on the team. Rockhurst allows me to pursue my dream of becoming a doctor and playing college volleyball."
Esparza liked the support system in place to help make his academic and athletic goals possible.
"Once I got here on a visit, it didn't matter if it was a teacher or coach or random person – everybody gave me a family vibe. I come from a tight-knit family myself, so that family atmosphere really drew me to Rockhurst."
Esparza was a high school star at Olathe (Kansas) East High School, helping the (other) Hawks to the state finals as a sophomore and a state championship as a senior. He was also named first-team all-state and all-league and was nominated for the Gatorade National Player of the Year.
Now going into his senior season at Rockhurst, the captain and molecular biology major's work ethic and competitive initiative have been what's pushed him to succeed. He also has the support that first drew him to The Rock.
"The teachers have been really nice, very personal, but it's tough. There are times when I think I shouldn't be going to practice – I need to be studying, but you have to do both. I've had to work on time management since my freshman year."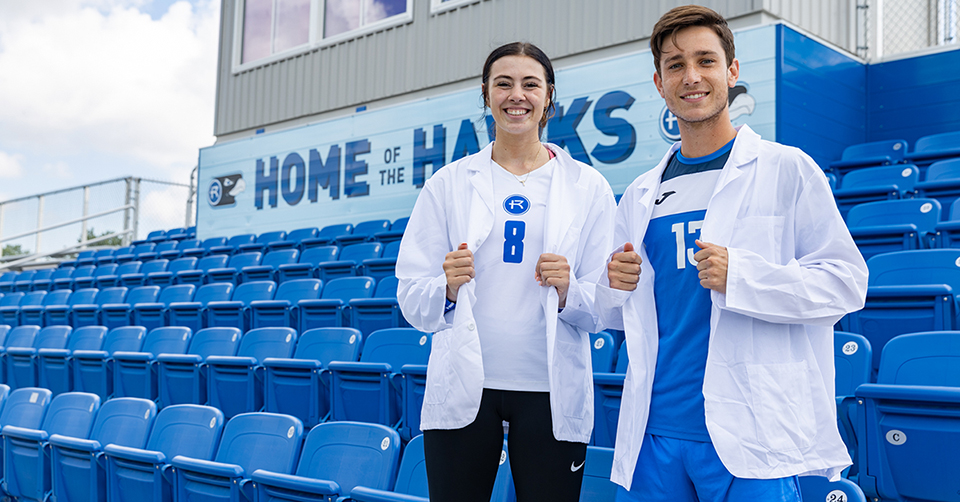 Esparza's professional approach has caught the eye of his coaches, and it will serve him well when he begins med school next year in Kirksville, Missouri, where he's already been accepted.
"Parker exemplifies a true student-athlete," said Men's Soccer Associate Head Coach Giorgio Antongirolami. "He is well organized and allocates his time accordingly between studying for his major and soccer. He is a born leader and truly a team player."
Like Esparza, Reberry is a team captain and has a drive within her to succeed.
"Tera is a very motivated and determined young woman," said Trent Jones, head volleyball coach. "Even though she is a junior in college, she is still just 19 years of age. She came to Rockhurst a semester early and immediately began chasing her goals of being the best student and volleyball player she could be. Her knowledge of the medical field and of the sport of volleyball is truly remarkable."
Reberry, a biology/pre-med major from Pleasant Hill, Missouri, finds that extra drive from her teammates and the lessons she's learned on the court. She believes this will help her in her quest to be an anesthesiologist.
"Volleyball has helped me tremendously with this goal because becoming a physician is very competitive and it is also like working with a team to better a patient. Without volleyball, I would not be near the woman I am today."