Rockhurst Continues to Create Pathways to Education, STEM and Healthcare Professions
In the fall of 2017, Saint Luke's College of Health Sciences opened its doors to a first cohort of 26 students attending the Pathways to Health and Science Education program. Pathways was conceived as a bridge program designed to introduce diverse students to careers in healthcare professions.
In 2020, the program transitioned with the College to Rockhurst University and was renamed the Early College Pathways Program.
To date, Pathways has completed four uninterrupted program cycles where students can attend at no cost. In recognition of this effort, Saint Luke's College received the 2018 Inspiring Programs in STEM Award from INSIGHT Into Diversity magazine. The Inspiring Programs in STEM Award honors colleges and universities that encourage and assist students from underrepresented groups to enter the fields of science, technology, engineering, and mathematics.
The program was founded by Dr. Hubert Benitez, former president of Saint Luke's College and current vice-president for Strategic Initiatives and Academic Innovation at Rockhurst, and academically led by Rhiannon Dickerson, associate teaching professor of English.
"By creating a bridge to instill interest in STEAM among high school students, Pathways has become a pipeline for admission into our academic degree programs," Benitez said.
Now in its fifth year, Pathways reached a major milestone – all its students were accepted to noteworthy colleges and universities, and two of its students selected Rockhurst as their institution of choice.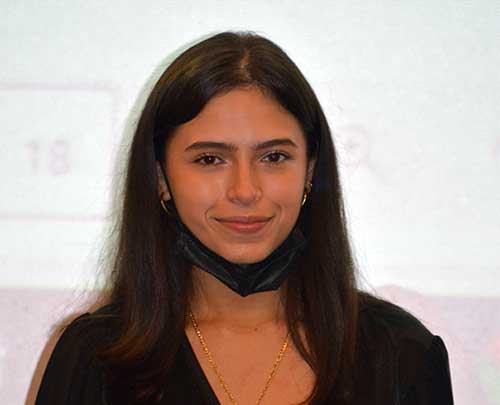 Paula Murillo (pictured) was the first student to successfully complete the Pathways Early College program for four years in a row and will be a nursing major at RU in fall 2021. Kushi Patel will also attend Rockhurst.
"Pathways provided me with the wonderful opportunity to learn and understand different career options and led me into a science and health career," Murillo said. "It also helped me appreciate what Saint Luke's and Rockhurst had to offer, and this is why I have selected Rockhurst to pursue my education. I am now looking forward to Rockhurst's nursing program and how it will prepare me for my future."
Throughout the academic year students attend academic workshops, where a variety of topics are explored. Upon successful completion of the course requirements, students receive three credit hours from Rockhurst. In addition to the academic components, the program requires parents to attend parental involvement workshops. Many of these students are first-generation college students and it is critical that their parents become engaged in understanding how to support their child in gaining access to a college education and in working through the many barriers that can exist for these students. The program is open to all high school students of any age, gender, and background, and workshops are held at the Rockhurst Troost campus.
 "I appreciated that the program exposed the students to the real, hands-on experiences," said one parent. "I think that it's critical giving them an opportunity to determine the path they want to take. The expertise and commitment from all involved were a genuine blessing."
"This is an awesome program – we are very thankful to the whole team," said another parent. "It provided and helped our kids with this great learning opportunity."