Laugh and Learn: Beloved Professor Publishes Book of Personal Stories
If the walls of Conway Hall could talk, they'd probably be laughing.
Richard "Dick" Shaw is one of the most beloved and entertaining professors to ever teach at Rockhurst. You don't meet Dick Shaw and walk away without a story and a smile, and now the retired teacher of 43 years is sharing those with a wider audience.
Shaw released his first book, "Tales from the Professor: Life is a Hoot!," in March through Amazon.
A former student at Rockhurst ('60, BSBA degree in Marketing), Shaw got his start in teaching "by accident."
"I was living at Father Dunn's Home for Boys in St. Louis going to Saint Louis University (graduate studies in Marketing) and I ran out of money," he said. "I thought I need to do something!"
A job opened up teaching high school, which piqued his interest.
"They asked if I had any education courses and I said, 'no, but I'm thinking about taking some.'  I didn't actually do it, but I still became a teacher by accident. Then I loved it so much, I wondered what teaching college would be like."
The next steps in Shaw's life would truly be life-changers as he began teaching at Fontbonne University while he finished up his master's degree. Shaw and his wife, Adelphine "Daffy" Brungardt, then moved to Kansas City where he taught at Longview Community College for more than 11 years, serving as the chair of his department late in his career. He had a good relationship with Rockhurst, and eventually his alma mater came calling.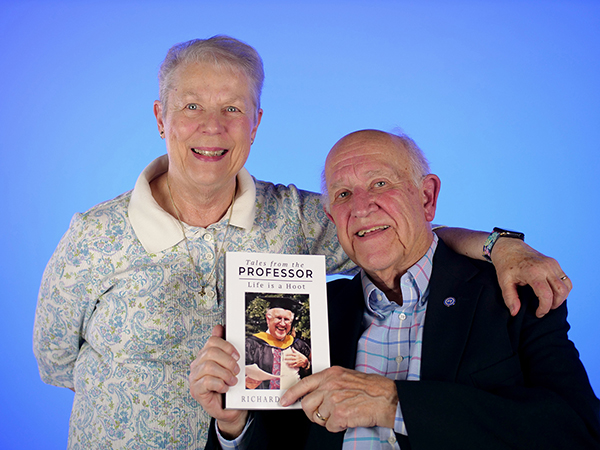 "They said, 'We need somebody next year. Do you have anybody you could recommend?' As chair of the department, I recommended me. I had a great letter of recommendation!"
Shaw was hired and over the course of a couple decades "taught just about anything in the Business Department" as well as held several leadership, mentorship, and sponsorship roles.
Shaw touched the lives of thousands of students while teaching in the undergraduate, MBA, and Executive MBA programs. His teaching philosophy was "Laugh and Learn," which he lived out daily on campus.
Twice he was voted Teacher of the Year by Rockhurst's undergraduate students (1984 & 1988) and was also voted Faculty Member of the Year by the MBA students in 2003. He received the Missouri Governor's Award for Excellence in Teaching in 1993, the Harry B. Kies Award for Service to Rockhurst (1997, with Daffy) and the Rockhurst Board of Regents Award for Service (1999).
Daffy has always stayed close to Professor Shaw, serving for several years in RU Admissions. Their three children, Rich ('88, '92 MBA), John ('90, '00 MBA), and Shannon Coleman ('92), have all graduated from Rockhurst.
Dick talks about his family extensively in his book, the idea of which came around after he was asked to be a guest writer for The Morning Sun – the newspaper in his native Pittsburg, Kansas.
"My sister said, 'You've got a lot of crazy stories, write one for them!' So I wrote an article about a story that happened when I was about nine."
That story ended with a nine-year-old Dick Shaw jumping off a roof wearing "shoes with springs on the bottom" that he had seen, ironically, in a marketing ad, and he believed would launch him into the air.
They did not.
"Oh, it hurt. But I didn't break anything. My mother was right again."  
The shoes didn't launch him into the air, but the story helped launch a book. He documented similar stories from throughout his life of laughing and learning, leading to "Tales from the Professor: Life is a Hoot!"
Below: Shaw shares some stories of his time at Rockhurst as a student and professor. He also offers up some advice to current and future RU students. Shaw tells us stories of re-naming his college roommate, recommending himself for a job, an ethics professor that cheated at basketball, "earning" a D in Freshman English, a fellow professor who walked his pet plant, chickens in classrooms, and the characters of Conway Hall. It's a unique perspective of Rockhurst history.