Rockhurst University Honors National Healthcare Leader Dr. David Wild
Rockhurst University will present the 2022 St. Ignatius Award to national healthcare leader and physician Dr. David Wild, '19 EMBA. The award is presented annually to a Rockhurst graduate in recognition of outstanding accomplishments, leadership, and reflection of Jesuit values in the person's professional career.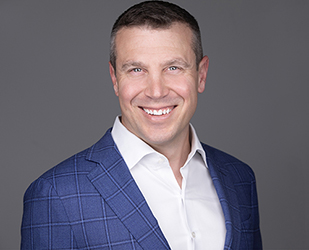 Wild is a board-certified anesthesiologist with expertise in anesthesia for solid organ transplantation, major vascular procedures, and adult spine surgeries and an accomplished healthcare executive leader. He is a clinical quality expert, speaking and writing regularly at the national level, advising and coaching growing individuals and new and experienced organizations in improving performance, removing barriers in accessing care, and developing and deploying new solutions and technologies.
Wild completed his undergraduate and M.D. degrees at the University of Missouri-Kansas City, his residency training in anesthesiology at Saint Louis University, a fellowship in health policy and leadership in 2018 through the Advisory Board and his executive MBA in 2019 at Rockhurst University. He then spent nearly a decade in a number of roles at Saint Louis University Hospital and the University of Kansas Health System and the University of Kansas Medical Center, including serving as a faculty member and in multiple operational and leadership settings.
Wild and his wife, Kayla, a breast cancer nurse, have two boys, Carter, 13, and Owen, 5. He will be honored at a reception for executive MBA faculty, students, and alumni Friday, April 8.