Julia Soap, '21, DPT

Julia Soap grew up visiting her relatives on tribal reservations, then watched as they and others had to go away from the reservation to access physical therapy health care.
The process is not only challenging, but can be financially draining for a tribe managing its own health care system.
Soap aims to change that, and is now one step closer after earning her Doctor of Physical Therapy this spring at Rockhurst.  
Her mother's side is Prairie Band Potawatomi and Kickapoo, tribes who were forcibly removed from their homes in the Great Lakes area and pushed south to Kansas, Oklahoma and Texas.
Her father's side is Cherokee Nation of Oklahoma. The Cherokee Nation is originally from the North Carolina area, but was forced to move under inhumane and deadly conditions through what is known as the Trail of Tears.
"Maintaining a connection to my tribe's culture, traditions, and values is important to me because it is the way we have always lived through generations, and the way we have survived through difficult times," Julia said. "We are responsible for preserving our language and culture for our children and for future generations." 
To that end, Soap started attending language classes to learn Potawatomi.
"It was such a fun learning environment and I always felt welcome," she said. "From there, I just became more involved in other tribal events and health organizations/committees that work on the reservation."
Soap attended college in Arizona but moved back to the Lawrence, Kansas, area to be closer to home. She earned a Master of Public Health from the University of Kansas Medical Center before going for her DPT at Rockhurst.
"I chose to attend Rockhurst University because of the commitment to service and Jesuit values," she said. "They are very similar to many of our Native American values. I have always had an interest in helping improve the health of underserved communities."
While at Rockhurst, Soap says she recognized the importance of what they were learning in exercise physiology and cardiopulmonary coursework.
"Native Americans have the highest rates of cigarette use, cardiovascular disease, and diabetes in the state," she said. "A lot of this is due to social determinants of health, and people often find ways to manage stress through unhealthy behaviors."
Soap, who is a member of the Kansas Tribal Health Committee – a collaboration among the four tribes in Kansas to improve health outcomes in their own communities, decided to hold free cardiovascular screenings at a reoccurring conference at the Prairie Band Potawatomi Casino & Resort.
"It is important to meet people where they are, and so it was important to take a group to the reservation rather than trying to invite them to an unfamiliar campus where they may feel out of their comfort zone," she said.
Rockhurst's Dr. Rachele Burriesci, PT, DPT, volunteered to supervise a group of 10 students who gave their personal time to perform 6-minute walk tests at the conference. The test helps determine a person's aerobic capacity and endurance.
"We signed people up on the day of the event and ensured a safe environment for exercise," Soap said. "We tested about 20-25 participants and educated more about heart health and walking for physical activity. As PT students, we were able to practice our skills."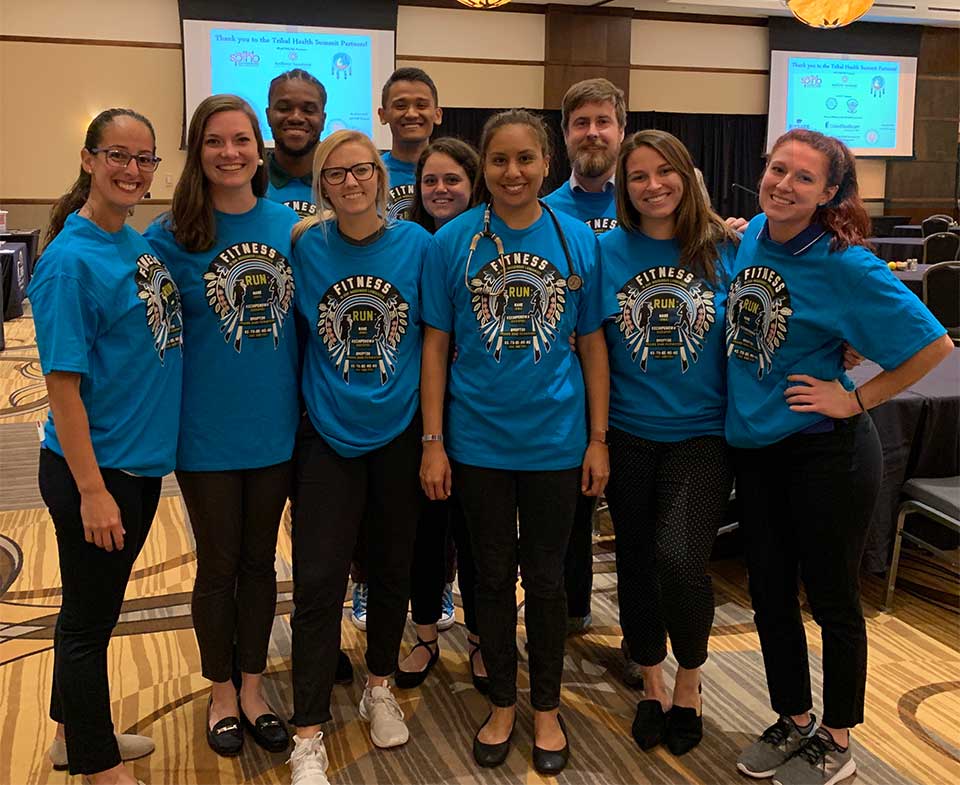 Julia Soap (center) and Rockhurst PT students while seeing patients at the Prairie Band Potawatomi Casino & Resort.
Soap was excited to meet Kansas House Representative Sharice Davids, also of Native American descent, who served as conference speaker.
"She helped me lead an exercise break after lunch, which was so fun! We received a lot of positive feedback from the community," Soap said.
Now with a DPT in hand, she wants to create a PT clinic on the reservation to make services more accessible to its residents, as well as more financially friendly for the Potawatomi Nation. The tribe manages its own health care system, as well as education and housing.  
"Right now, we refer tribal members off the reservation for physical therapy services and the tribe covers the patient's insurance co-pay or the entire cost," Soap said. "It would be more cost-effective to offer services in-house so that we could use those funds elsewhere. Since all Native Americans are eligible for services at the Prairie Band Potawatomi Health Center, we would also be helping the tribes around us if their patients chose to attend our PT clinic."
Soap, winner of Rockhurst's Catherine Thompson Magis Award, remains committed to her tribe's culture, traditions, and values, and is living out her dedication to service both for and with others.