Anna Galligos, '21, Molecular Biology

A few years ago Anna Galligos was ready to attend the University of Missouri in Columbia when at the last minute she began to re-evaluate what made her a successful student.
Galligos wanted to study molecular biology and was highly interested in the research component attached to that area of study.
Then it hit her.
"I had grown up accustomed to small, tight-knit communities," she said. "It was the type of atmosphere I thrived in. I realized that I wanted a very personalized, interactive educational experience within a family-like community. When I visited Rockhurst, that is just what I saw."
Fellow biologists would call that "good thymine."
Galligos got exactly what she hoped for. Her hands-on experience included the chance to do undergraduate research at the University of Kansas Medical Center at the lab of Dr. Michele Pritchard.
"I had been in Dr. Pritchard's lab for about a year and had thoroughly enjoyed conducting research at a large scale, R01 institution such as KUMC," she said. "Research had become my passion. I knew I wanted to continue my research journey and was looking for a full-time research position for the summer. A previous alumnus from Rockhurst University, Kaela Varberg, was a Post-Doctoral Fellow at the Soares Lab (one floor below Dr. Pritchard's lab) and is very dedicated to providing research opportunities for next generation of researchers.
"Kaela and Dr. Soares had set up an undergraduate research internship opportunity. This was an especially exciting opportunity because one of the lab's major interests is cell differentiation within the placenta. I was, and still very much currently am, very interested in cell differentiation. It seemed like a perfect opportunity! So I applied." 
That opportunity, as well as her academic success at Rockhurst, led to Galligos' upcoming participation in a Ph.D. program at Stowers Institute for Medical Research in Kansas City in Fall 2021.
Rockhurst professor Maureen Walsh will remember Anna for her desire to learn more.
"Anna Galligos is one of the best students I've had in my 10 years of teaching," Walsh said. "Not only is she academically gifted, she is also incredibly curious and wants to learn everything she possibly can, getting every last drop out of her Rockhurst education."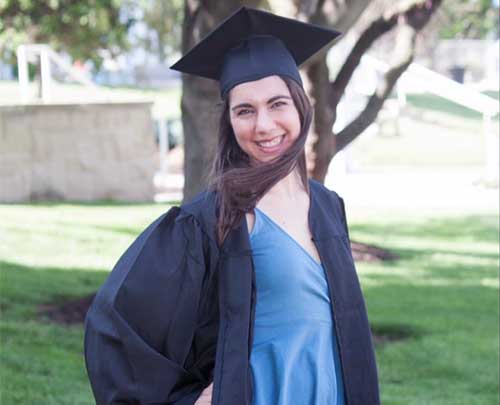 Galligos knows what she wants to do in her professional life, and you can be assured it still involves her passion for research.
And that's a passion she wishes to share with others.
I hope to one day have my own lab at a large-scale research institution where I can work to solve and answer biological questions," she said. "I hope to inspire students by educating within the lab and the classroom. Though I would like to continue research in a large-scale research institution, I hope to provide research opportunities to students at small, liberal arts universities like Rockhurst."
Galligos was very nearly an MU Tiger, but ended up a Hawk and will be for life. A new RU graduate with a B.S. in Biology (Molecular Track), she has already joined the university's Young Alumni Council.
"I hope to be able to continue my involvement at Rockhurst … and plan to act as a research advocate to current students at Rockhurst," she said.