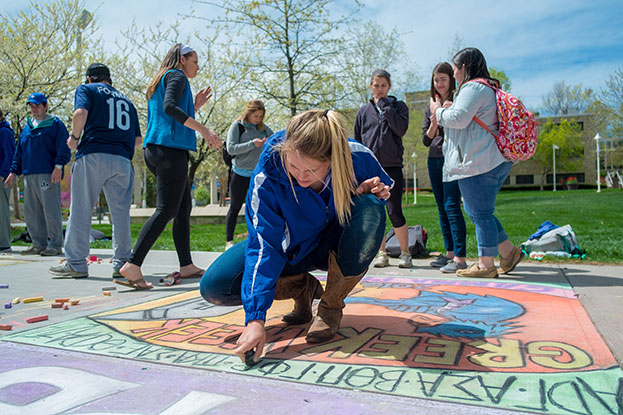 Generally referred to as Greek Life, Fraternities and Sororities have been around since the 1700s. Rockhurst's nine Greek organizations are built on the same principles the school is and have always continued a legacy of service and stability.
Why should I join a Greek organization? There are a myriad of reasons students participate. For one, it's a great way to meet new people. Coming to a new school, it can be tough to make friends, and you'll be spending a lot of good quality time with the other members of your organization. Many students cite the relationships they made in Greek life as lifelong friends. It can also be a good way to add experience to your resume. Fraternities and sororities have elected leadership positions available that show employers you have the ability to work as a team and lead when necessary.
What do you do in Greek Life? Our fraternities and sororities do have fun going on trips, having some parties, and generally hanging out, but that's not the crux of what they do. Our Greek organizations are known for the studiousness, having higher average GPAs than the rest of the college. They help out our community with service projects and fundraisers, averaging over 3,500 community service hours a year. More than anything, though, they provide a fantastic sense of belonging to those with similar interests. Rockhurst is built on its community and its ability to lift others up whenever possible, and our Greek life is no different in that regard.
Which organization should I join? As Greek Life is a gendered affair, you already have your options cut down there, but the rest is up to you. Each sorority and fraternity have different requirements, values, and members, and it's common to look at each of your options carefully to find the right group of people for you. Recruitment periods are open for you to find your place or see what it's like inside the organization one of your parents or relatives participated in.
If you have any questions, you can explore Rockhurst's Greek organizations, see our FAQ, or contact us.