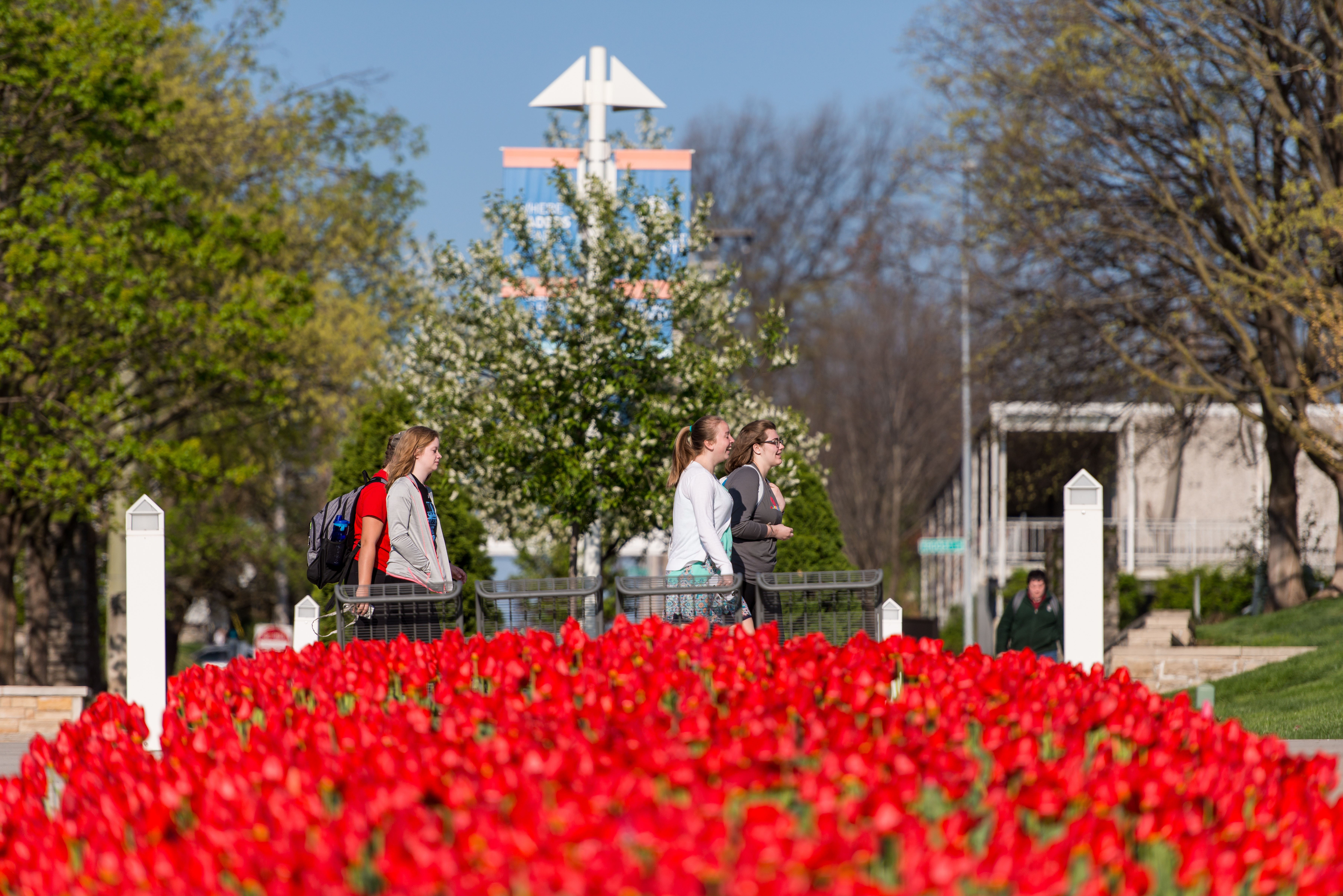 A college visit is perhaps the most anticipated part of the college search and decision process. It's one thing to know what a school offers academically, socially, or even with sports, but it's tough to know the "vibe" through a website. Finding the right fit comes from a campus tour.
At Rockhurst, tours are available throughout the week and weekend. There are also several events set up to get a feel of what it's like on campus. If you're on a busy schedule – no problem! Just come by campus, visit the Admissions office, and look around.
When Is the Best Time to Set Up Your College Visits?
There's really not a bad time for a college visit as students will schedule their visits at various times in their high school career. Some end up scheduling a tour just weeks before classes begin, others begin as sophomores in high school. The ideal time is in or before a high school student's junior year, either in the summer or over winter or spring break so the process of adding to a college comparison worksheet can start early and narrowing choices can begin in the fall of their senior year.
At Rockhurst, the leaves are changing in late October into mid-November, and the famous tulips are blooming in early to mid-April. Those are two highlights on campus to see.
How to Schedule a College Visit at Rockhurst
There are a few types of tours at RU, so choose what fits you. You will be accompanied by a student ambassador as a campus tour guide who will show you around and answer any questions you may have (Tip: Ask a lot of questions!).
Choose the option below that best fits your interests:
On your own? Use our Troost campus map to find your way around. There are also maps posted around campus. 
Our Westport campus, Saint Luke's™ College of Health Sciences, is an 8-minute drive away.
What to See at Rockhurst
There's lots to take in, but here are just a few of the campus highlights:
1. Stroll across the Quad
Rockhurst has 529 trees across 55 acres on its Troost campus, but there's no place like standing in the grass in the middle of the Quad looking up at the trees that have been there from the beginning of the college. Note: Watch out for squirrels dropping acorns, dogs running laps, footballs and yoga classes.
2. Step inside Masin-Halpin Fieldhouse
The home of Rockhurst basketball and volleyball, Masin-Halpin Fieldhouse is a throwback to an old-school college gym. The atmosphere is loud and electric on game nights and players feel like the crowd is on top of them. Fun Fact: RU's Fieldhouse was a finalist to be used for the movie Hoosiers.  
3. Instagram pics in the Big Blue Chair
Just outside Xavier-Loyola ("X-L") Hall and across from the tennis courts is the big blue chair. The oversized Adirondack chair is there for photos or you and 62 of your closest friends to relax in.
4. Meet Iggy
Right off the Quad is "Iggy," or the statue of St. Ignatius of Loyola. In the spring, he's surrounded by some of the 33,000-plus tulips blooming on campus. Sit, relax and reflect as you listen to the waterfall beside him.
5. Find the Secret Garden
Tucked away behind Van Ackeran Hall, the Greenlease Gallery, and Sedgwick Hall is "The Secret Garden." Sit, sun, study, or swing in the hammocks nearby. 
How Long are College Tours?
Individual and group tours typically take about an hour. Be sure to schedule some time around the tour to visit areas you may want to see again.
What to Wear to a College Tour
Wear something comfortable as you'll be doing a lot of walking and climbing some stairs, though elevators are available. If you're in need of some Rockhurst swag, grab some at the campus bookstore in the basement of Massman next to the Rock Room.
What to Bring on a College Visit
The first things to bring on a college visit are an open mind and as many questions as you can think of. First, there are countless stories of students visiting a college with ideas of what it will be like, only to realize there's so much to learn about the school it may steer your decision in a new direction. Second, have a list of places and/or people you want to see on campus, and any/all questions ready for the student ambassador or Admissions folks you'll meet with.
One more thing: Take as many photos and videos as you'd like in order to reference later.
Questions to Ask at a College Interview
As was mentioned earlier, you can learn a lot from a website, but there are some things you can only find out in person. In addition to questions about academic opportunities, dorm life and organizational involvement, have some questions ready for your student ambassador to find out about the everyday life of a student. Where do you hang out? How's the food? What do you like to do in Kansas City? Is there a Target nearby? Why did you choose Rockhurst? What makes it unique? Where do you study? What are your favorite parts of college life here? How often do you talk to your professors? How can I get involved and how soon? What is the tuition? Where will I live my freshmen year? Do you have a _______ degree? Do you offer student masses? What student organizations do you have? 
Now you're ready. We're looking forward to meeting you!