Saint Luke's Alumni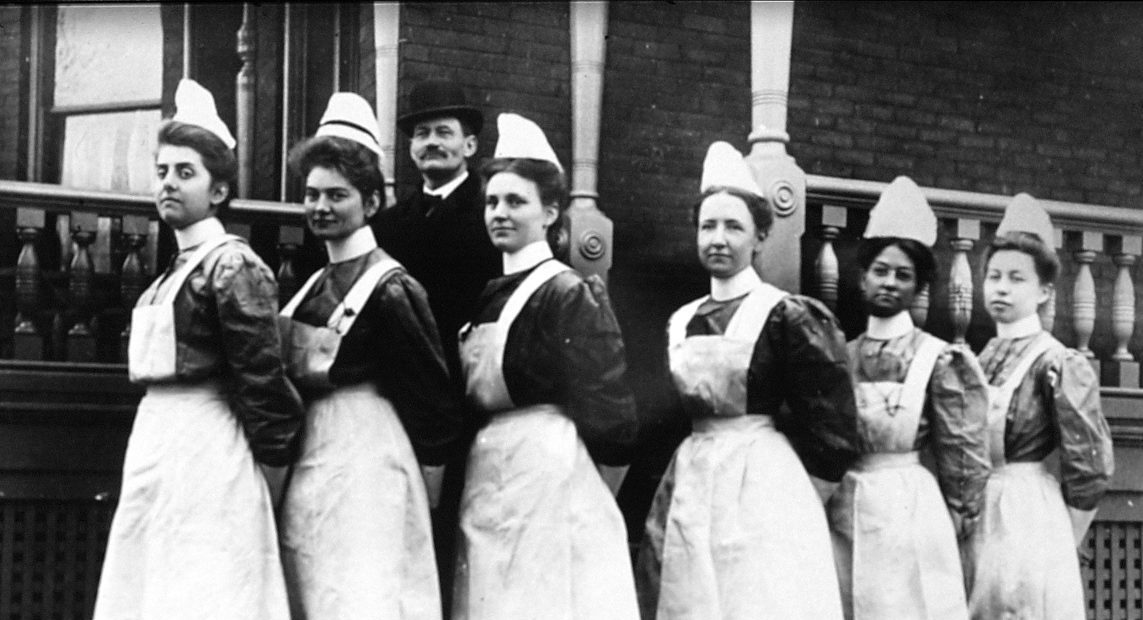 Saint Luke's Alumni
---

Academics

---

Programs

---

Schools

---

Academic Support

---

Resources
Barbara Kliest Distinguished Alumni Award Recipients
The Barbara Kliest Distinguished Alumni Award was established in 2013 to honor Barbara (Meinke) Kliest, a 1949 diploma graduate who specialized in newborn nursery care and public health nursing. Barbara and her husband, Robert, are tremendous supporters of our College providing more than $4.2 million in program development and scholarship support over the years. Because of their generous support, we now offer three graduate degrees in nursing and on Jan. 8, 2018—for the first time ever—the College began offering degrees in the allied health professions. This is the first and most dramatic expansion of our College offerings, which was founded more than 115 years ago in 1903.
At commencement, we honor a nursing alum who is a role model for achievement and dedication to the profession of nursing with this award named to honor Barbara Kliest.
DR. LUCY HOOD ('75): SPRING 2019 RECIPIENT
Dr. Lucy Hood enjoyed a 44-year career as a nurse at both the bedside and in the classroom. She began her professional experience as a clinical nurse and charge nurse on the neuroscience unit at Saint Luke's Hospital of Kansas City in 1975 right after she graduated with a diploma from our College. Over the years, she continued her education completing her BSN from Webster University and her MSN from the University of Missouri-Kansas City. In 1989, she joined the faculty at what was then called the Saint Luke's Hospital School of Nursing and again continued her education while also teaching and completing her PhD in 1997.
She is the author of Leddy & Pepper's Conceptual Bases of Professional Nursing textbook, which is studied by nursing students in educational degree programs across the United States and internationally. The textbook is in its 9th edition and in January 2019 it was given the American Journal of Nursing "Book of the Year Award."
Her textbook provides a broad overview of the nursing profession, addressing philosophical, developmental, sociocultural, environmental, political, health care delivery, and leadership issues vital for career enhancement. In addition to authoring this textbook, Hood has published 10 journal articles and two book chapters. She has given more than 69 conference, workshop and poster sessions, provided at least 21 professional consultations, and chaired 14 graduate student thesis committees.
Over the years, she has received numerous awards and scholarships and is also a Professor Emeritus of Saint Luke's College of Health Sciences.
In the 8th edition of her textbook she wrote that, "Professional nurses engage in lifelong learning to remain competent in the areas of clinical practice." She herself, is an amazing example of life-long learning. After her nursing diploma she went on to earn a BSN, master's and doctorate, and even with all this education, she continued her learning by participating in 74 professional development sessions and workshops.
Hood retired from our College and then reentered the workforce to teach at MidAmerican Nazarene University. She retired in 2019 as a Professor and department chair of the Pre-Licensure Nursing Education department
ANGELA LOCKE ('86): FALL 2018 RECIPIENT
Angela Locke, MBA, BSN, RN, NE-BC graduated with her diploma in 1986 from Saint Luke's. In 2006, she graduated summa cum laude with a BSN from Webster University, in 2009 she graduated summa cum laude with a master of business administration from Webster University where she also received the Outstanding Graduate Student Achievement Award. In 2015, she earned a certification as Nurse Executive from the American Nurses Credentialing Center.
She began her nursing career at Saint Luke's Hospital of Kansas City in the telemetry unit and has worked there ever since. She was promoted to a clinical resource nurse manager in 1998 where she managed day-to-day operations of two large telemetry units and the Saint Luke's Mid America Heart Institute float pool. As a manager, she was responsible for staffing, scheduling, performance reviews, and all aspects of managing nursing personnel in the pool and on the two units.
In 2002, Locke was promoted to director of patient care services where she is responsible for the overall planning, coordination, and delivery of care within seven intermediate care nursing units with 146 beds, six managers, and 300 indirect reports.
As the director of patient care services she directed financial performance of multiple nursing units; developed strategies and plans to address variance; was responsible for aligning areas of influence with the organizational strategic plans; advocating for and motivating staff to set and achieve goals; participated in Magnet, accreditation, certification activities, and quality initiatives. She also worked to recruit and retain top talent; promote a culture that values innovation, nursing research, and best practices; and engaged in identifying and implementing strategies to reduce workplace violence. In addition to these duties she co-chaired the Saint Luke's Health System Professional Image Team, was the team lead for the Health System Discharge Design Team, and was immersed in planning and designing highly functional nursing units for the new Mid America Heart Institute and Saint Luke's Marion Bloch Neuroscience Institute, including recommending equipment and training staff.
She has twice served as an interim director—in 2012 she was interim vice president of the cardiovascular service line, and served as both the director of patient care services and the interim director of neuroscience operations.
In 2009, Locke received the director of the year award from Saint Luke's Hospital and in 2014 she was honored as the "Leader of the Year" by the Missouri Nurse Leaders Association. She is a member of the Association of Nurse Executives, the Missouri Nurse Association, the Missouri Nurse Leaders, and the National Black Nurses Association. She is involved in numerous volunteer activities including currently serving as a board member for the Kansas City Care Clinic.
DR. MELVA STEEN ('48): SPRING 2018 RECIPIENT
Dr. Melva Steen graduated with her diploma in 1948 from Saint Luke's. She financed her education as a member of the federal government's cadet program, which provided aid to help offset the nursing shortage due to WWII.
In 1970, she completed her BSN from Northern Michigan University. She returned to the Kansas City area and served as a professor at both Saint Luke's College and Avila nursing departments in the 80s.
In her early 60s, she earned a PhD from the University of Texas. She moved to Pueblo, Colorado and became the director of nursing at the University of Southern Colorado. During her time there, she was instrumental in their accreditation.
At age 74, she retired as chair of the nursing program and professor emeritus from the University of Southern Colorado and joined the Peace Corps. While waiting for her tour to begin, she took flying lessons.
During her time in the Peace Corps in Malawi, Africa, she worked with a Malawian teacher to start a 501-3c through her church to support 30 students to earn their high school certificates.
In 1995, she attended the 4th United Nations Women's Conference in Beijing, China. It was here that she learned about female genital mutilation (FGM) and worked tirelessly with a Colorado legislator to have FGM declared child abuse in Colorado.
Upon her return stateside, she has stayed active by volunteering with the Red Cross. She also wrote her memoirs about her time in Africa titled Sensible Shoes.
Today, she stays busy in retirement. She mentors first-year medical students from UMKC. She takes Spanish and painting classes. She has also taught many creative non-fiction writing classes and has helped a half dozen people write their memoirs.
Our recipient is a long-time supporter of educational excellence and believes in the potential of students. She has continually worked to make the world a better place through education, advocacy, and hard work.
DR. MAITHE ENRIQUEZ ('81): FALL 2017 RECIPIENT
Dr. Maithe Enriquez graduated from Saint Luke's School of Nursing in 1981. More than 35 years later, she continues her commitment to nursing excellence as a community-based health researcher and nurse practitioner who specializes in the care of adults living with HIV disease.
She is an associate professor at the University of Missouri-Columbia Sinclair School of Nursing. She serves as director of the interdisciplinary graduate certificate in participatory health at the University of Missouri and the Jonas Global Fellowship program in the Dominican Republic.
After earning her diploma from Saint Luke's, she earned a bachelor of science in nursing from Webster University in St. Louis, Missouri. She completed her MSN and PhD in nursing from the University of Missouri-Kansas City. She has a postdoctoral fellowship in nursing from the University of North Carolina, Chapel Hill and a graduate certificate in public health from the University of Missouri-Columbia.
As a nurse practitioner, she has devoted her clinical career to caring for vulnerable adult populations. The problems she saw in her clinical practice led her to pursue a PhD and to conduct research focused on enhancing chronic disease health outcomes, particularly among people who were failing HIV treatment due to non-adherence.
Her research continues and is funded by the American Nurses Foundation, American Association of Nurses in AIDS Care, the National Institutes of Nursing Research, and the Jonas Center for Nursing and Veterans Health.
She is the published co-author of What Nurses Know . . . HIV/AIDS. This book provides up-to-date, reliable, and practical health information for people living with HIV and their significant others.
She is the recipient of the 2013 Fellow Award from the American Academy of Nursing and the 2011 UMKC School of Nursing's Dean's Distinguished Service Award, among others.
PATRICIA KLASE ('67): SPRING 2017 RECIPIENT
Patricia (Harms) Klase is the 2017 recipient of the Barbara Kleist Distinguished Alumni Award graduating from Saint Luke's College with her diploma in 1967. Klase retired in 2018 after more than 50 years in the nursing profession. Her last position was the Chief Nursing Officer at Su Clinica Familiar located in Harlingen Texas. In this capacity she managed all aspects of nursing operations at the four locations including directly supervising six nursing supervisors, three dieticians and their staff. 
In addition to nursing operations, she was responsible for the dieticians, care coordination, performance improvement, employee health, infection control and activities related to the Accountable Care Organization. In this role, she worked with physicians on documentation, creating workflows, reviewing policies, documentation of patient encounters, and CMS audit activities. 
Prior to her this position, she worked at McAllen Medical Center as the assistant chief nurse executive for five years. She left there to be vice president of clinical services and chief nursing officer for Knapp Medical Center in Weslaco, Texas—a 233 bed, not-for-profit community hospital—and worked there for four years. Subsequently she was hired by LifeCare as director of nursing for two sites and after a perfect Joint Commission Survey left to go to Solara Hospital as the chief clinical officer and assistant administrator.  
Before moving to Texas, she worked at Saint Luke's Hospital of Kansas City and administered operations for a clinic that rotated 65 residents and provided care for more than 15,000 patients in 10 separate specialty clinics. She served as liaison with the residency program directors and medical staff and coordinated overall planning for the clinic as well as daily guidance of the residents. 
She earned a master of arts in health services management in 1988 from Webster University and a bachelor of arts in the same from Ottawa University in 1979.  
She was active in professional organizations like the Texas Organization of Nurse Executives and American Nurse Association. Her most recent professional presentation was part of a national webcast presented by the National Association of Community Health Centers on the topic of Zika. 
Over the years, she also found time to be involved with the College alumni program and was President of our Alumni Association for six years.  
TERRIE L. BAUER ('83): SPRING 2016 RECIPIENT
Terrie L. Bauer, RN, BSN, CPHQ, MHA, LSSBB graduated from Saint Luke's Hospital School of Nursing diploma program in 1983 and began her career at Medical Center of Independence in Missouri as a staff nurse where she was quickly promoted to a nurse manager on the maternal/child unit. After six years in floor nursing, she worked in several human resources positions at Baptist Medical and Menorah Medical Centers. As an administrator, she developed skills in risk management, performance improvement, and process improvement. In 2000, she was hired at MoPRO as director of hospital and physician services and clinical project manager. She worked, planned, directed, organized, and evaluated Medicare Operations quality improvement projects on a national and local level as part of the Medicare Operations program, while working with hospitals, physicians, and other healthcare professionals. During this time, she was the clinical lead in the diabetic project for the State of Missouri and also the director of MoPRO Diabetes Collaborative in 2002.
In 2003, she was hired as the director of quality resources at Saint Luke's Hospital where she provided oversight and direction for house-wide quality improvement initiatives, coordinated process improvement efforts, and benchmarking. She directed the hospital's performance improvement plan and also provided analysis, support, training, project facilitation, and consultation throughout Saint Luke's Health System regarding the Baldrige Business Model and Performance Improvement. In 2008, she became the senior director of Saint Luke's Care, a physician-led, quality improvement organization within Saint Luke's Health System. In this role, she modeled change through the identification and improvement of clinical processes addressed in physician order sets, guidelines, and standards of care.
She has served as the president of the Missouri Association of Healthcare Quality, and of the Missouri Association of Healthcare Recruiters. She has been a senior examiner and team leader for the Excellence in Missouri Foundation National Baldrige Examiner.
Bauer worked tirelessly with Saint Luke's College faculty and staff as they prepared the graduate program for accreditation by CCNE and the Higher Learning Commission. She retired from Saint Luke's Health System in 2018.
DR. VERNA ADWELL RHODES ('50): SPRING 2015 RECIPIENT
Dr. Verna Rhodes graduated in 1950 from Saint Luke's diploma program and built a career as a clinical nurse, university professor, and scholar. She earned three degrees from the University of Missouri—Columbia: a bachelor's in nursing; a master's in educational psychology, guidance and counseling and adult medical-surgical nursing; and an educational specialist in higher and adult education. She retired from the University of Missouri-Columbia as an emeritus professor of nursing. In addition, she is a Fellow of the American Academy of Nursing.
A pioneer in anti-neoplastic chemotherapy symptom management, she developed the "Rhodes Index of Nausea, Vomiting and Retching" which is used in some 35 countries as a method to assess and track patient symptoms. It is a critical tool in the health care setting and also for scholars conducting research.
She also developed the Adapted Symptom Distress Scale and Symptom Experience Index which is a measurement scale used for detecting symptoms, grading their severity, and assessing the effectiveness of treatment. This assessment methodology is especially critical to finding comfort for cancer patients who may experience a variety of symptoms due to cancer and its treatment.
In the 55 years she was on the faculty at the University of Missouri—Columbia, she published 33 articles in refereed journals, 41 book chapters, and information in 18 additional publications. She wrote 17 funded grants, presented at 124 conferences in the United States and internationally, and has received 36 awards and honors.
In 1995 she retired from the MU Sinclair School of Nursing. She and her husband, Dr. V. James Rhodes—professor emeritus in the Department of Agriculture Economics also at MU—live in Columbia, Missouri.
DR. SALLY (GILL) BASS ('58): FALL 2013 RECIPIENT
Dr. Sally Bass is a 1958 diploma graduate of Saint Luke's and subsequently earned a master's degree in liberal arts communication from Southern Methodist University and a PhD in holistic health from Clayton College of Natural Health.
Bass spent most of her career at Saint Luke's Hospital. She worked for a decade as a clinical nurse, 20 years as a clinical instructor at Saint Luke's College, and then associate administrator. She also spent 10 years as coordinator of outreach services for Saint Luke's Health System. She served on the Saint Luke's Hospital Ethics Committee from 1987-2014.
She helped develop the Sexual Assault Treatment Center at Saint Luke's Hospital in the early 70s and served as a diversity leadership instructor and helped develop the telemedicine network during the 90s.
Since 2000, Sally has been a part time, physical-exam teaching assistant for the University of Kansas Schools of Medicine and Nursing. When the College started the graduate program in 2013, she also taught several classes as an adjunct.
Her son and daughter and three grandchildren were all born at Saint Luke's Hospital. She even met her husband, Hollis—a United States Marine—in the parking lot of Saint Luke's Hospital.
BARBARA MEINKE KLIEST ('49): SPRING 2013 RECIPIENT
The Barbara Kliest Distinguished Alumni Award was established to honor Barbara (Meinke) Kliest, a 1949 diploma graduate who specialized in newborn nursery care and public health nursing. After raising a family, she became very active as a hospital and community volunteer. She volunteered with the Anaheim Memorial Hospital Guild, served 22 years on the Anaheim Memorial Medical Center Board of Directors, and as a board member of the Anaheim Memorial Medical Center Foundation. She and her husband, Bob, actively supported the Segerstrom Center for the Arts in Costa Mesa, California and the University of California-Irvine research projects including bio-engineering, Alzheimer's disease and autism spectrum disorders.
After Bob Kliest graduated from Stanford University with a degree in electrical engineering, the Kliests made their home in California. Bob's career includes co-founding Printronix and the Pertec Computer Corporation. He has held engineering and management assignments at Ampex Corporation, Link Aviation, and Magnavox. He also holds 17 patents for peripheral and control systems.
The Kliests have been very committed to Saint Luke's College endowing both the Barbara Meinke Kliest Nursing Scholarship and the Barbara Meinke and Robert A. Kliest Endowed Chair in Nursing. They have also provided funding for development of the master's in nursing graduate program, the general education program, and the expansion of the College to include degree programs in allied health sciences.
The Kliests have three daughters and seven grandchildren. Mrs. Kliest passed away in June of 2018.