Anatali Aquino Rodriguez, '20

To meet someone in the health care field is to meet someone passionate about caring for people. This can take the form of healing, treating, teaching, lending a listening ear, or a series of everything at once, but all through an attitude of service.
Meet Anatali Aquino Rodriguez, who served for 10 years at a community center that provided health care support to those in poverty and refugees from a variety of cultures.
While she gave health care assistance to them, they gave her the encouragement she needed to better herself and set set community-minded personal and career goals.
"Learning about their experiences and challenges to make it through life," she said, "encouraged me to improve my knowledge in the health field, to be able to continue serving my community, family and friends in better ways."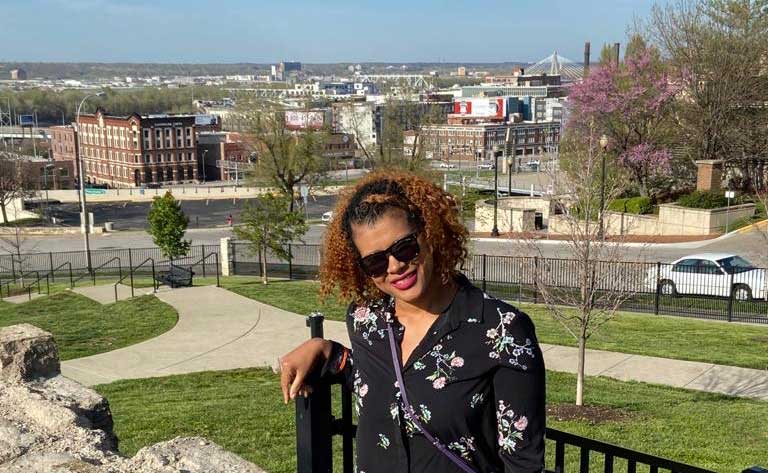 Originally from Santo Domingo, Dominican Republic, Aquino Rodriguez came to the U.S. in 2002. She is a nursing student (Bachelor of Science in Nursing) at Saint Luke's College of Health Sciences at Rockhurst University, set to graduate in December 2020. One of her best friends graduated from Saint Luke's and recommended the school.
"I am glad I decided to go here," she said.
Working through the BSN program has given Aquino Rodriguez an avenue to fulfill her wish to improve her knowledge in order to be able to serve. While her present focus is finishing the BSN program at Saint Luke's, she has a watchful eye on her future.
"My goal is to work at a hospital for 1-2 years to improve on my hands-on experience as a nurse," she said. "After that, I will begin my nurse practitioner's path and advance in my career."
That career includes educating others to help stop significant health issues before they happen. Aquino Rodriguez cared for her father after he suffered a stroke seven years ago. She doesn't want to see others go through the same challenges.
"I want to be able to educate people on how to live healthy lifestyles to prevent some of the major health problems affecting today's society, such as cardiovascular diseases and diabetes," she said.
Ideally, she'd like to have her own practice where people would learn proper nutrition and exercise as core components of a healthy lifestyle.
"This is going to be done in partnership with a fitness professional that would develop safe exercise programs for our clients," she said. "I [would] manage the education about healthy eating, and prescription medication if needed."
Like others in her profession, Aquino Rodriguez is passionate about caring for people. Her health care education at Saint Luke's will help her achieve the community-driven goals she set years ago at the community center, including those to educate others in caring for their health.