Meredith Harold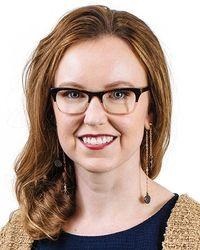 Assistant Professor of Communication Sciences and Disorders
College of Health and Human Services
Degrees
Ph.D. Developmental Speech Physiology and Neuroscience, University of Kansas
M.A. Speech–Language Pathology, University of Kansas
B.A. Lingustics (minor), University of Kansas
B.S. Speech–Language–Hearing: Science and Disorders, University of Kansas
Professional Licensures and Certifications
Missouri License Speech Language Pathology, State of Missouri - 2012
Kansas License Speech Language Pathology, State of Kansas - 2011
Certification of Clinical Competence in Speech–Language Pathology, American Speech–Language–Hearing Association - 2011
Biography
Meredith Harold, Ph.D., is an assistant professor of communication sciences and disorders. She worked as a school-based speech language pathologist and operated a Kansas City private practice before coming to Rockhurst University.
Harold teaches a variety of undergraduate and graduate courses, including Speech Sound Disorders, Neuroscience and research courses.
Her service and scholarship are primarily in the field of implementation science. She focuses on closing the gap between her field's scientists and practicing clinicians for the purpose of enhancing patient care and outcomes. This takes the form of working to improve graduate-level research training and continuing education for practicing clinicians. 
Harold also focuses heavily on science communication, engaging in outreach across social media platforms and by giving several national and international lectures each year on evidence-based practice.